Removing Barriers for Veterinary Student Applicants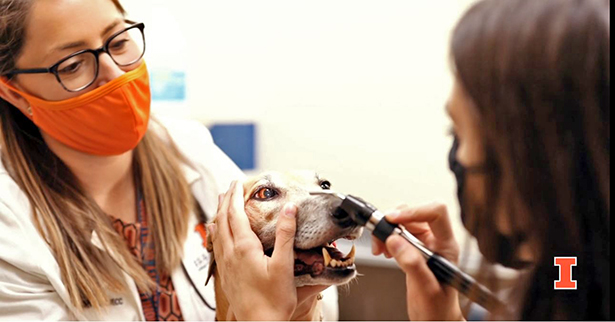 This message will appear in the Summer 2021 issue of the Illinois State Veterinary Medical Association Epitome.
GRE Is Optional, Interviews Move to Zoom
The admissions cycle that closed last October broke records. According to the Association of American Veterinary Medical Colleges (AAVMC), the number of people applying through the centralized application service has been going up by about 6% a year since 2016. In 2020, the number rose by a remarkable 19%, for a total of 10,273 applicants to the 44 institutions that use the Veterinary Medical College Application Service (VMCAS).
That's very good news for our profession, indicating growing interest in veterinary careers.
The number of applications from underrepresented populations also rose, though at much slower rates. The percentage of the total applicant pool in 2019 compared with 2020 went from 3.5% to 4.2% for Black applicants, from 12.7% to 14.3% for Hispanic applicants, and from 4.5% to 4.7% for Asian American applicants. The veterinary profession must continue to seek out ways to make our membership more reflective of the makeup of society.
Why was there such a large overall rise in applications last year? The AAVMC noted that the pandemic led to "more flexibility" in the application process, which could be a factor. Our college, for example, was one of several that did not require applicants to submit a Graduate Record Examinations (GRE) score in this cycle, given that many GRE testing centers were closed due to the pandemic.
Adjusting Illinois Admissions
We believe that simplifying our admissions process will encourage more applicants, including more applicants from underrepresented groups. In January, our faculty members voted to adopt permanently several changes that will remove barriers without compromising the quality of the applicant pool.
The changes, which were recommended by the Admissions Advisory Committee, include:
Making the GRE score optional. In this way, students whose application may be strengthened by their GRE score can include it, but the score is not required.
Using the science grade-point average (GPA) as calculated by VMCAS instead of generating applicants' science GPA by a more selective means unique to our college.
Doing away with the "rigor score" that had been used in our application review process to account for differences in applicants' undergraduate collegiate academic experience.
Eliminating two "extra" essays—the Illinois supplemental essay, which was meant to demonstrate the student's academic writing ability, and the Illinois personal statement. Instead, we will rely on the newly revised VMCAS personal statement to evaluate both the writing ability of the applicants and their motivations for entering the profession.
Applicant Interviews in the Time of COVID
In 2020, applicant interview day took place a few weeks before the pandemic caused campuses to shut down. As I write this, we are still making preparations to interview applicants on Monday, February 15, for admission in the fall. Once we pass that milestone, we will have come full circle through an academic year during the pandemic.
An in-person structured interview has been a hallmark of our college's admissions process for decades. Fortunately, technology makes it possible for this year's interviews to retain a similar format. There will be 25 interview teams, each comprised of a faculty member, a veterinary practitioner, and a current Illinois veterinary student. Interviews will last for 20 minutes, with 10-minute breaks between interviews for the team members to confer about the candidate.
But this year, instead of applicants sitting nervously outside their assigned interview rooms at our college, they will be sitting nervously at their computer. When their appointed time arrives, they will enter a Zoom chat room where the interview team awaits them.
Technology will not be able to replicate the applicants' experience of touring our facilities and meeting our students in person. But we will offer the next-best thing to being here: One of our student ambassadors has led the effort to create a video that conveys the essence of the Illinois program.
Visit go.illinois.edu/futuredvm to watch the video, and please share it with aspiring veterinarians in your circles. There may be more of them than ever before, and we'd like them to feel welcome at Illinois.