If you have concerns, bring your pet to the ER vet
You're worried, you're weary, and maybe you're waiting for what seems like hours. Fortunately, you and your pet are in good hands when you bring your animal to the University of Illinois Veterinary Teaching Hospital in Urbana, which is open 24 hours a day, 365 days a year.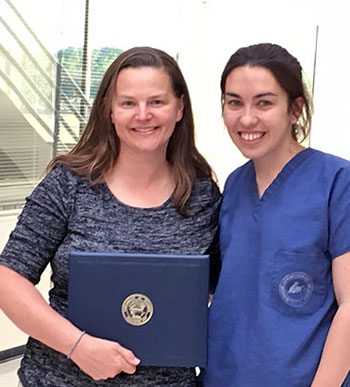 Dr. Corinne Lawson has spent the past three years completing a residency in small animal emergency and critical care at the hospital. That means she's worked under the direction of specialists who have already obtained the board certification Dr. Lawson is pursuing, so she can provide a unique vantage point for pet owners "on the other side" of the ER experience.
Make a Call
"The busiest time for the ER is generally between 5 p.m. and 9 p.m.," she says. "That's when other veterinary clinics are closing for the day, so animals that need continued care overnight will often be transferred to our hospital, and animals that need immediate care can't visit their regular veterinarian."
The nature of the ER life is never knowing what is going to come through the door at any moment, but Dr. Lawson encourages owners to call as they are on their way.
"It's helpful to get a heads up about an incoming patient, especially one that is unstable, so we can have equipment and personnel ready before the patient arrives."
Can an owner ask for a diagnosis over the phone instead of coming in?
"Unfortunately, no," Dr. Lawson says. "We can't evaluate patients without actually laying hands on them. An owner's description of the problem doesn't convey all that we learn when we evaluate a patient in person."
Better Safe Than Sorry
Dr. Lawson always recommends that owners bring their pet to see a veterinarian if there are any concerns at all. "Sometimes a visit was unnecessary," Dr. Lawson acknowledges, "but we would hate to advise someone to wait until the morning and then have something happen at home."
Whenever possible, owners should also bring relevant medical records, including vaccine history and current medication information (the name, dose, and frequency of the medication). If the pet is referred from another clinic, make sure to bring records of the care received there as well.
Why the Wait?
The length of an ER visit can vary drastically. If the patient can be seen right away and is deemed healthy by the doctors, you can be in and out within an hour. The typical ER visit, though, lasts two to three hours, by Dr. Lawson's estimate.
"If we know a patient needs x-rays or blood work that may take a long time, we encourage families to grab some coffee or food while they wait," she says.
One complaint Dr. Lawson hears a lot: "I was waiting with my dog for an hour, and then a woman and her cat showed up and were seen right away! How unfair!"
"While this may seem like unfairness, we're actually practicing something called triage," Dr. Lawson says. Triage is the evaluation of patients to determine their stability and their need for immediate intervention. Thus, critically ill patients are seen before stable ones, even if the less-sick ones arrived first.
For example, a patient in shock—one that has pale gums, an increased heart rate, and a weak pulse—requires immediate care. Other symptoms that prompt a quick response from doctors include trouble breathing, blood loss, and a sudden inability to walk or stand.
"It's never our intent to make people wait a long time, but this is an unfortunate necessity sometimes, especially during particularly hectic hours," Dr. Lawson says.
Behind the Scenes
Once a patient is brought to the treatment area, initial vital signs are measured. These include temperature, pulse, respiration rate, electrocardiogram (ECG), blood pressure, and pulse oximetry (an indirect measure of how much oxygen is in the blood).
"Depending on the presenting complaint and our examination, we may also perform an AFAST or TFAST, which stands for 'focused assessment with sonography (ultrasound) for trauma' of the abdomen and thorax to look for free bodily fluid, which may indicate blood or fluid built up from heart failure or cancer," Dr. Lawson explains.
Blood analysis may also be done if the patient is stable enough to tolerate a blood draw. Unstable patients may require an intravenous catheter to administer fluids or medications.
"Every patient and their family is important to us, and we want the best for them," Dr. Lawson emphasizes. "When we recommend tests, it is so we can determine the cause of their pet's problem as quickly and efficiently as possible."
The University of Illinois Small Animal Emergency Service is available 24/7 and can be reached at (217) 333-5300.
By Danielle Engel