Small Animals, Large Animals, and Exotics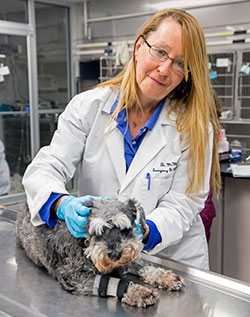 The Veterinary Teaching Hospital's emergency and critical care services are available 24 hours a day, 365 days a year. No appointment is necessary. However, we encourage you to call ahead so we can be prepared for your animal's unique needs.
For small animal emergencies, call (217) 333-5300.
For large animal emergencies, call (217) 333-2000.
Our Small Animal Clinic is located at 1008 W. Hazelwood Drive, Urbana.
Our Large Animal Clinic is located at 1102 W. Hazelwood Drive, Urbana.
View directions.
What Is an Emergency?

If you think your animal is experiencing an emergency but aren't sure, call us. We're happy to help you assess whether your animal needs to be seen.

Common emergencies include:

Allergic reactions/hives
Difficulty breathing
Difficulty urinating/not producing urine
Difficulty walking or prolonged lameness
Collapse, seizures, not conscious
Ingestion of toxins or foreign objects
Persistent vomiting, diarrhea and/or decreased appetite
Punctures or bite wounds
Severe bleeding
Traumas, such as being hit by a car or falling
Unusual behavior/lethargy
Our Emergency Veterinarians
Maureen McMichael, DVM, DACVECC
Efa Llewellyn, BVetMed, DACVECC, MRCVS
Natasha Hodgson, DVM, Resident
Olivia Wolf, DVM, Resident
Amanda Kuhl, DVM, Intern
Ambulatory for Large Animals
Our Large Animal Clinic will travel to provide emergency medical field service throughout east-central Illinois for equine and agricultural animals 24 hours a day, 365 days a year.
For ambulatory emergencies, call (217) 333-2000.
Our Ambulatory Emergency Veterinarian
Scott Austin, DVM, MS, DACVIM-LA
Emergency Pre-Registration Program
Our Good Human pre-registration program is free, convenient, and lifesaving.
New patient registration fee waived
Fast check-in times for emergency services
Anyone can join, so whether you're already a Veterinary Teaching Hospital client, or your pet receives care primarily through a private veterinarian or clinic, you can still participate in the pre-registration program, ensuring quick access to skilled emergency care when you need it the most. For more information, call (217) 333-5300.
Sign up  and be prepared for emergencies.