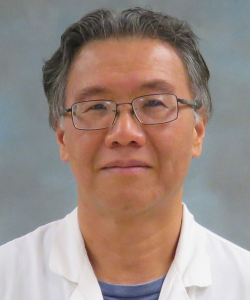 Lau, Gee
Professor, Pathobiology

College of Veterinary Medicine
2001 South Lincoln Avenue
2229 Vet Med Basic Sciences Bldg.
M/C 002
Urbana
,
IL
61802
Education
BS, University of Wisconsin-Madison (Bacteriology. Advisor: Prof. Kenneth Todar)
MS, University of Wisconsin-Madison (Fungal pathogenesis. Advisor: Prof. Albert Ellingboe)
PhD, Purdue University, West Lafayette, IN (Fungal pathogenesis. Advisor: Prof. John Hamer)
Postdoctoral Fellow, Imperial College School of Medicine, London (Bacterial pathogenesis. Advisor: Prof. David Holden)
Postdoctoral Fellow, Massachusetts General Hospital, Harvard Medical School, Boston (Bacterial pathogenesis. Advisor: Prof. Laurence Rahme)
Research Interests
Modulation of airway immune response and induction of mucus hypersecretion by respiratory pathogens
Mechanisms of bacterial resistance and susceptibility to pulmonary surfactant
Regulation of genetic transfer and virulence by Streptococcus pneumoniae competence regulon
Carbon nanotube toxicity and susceptibility to microbial infections
Links
Dr. Lau was a research assistant professor in the Division of Pulmonary, Critical Care and Sleep Medicine, University of Cincinnati College of Medicine where he researched the immune modulation and induction of mucus hypersecretion in bronchiectatic airways by Pseudomonas aeruginosa, and the antimicrobial properties of pulmonary surfactant proteins. He joined the UIUC in 2006, and is currently an associate professor of microbiology and immunology in the Department of Pathobiology, College of Veterinary Medicine.
Veterinary Bacteriology and Mycology (Path 603)
Pathobiologic Basis of Disease II (VM607)
Independent studies and thesis research for undergraduate, DVM and graduate students
Research training for postdoctoral fellows and clinical residents
Selected from 72 peer-reviewed articles.
Choi WS, Yang AX, Sieve A, Kuo HS, Vieson M, Nanjappa S, Maddox CW, Lau GW. 2020. Pulmonary Mycosis Drives FOXA2 Degradation and Mucus Hypersecretion through Activation of the SYK-EGFR-AKT/ERK1/2 Signaling. Am. J Pathol # AJPA-S-20-00242, in revision.
Kuang Z, Bennet RC, Hao Y, Zhu L, Akinbi HT, Hassett DJ, Lau GW. 2020. Surfactant phospholipids act as molecular switches for premature expression of quorum sensing-dependent virulence in Pseudomonas aeruginosa. Virulence 11(1):1090-1107.
D'Andrea MM, Lau GW. 2020. DNABII targeting antibodies as vaccines against biofilm diseases. Invited Commentary. EBioMedicine 2020 Aug;58:102921.
Motika S, Ulrich R, Geddes E, Lee HY, Lau GW, Hergenrother P. 2020. A Gram-Negative Antibiotic Active Through Inhibition of an Essential Riboswitch. J Am Chem Soc 142(24):10856-10862.
Choi WS, Choe S, Lau GW. 2020. Inactivation of FOXA2 by respiratory pathogens and dysregulation of pulmonary mucus homeostasis. Front Immunol 11:515.
Lin J, Park P, Li H, Oh MW, Dobrucki IT, Dobrucki W, Lau GW. 2020. Persistent and prolonged competence induction by Streptococcus pneumoniae drives pneumonia-derived sepsis. Infect Immun 88(4):e00919-19.
Choi WS, Choe S, Lin J, Borchers MT, Kosmider B, Limper AH, Lau GW. 2020. Exendin-4 restores airway mucus homeostasis through the GLP1R-PKAPPARγ- FOXA2-phosphatase signaling. Mucosal Immunol 13(4):637-651.
McDaniel CT, Panmanee P, Winsor GL, Gill E, Bertelli C, Schurr MJ, Dongare P, Paul AT, Ko SH, Lau GW, Dasgupta N, Bogue AL, Mortensen JE, Haslam DB, Dexheimer P, Muruve DA, Aronow BJ, Malcolm D.E. Forbes M DE, Danilczuk M, Brinkman FSL, Hancock RE, Meyer TJ, Hassett DJ. 2020. AB569, A nontoxic chemical tandem that kills major human pathogenic bacteria. Proc Natl Acad Sci USA 117(9):4921-4930.
Yang Y, Lin J, Harrington A, Cornilescu G, Lau GW*, Tal-Gan Y*. 2020. Designing cyclic competence-stimulating peptide (CSP) analogs with pan-group quorum-sensing inhibition activity in Streptococcus pneumoniae. Proc Natl Acad Sci USA 117(3):1689-1699 (*co-corr. authors)
Parker EN, Drown BS, Geddes EJ, Lee HY, Lau GW, Hergenrother PJ. 2020. Implementation of eNTRy rules leads to a FabI inhibitor with activity against Gram-negative bacteria. Nature Microbiology 5(1):67-75.
Lin J, Lau GW. 2019. DprA-dependent exit from the competent state regulates multifaceted Streptococcus pneumoniae virulence. Infection and Immunity 87(11) 87(11):e00349-19.
Zhang Y, Zhang C, Du X, Zhou Y, Kong W, Lau GW, Chen G, Kohli GS, Yang L, Tietao Wang, Haihua Liang. 2019. Glutathione activates Type III secretion system through Vfr in Pseudomonas aeruginosa. Frontiers in Cellular and Infection Microbiology 9:164.
Su S, Panmanee W, Schurr MJ, Lau GW, Ren Z, McDaniel CT, Wood LF, Lu LJ, Ohman DE, Muruve DA, Thompson TB, Hassett DJ. 2019. The anti-sigma factor mucA of Pseudomonas aeruginosa: dramatic differences of a mucA22 vs. a ΔmucA mutant in anaerobic acidified nitrite sensitivity of planktonic and biofilm bacteria in vitro and during chronic murine lung infection. PLoS One 14(6):e0216401.
Choi WS, Yang AX, Waltenburg MA, Choe S, Steiner M, Radwan A, Lin JJ, Maddox CW, Stern AW, Fredrickson RL, Lau GW. 2019. FOXA2 inactivation causes mucus hypersecretion in canine airways with respiratory diseases. Cell Microbiol 21(1):e12957.
Dingemans J, Al-Feghali RE, Lau GW, Sauer K. 2019. Controlling chronic Pseudomonas aeruginosa infections by strategically interfering with the sensory function of SagS. Mol Microbiol 111(5):1211-1228.
*Koirala B,*Lin JJ, #Lau GW, #Tal-Gan Y. 2018. Dominant Negative Competence Stimulating Peptide (dnCSP) Attenuates Streptococcus pneumoniae Infectivity in a Mouse Model of Acute Pneumonia. Chembiochem 19(22):2380-2386 (*equal contributions, #co-corr. authors)
Jeffries JL, Jia J, Choi WS, Choe S, Miao J, Xu Y, Hao Y, Kuang Z, Powell R, Lin J, Z Kuang, Gaskins HR, Lau GW. 2016. Pseudomonas aeruginosa pyocyanin modulates mucin glycosylation with sialyl-Lewisx to increase binding to airway epithelial cells. Mucosal Immunol 9:1039-50.
Lin J, Zhu L and Lau GW. 2016. Disentangling competence for genetic transformation and virulence in Streptococcus pneumoniae. Curr Genet 62(1):97-103.
Zhu L, Lin J, Kuang Z, Vidal JE, Lau GW. 2015. Deletion analysis of Streptococcus pneumoniae late competence genes distinguishes virulence determinants that are dependent or independent of competence induction. Mol Microbiol. 97(1):151-65.
Parkinson EI, Bair JS, Nakamura BA, Lee HY, Kuttab HI, Southgate EH, Lezmi S, Lau GW, Hergenrother PJ. 2015. Deoxynybomycins inhibit mutant DNA gyrase and rescue mice infected with fluoroquinolone-resistant bacteria. Nat Commun. 6:6947. doi: 10.1038/ncomms7947.
Jin Z, Chung JW, Mei W, Strack S, He C, Lau GW, Yang J. 2015. Regulation of nuclear-cytoplasmic shuttling and function of Family with sequence similarity 13, member A (Fam13a), by B56-containing PP2As and Akt. Mol Biol Cell. 26(6):1160-73.
Tan RM, Kuang Z, Hao Y, Lee F, Lee T, Lee RJ, Lau GW. 2015. Type IV pilus glycosylation mediates resistance of Pseudomonas aeruginosa to opsonic activities of the pulmonary surfactant protein A. Infect Immun. 83(4):1339-46.
Hao Y, Kuang Z, Miao J, Krause DC, Lau, GW. 2014. Mycoplasma pneumoniae modulates STAT3-STAT6/EGFR-FOXA2 signaling to induce overexpression of airway mucins. Infect Immun 82(12):5246-55.
Li Y, Petrova OE, Su S, Lau GW, Panmanee W, Na R, Hassett DJ, Davies DG, Sauer K. 2014. BdlA, DipA and Induced Dispersion Contribute to Acute Virulence and Chronic Persistence of Pseudomonas aeruginosa. PLoS Pathog 10(6):e1004168.
Tan RM, Kuang ZZ, Hao YH, Lau GW. 2014. Type IV Pilus of Pseudomonas aeruginosa Confers Resistance to Antimicrobial Activities of the Pulmonary Surfactant Protein-A. J Innate Immun 6(2):227-39.
Walling BE, Kuang Z, Hao Y, Estrada D, Wood JD, Lian F, Miller LA, Shah AB, Jeffries JL, Haasch RT, Lyding JW, Pop E, Lau GW. 2013. Helical carbon nanotubes enhance the early immune response and inhibit macrophage-mediated phagocytosis of Pseudomonas aeruginosa. PLoS One 8(11):e80283.
Xu Y, Duan CH, Kuang ZZ, Hao YH, Jeffries JL, Lau GW. 2013. Pseudomonas aeruginosa pyocyanin activates NRF2-ARE-mediated transcriptional response via the ROS-EGFR-PI3K-AKT/MEK-ERK MAP kinase signaling in pulmonary epithelial cells. PLoS One 8(8):e72528.
Zhu L, Kuang Z, Wilson BA, Lau GW. 2013. Competence-independent activity of pneumococcal EndA mediates degradation of extracellular DNA and NETs and is important for virulence. PLoS One 8(7):e70363.
Hao Y, Kuang Z, Xu Y, Walling BE, Lau GW. 2013. Pyocyanin-induced mucin production is associated with redox modification of FOXA2. Respir Res 14(1):82.
Duan C, Zhu L, Xu Y, Lau GW. 2012. Saturated alanine scanning mutagenesis of the pneumococcus competence stimulating peptide identifies analogs that inhibit genetic transformation. PLoS One 7(9):e44710.
Hao Y, Kuang Z, Walling BE, Bhatia S, Sivaguru M, Chen Y, Gaskins HR, Lau GW. 2012. Pseudomonas aeruginosa pyocyanin causes airway goblet cell hyperplasia and metaplasia and mucus hypersecretion by inactivating the transcriptional factor FoxA2. Cell Microbiol 14(3):401-15.
Kuang ZZ, YH Hao, SH Hwang, S Zhang, E Kim, HT Akinbi, MJ Schurr, RT Irvin, DJ Hassett and Lau GW. 2011. The flagella of Pseudomonas aerugniosa mediate resistance to SP-A-mediated membrane permeabilization by multiple mechanisms. Mol Microbiol 79:1220-1235.
Kuang Z, Hao Y, Walling BE, Jeffries JL, Ohman DE, Lau GW. 2011. Pseudomonas aeruginosa elastase provides an escape from phagocytosis by degrading the pulmonary surfactant protein-A. PLoS One 6(11):e27091.
Zhu L, Lau GW. 2011. Inhibition of competence development, horizontal gene transfer and virulence in Streptococcus pneumoniae by a Modified competence stimulating peptide. PLoS Pathog 7(9):e1002241.
Caldwell CC, Chen Y, Goetzmann HS, Hao Y, Borchers MT, Hassett DJ, Young LR, Mavrodi D, Thomashow L, Lau GW. 2009. Pseudomonas aeruginosa exotoxin pyocyanin causes cystic fibrosis airway pathogenesis. Am J Pathol 175(6):2473-88.
Wesselkamper SC, Eppert BL, Motz GT, Lau GW, Hassett DJ, Borchers MT. 2008. NKG2D is critical for NK cell activation in host defense against Pseudomonas aeruginosa respiratory infection. J Immunol 181(8):5481-9.
Zhang S, McCormack FX, Levesque RC, O'Toole GA, Lau GW. 2007. The flagellum of Pseudomonas aeruginosa is required for resistance to clearance by surfactant protein A. PLoS One 2(6):e564.
Kong F, Young L, Chen Y, Ran H, Meyers M, Joseph P, Cho YH, Hassett DJ, Lau GW. 2006. Pseudomonas aeruginosa pyocyanin inactivates lung epithelial vacuolar ATPase-dependent cystic fibrosis transmembrane conductance regulator expression and localization. Cell Microbiol 8(7):1121-33.
Borchers MT, Harris NL, Wesselkamper SC, Zhang S, Chen Y, Young L, Lau GW. 2006. The NKG2D-activating receptor mediates pulmonary clearance of Pseudomonas aeruginosa. Infect Immun 74(5):2578-86.
Yoon SS, Coakley R, Lau GW, Lymar SV, Gaston B, Karabulut AC, et al. 2006. Anaerobic killing of mucoid Pseudomonas aeruginosa by acidified nitrite derivatives under cystic fibrosis airway conditions. J Clin Invest 116(2):436-46.
Zhang S, Chen Y, Potvin E, Sanschagrin F, Levesque RC, McCormack FX, Lau GW. 2005. Comparative signature-tagged mutagenesis identifies Pseudomonas factors conferring resistance to the pulmonary collectin SP-A. PLoS Pathog 1(3):259-68.
Lau GW, Hassett DJ, Britigan BE. 2005. Modulation of lung epithelial functions by Pseudomonas aeruginosa. Trends Microbiol 13(8):389-97.
Lau GW, Ran H, Kong F, Hassett DJ, Mavrodi D. 2004. Pseudomonas aeruginosa pyocyanin is critical for lung infection in mice. Infect Immun 72(7):4275-8.
Lau GW, Hassett DJ, Ran H, Kong F. 2004. The role of pyocyanin in Pseudomonas aeruginosa infection. Trends Mol Med 10(12):599-606.
Ran H, Hassett DJ, Lau GW. 2003. Human targets of Pseudomonas aeruginosa pyocyanin. Proc Natl Acad Sci U S A 100:14315-20 (Track II).
Lau GW, Goumnerov BC, Walendziewicz CL, Hewitson J, Xiao W, Mahajan-Miklos S, Tompkins RG, Perkins LA, Rahme LG. 2003. The Drosophila melanogaster Toll pathway participates in resistance to infection by the Gram-negative human pathogen Pseudomonas aeruginosa. Infect Immun 71(7):4059-66.
Lau GW, Haataja S, Lonetto M, Kensit SE, Marra A, Bryant AP, McDevitt D, Morrison DA, Holden DW. 2001. A functional genomic analysis of type 3 Streptococcus pneumoniae virulence. Mol Microbiol 40(3):555-71.
Lau G, Hamer JE. 1996. Regulatory Genes Controlling MPG1 Expression and Pathogenicity in the Rice Blast Fungus Magnaporthe grisea. Plant Cell 8(5):771-781.
Lau GW, Chao CT, Ellingboe AH. 1993. Interaction of genes controlling avirulence/virulence of Magnaporthe grisea on rice cultivar Katy. Phytopathology 83: 375-382.
Active grants
NIH/NHLBI 1 R01 HL142626-A1. (Role: PI) (Co-PI:Tal-Gan). 04/01/2019 – 03/31/2023. Controlling bacteremic pneumococcal pneumonia with synthetic dominant-negative competence peptides.
NIH/NIAID-1 R01 AI136773. (Role: Co-I) (PI: Hergenrother). 02/01/2018 - 01/31/2023. Predictive guidelines for penetrance and discovery of broad-spectrum antibiotics.
NIH/NIAID-2 R01 AI080710-06A1. (Role: MPI) (PI: Sauer). 01/01/2016 – 12/31/2021. Role of PA4878 in biofilm antimicrobial resistance by Pseudomonas.
Selective recently expired grants
NIH/NHLBI-R01 HL090699 (Role: PI) Mechanisms of Pseudomonas resistance to surfactant protein-A.
American Lung Association (DS-192835-N) (Role: PI). FoxA2 inactivation by pyocyanin in P. aeruginosa-mediated goblet cell hyperplasia.
NIH/NIEHS-1-F32-ES022905 (Role: Mentor) (PI: Walling). Ruth L. Kirschstein National Research Service Awards Postdoctoral Fellowship.
Travel Award. American Thoracic Society 100 International Conference. Assembly on Microbiology, Tuberculosis and Pulmonary Infections (MTPI) (2004)
American Lung Association Desouza Research Award (2011)
University of Illinois at Urbana-Champaign Arnold O Beckman Research Award (2011)
UIUC College of Veterinary Medicine Dr. Gordon and Mrs. Helen Kruger Research Excellence Award (2012)
UIUC College of Veterinary Medicine Zoetis Research Excellence Award (2016)
UIUC Teacher ranked as excellent by their students (2013, 2015 (Spring and Fall), 2016, 2017, 2018)
American Society for Microbiology
American Society for the Advancement of Science
Manuscript review (2005-present)
PNAS, PLoS Pathog, PLoS Genet, PLoS One, Scientific Reports, EBioMedicine, Mucosal Immunol, J Immunology, J Leukoc Biol, Inflamm Res, Eur Respir J, Respir Res, Respir Med, Int J COPD, Respiration, Inhal Toxicol, Pathology, Exp Mol Pathol, Trends Microbiol, Cell Microbiol, Mol Microbiol, Infect Immun, J Bacteriol, BMC Microbiol, Microb Ecol, FEBS Microbiol Lett, Microbiology, J Appl Microbiol, The J Microbiol, Antimicrob Agents Chemother, ACS Infect Dis, ACS Chem Biol, Free Radic Biol Med, Biophysical J, Photochem Photobiol, J Proteom and Genom Res, British Med J Open, Metalloproteinases in Medicine, Int J Mol Sci, Methods and Protocols, BMC Complement Altern Med, J Vet Diagn Invest, etc.
Editorial duty(2012-present)
2012-2016 Editorial board: ISRN Genetics
2015-2017 Consulting Editor, International Journal of Chronic Obstructive Pulmonary Disease
2012-present Editorial board: Open J Biophysics
2016-present Associate Editor, The Journal of Microbiology
2017-present Editorial Board Member, Infection and Immunity
2019-present Editorial Board Member, Virulence
2019-present Special Topic Editor, Frontiers in Immunology: "Outsmarting the Host: How Bacterial Pathogens Modulate Immune Responses in The Lung"
Grant review (2006-present, out of 34)
2011 NIH/NIAID: RFA-AI-11-009, Targeting Resistance in Select Gram-negative Pathogens
2012 NIH/NIAID: ZRG1 IDM-C (92) AREA: Infectious Diseases and Microbiology
2012 NIH/NIAID ZRG1 F13-C (20) L-Fellowships: Infectious Diseases & Microbiology
2013 NIH/NIAID RFA-AI-13-019 Drug Target Development & Validation for Antimicrobial Resistant Pathogens
2012-2014 Danish Council for Independent Research, Technology & Production Sciences
2013-2018 American Lung Association, Senior Research Fellowship Applications
2015 Reviewer, Committee on Cell & Developmental Biology, French National Research Agency
2015 NIH/NIAID. Topics in Bacterial Pathogenesis study section -- IDM-B (80)
2015 Reviewer, Infection and Immunity (IIB) Medical Research Council, United Kingdom
2015 External Reviewer, Syracuse University and Upstate Medical University Pilot Grant Program
2016 Reviewer, The Netherlands Org. for Scientific Research (NWO) Innovational Research
2016 NIH/NIAID RFA-Al-16-022: Human Tissue Models for Infectious Diseases U19 Center Grant
2016 National Science Foundation, The Faculty Early Career Development (CAREER) Program application
2017 NIH/NHLBI. Special Emphasis Panel Pulmonary Diseases 2017/10 ZRG1 CVRS-N (03) M meeting
2017 NIH/NHLBI. Special Emphasis Panel 2018/01 ZHL1 CSR-P (F1). 1 RFA HL-17-015 "Bold New Bioengineering Methods for Heart, Lung, Blood and Sleep Disorders and Diseases"
2018 NIH/NHLBI Special emphasis panel, Pulmonary Diseases (2018/10 ZRG1 CVRS-N (03) M)
2018 NIH/NIAID Special emphasis panel, Bacterial pathogenesis & host interactions. ZRG1 IDM (02)
2018 Special emphasis panel, NIH/NHLBI RFA-17-015, Bold New Bioengineering Methods and Approaches for Heart, Lung, Blood and Sleep Disorders and Diseases, Lung and Blood Disorders (R21)
2019 Department of Defense Pre-applications in Respiratory Health (PRMRP) (CDMRP)
2019 American Lung Association, Innovation Research Grant and Catalyst Research Grant applications
2019 Special Emphasis Panel, NIH/NIAID, 2019/10 ZRG1 IDM-B (80) S meeting, R21 and R03 applications.



Signature-tagged mutagenesis libraries of Streptococcus pneumoniae, Pseudomonas aeruginosa and Streptococcus suis. Please direct your inquiry to Dr. Lau.