Directory Profile
Campus Directory
Profile Editors
The following people can edit this profile: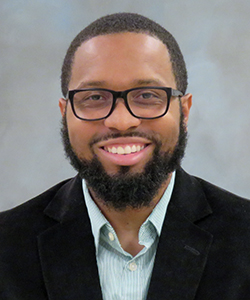 Seals, Christopher D
Assistant Professor, Veterinary Clinical Medicine
Coordinator of Curriculum and Assessment, Academic Student Affairs

Address and Contact Information
2001 S. Lincoln Avenue
Vet Med Basic Science Bldg - 2271G
1008 W Hazelwood Dr
Urbana
,
IL
61802
Education
BA in Pychology, University of Louisville
MEd in Education and Counseling Pyschology, Univeristy of Louisville
PhD in Educational Psychology and Educational Technology, Michigan State University
Research Interests
Dr. Christopher Seals' research interests broadly include motivational aspects in learning and expanding the pedagogical scope of instructors to explore innovative and modern teaching practices (e.g., flipped classroom, active learning, team-based learning, etc.) in efforts to reach varied learners. Moreover, he has focused on math and STEM teacher practices, psychological interventions and professional development that impact the achievement and motivation of both the students and the instructor. Dr. Seals' current and future research brings these concepts to veterinary medical education. He uses student and faculty assessment data to strengthen veterinary curriculum by introducing various concepts, such as: (a) implicit theories of intelligence, (b) culturally relevant pedagogy, (c)TPACK, (d) belongingness, and (e) expectancy value theory, to name a few.
Current Projects
Dr. Seals is using data and assessment to strengthen the curriculum of the University of Illinois' College of Veterinary Medicine by: developing faculty pedagogy and advancing the student learning experience through educational research, learning interventions, professional development and support. Currently, he is working with faculty to write lecture objectives in order to create an in-depth curriculum map for the entire College of Veterinary Medicine.
Past Projects:
Biography
Prior to his research, Dr. Seals worked as an admissions counselor and program coordinator for diversity recruitment at a large public university for nearly 5 years. It was this experience that encouraged him to further explore the educative experiences of students from diverse backgrounds. In that professional role he worked especially with Low SES, Black and Brown students who faced a multitude of hindrances in entering college and persisting through college. This experience encouraged him to study the psychology of both student learning and instructor pedagogy, while focusing on diverse student needs. His studies shed light on the weight of social, historical, and systemic obstacles that impact context, which influences different learners differently. Dr. Seals concern for diverse learners stimulated his interest in the importance of diverse teaching methods and the importance of using nontraditional pedagogy in order to effectively reach and teach all different types of students.
Other campus affiliations
Selected Publications
Seals, C. (2016). Expectancy Value Theory: Racializing values in motivation theory using racial opportunity cost. Urban Education Research & Policy Annuals, 4 (2), 56-70. https://journals.uncc.edu/urbaned/article/view/597/599


Seals, C., Horton, A., Berzina-Pitcher, I., & Mishra, P. (2016). A new understanding of our confusion: Insights from a year-long STEM fellowship program. In C. Martin, & D. Polly (Eds.), Handbook of Research on Teacher Education and Professional Development (pp. 582-604). Hershey, PA: IGI Global.


Mehta, R., Mehta, S., & Seals, C. (2017). A Holistic Approach to Science Education: Disciplinary, Affective, and Equitable. Special Issue of Journal of Computers in Mathematics and Science Teaching, 36(3), 269-286. http://www.learntechlib.org/j/JCMST/v/36/n/3/


Seals, C., Mehta, S, Berzina-Pitcher, I., & Graves-Wolf, L. (2017). Enhancing teacher efficacy for Urban STEM teachers facing challenges to their teaching. Journal of Urban Learning, Teaching, & Research, 13, 135-146. https://aera-ultr.wixsite.com/ultr/journal-of-ultr


Seals, C., Mehta, S., Wolf, L.G., & Marcotte, C. (2017). Theory and Implementation of an Innovative Teacher Professional Development Program. Special Issue of Journal of Computers in Mathematics and Science Teaching, 36(3), 219-235. http://www.learntechlib.org/j/JCMST/v/36/n/3/


Berzina-Pitcher, I., Horton, A., Graves Wolf, L., Seals, C., & Mishra, P. (2019). Embracing the Inherent messiness in urban education: Learning from a STEM & leadership program. In D. Polly, C. Martin, & K. Dikilitas (Eds.), Handbook of Research on Educator Preparation and Professional Learning (pp. 60-83). Hershey, PA: IGI Global. https://doi.org/10.4018/978-1-5225-8583-1


Horton A., Henriksen D., Mishra P., Seals C., Shack K., Marcotte C. (2019) Creativity and the Urban Teacher: A STEM-Related Professional Development Program. In: Mullen C. (eds) Creativity Under Duress in Education?. Creativity Theory and Action in Education, vol 3. Springer DOI: https://doi.org/10.1007/978-3-319-90272-2_16


Yadav, A., & Seals, C. (2019). Taking the next step: Supporting postdocs to develop an independent path in academia. International Journal of STEM Education, 6(1), 15. https://doi.org/10.1186/s40594-019-0168-1 or https://rdcu.be/bA3VH


Honors and Awards
Dissertation Completion Fellowship (MSU)
Dissertation Intervention Grant (Mindsetworks.com)
Donald H. Nickerson Fellowship in Cultural Diversity and Minority Concerns (MSU)
Alliance for Graduate Education & the Professoriate (AGEP) Fellowship (MSU)
LDAP Details for

Seals, Christopher D