Directory Profile
Campus Directory
Profile Editors
The following people can edit this profile: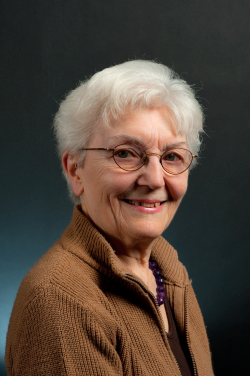 Segre, Mariangela
Professor Emerita, Pathobiology
Director of Graduate Studies, Department of Pathobiology

Address and Contact Information
College of Veterinary Medicine
2001 South Lincoln Avenue
2227 Vet Med Basic Sciences Bldg.
Urbana
,
IL
61802
Education
1949 DSc, Biological Sciences University of Milan, Italy
Biography
1949-51 Research Associate (Post Doctoral). College of Veterinary Medicine, University of Milan, Italy
1951 Visiting Investigator, National Animal Disease Research Institute, Ministry of Agriculture and Fisheries, Weybridge, England
1951-52 Bacteriologist, Research and Development Department, Montecatini Corp., Milan, Italy
1953-54 Bacteriologist, Nebraska State Department of Health, Lincoln
1964-74 Research Associate, College of Veterinary Medicine, University of Illinois, Urbana.
1974-1985 Assistant Professor, College of Veterinary Medicine, University of Illinois, Urbana
1985-2001 Associate Professor, College of Veterinary Medicine, University of Illinois, Urbana
1989 Visiting Investigator, Laboratory of Immunology, NIH, Bethesda, MD
2001-present Professor, College of Veterinary Medicine, University of Illinois, Urbana
2002-present Director of graduate Program, Department of Pathobiology, College of Veterinary Medicine, University of Illinois, Urbana
Teaching Statement
My formal teaching consists of graduate courses; informally, I also teach graduate students working in my own lab as well as students from other labs who need specific skills or knowledge to carry out their own research projects.
Teaching is an integral part of an academic career: finding the clearest way to present and verbalize knowledge and concepts that one uses intuitively is a means to achieve scientific maturity. The ultimate gift a professor can give to a student is to impart the excitement and satisfaction that comes from achieving new knowledge through experiments that they themselves have designed, while conveying the enthusiasm necessary to make a lifetime spent doing research a rewarding one. But teaching is also a learning experience for the receptive teacher. In the classroom, provocative questions compel one to keep up to date with current knowledge; discussions with individual students keep one in touch with the changing outlook, attitudes and needs of a new generation; and close collaboration and lively discussions with graduate students helps one keep an open mind to new and simulating ideas and interpretations.
Courses Taught
Path 544,Immunobiological Methods
Path 555,Comparative Oncology
CB454, System Toxicology
Research Interests
In the last few years my lab has been engaged in collaborative research with other faculty of the college as well as other departments around campus. One of these projects studies the role of polyunsaturated fatty acids in many physiological functions related to reproduction, inflammation and immune reactivity. The use of a knock-out mouse, unable to synthesize neither arachidonic acid (AA) nor docosahexaenoic acid (DHA) from linoleic acid, an essential component of the diet, allowed identifying the consequences of the deficiency of AA and DHA. By diet supplementation with either of the 2 fatty acids, the specific physiological role of each of them is beingpinpointed.
Another recently initiated collaboration will study, both in vivo and in vitro, the production of antibacterial peptides and their immuno-regulatory role, in the skin of healthy and atopic dogs.
Academic Interests
I have been director of my department's graduate program since 2001. As I see it, there are two equally important responsibilities involved; one relates to the graduate students and one to the department. As most successful scientists will acknowledge, the years of graduate education are the best of their careers. Graduate students can dedicate all their time, all of their efforts, and all of their enthusiasm to their research activities, and the interactions with other graduate students are often the foundation of lifetime friendships. I think that every student deserves an environment conducive to crafting such a positive experience. Moreover, the quality and success of the graduate students of a department is a reflection of the quality and prestige of its faculty; every year, one should strive to improve the quality of incoming graduate students with the reputation of the department in mind.
Research Biography
For much of my long career as an immunologist, the main focus of my research has been the study of the regulation of the immune response (Segre, D. and Segre, M., Science 181:851-853, 1973) in different physiological situations. The assessment of the mounting antibody response to a carrier-hapten at the level of the single cell, the role of suppressor cells in tolerance induction, the presence of an immune-suppressive soluble factor in the blood of mice infected with malaria are examples of my early work. Examination of the mechanism of immune senescence in aging organisms and possible intervention strategies for counteracting those effects has also been a long term interest (Liu et al., Mech. Age. Dev. 27:359-372, 1984). We studied the chronology of the changes observed in various immune parameters responsible for the observed decline of immune reactivity in the spleen of aging mice (Segre, M., Journal of Immunology 116:731-734, 1976; Segre, M., Journal of Immunology 116:735-738, 1976 J. J. Liu, et al., Cellular Immunology 66:372-382, 1982;). Later, in a longitudinal study of the alteration of immune parameters in aging dogs, we identified caloric restriction as one of the possible ways to delay the onset of immuno-senescence (Greeley et al., Vet Immunol. and Immunopathol. 82:57-71, 2001; Kealy, et al., J. Am. Vet. Med. Assoc. 220: 1315-1320, 2002; Greeley et al.,Veterinary immunol. and immunopathol., 111(3-4):287-99, 2006; Lawler et al., British Journal of Nutrition 99:793-805; 2008).
In the 1990s, I began a reexamination of the behavior of the idiotypic network in conventional immune responses (Segre, M., and Segre, D., Cellular Immunology 159:40-48. 1994). My familiarity with the components of the idiotypic network led me to the investigation of the feasibility of using an anti-idiotypic vaccine as a therapy for cocaine addiction (Schabacker, et al.,Immunology 100:48-56, 2000), and of using anti-idiotypic antibodies that mimic the configuration of the molecule of cocaine Ab2β as a source of analog peptides of cocaine (Ho, D.M., and Segre, M., Brain Research 872:231-235, 2000; Neuroscience Letters. 299: 229-233, 2001; Biochemical and Biophysical Acta. 91562 1-6, 2001).
Another interest of mine has been the effect of PCB contamination on the immune system and the possibility of using Peromyscus leucopus as a biological model for detecting the level of contamination during the clean up process for contaminated sites (P-J. Wu, et al., Archives of Environmental Contamination and Toxicology 36:469-476, 1999), as well as the biological effects of gestational and lactational PCB exposure in neonatal and juvenile mice (Arena et al., Archives of Environmental Contamination and Toxicology 44:272-280, 2002)
Other Campus Affiliations
1997-present Member of the Environmental Toxicology Faculty, University of Illinois
Honors and Awards
Who's Who of American Women
Who's Who in American Education
Phi Zeta National Veterinary Honor Society
University of Illinois Incomplete List of Excellent Teachers
Selected Publications
Roqueta-Rivera Manuel; Stroud Chad K; Haschek Wanda M; Akare Sandeep J; Segre Mariangela; Brush Richard S; Agbaga Martin-Paul; Anderson Robert E; Hess Rex A; Nakamura Manabu T, Docosahexaenoic acid supplementation fully restores fertility and spermatogenesis in male delta-6 desaturase-null mice. Journal of lipid research 2010;51(2):360-7, 2010
Stroud Chad K; Nara Takayuki Y; Roqueta-Rivera Manuel; Radlowski Emily C; Lawrence Peter; Zhang Ying; Cho Byung H; Segre Mariangela; Hess Rex A; Brenna J Thomas; Haschek Wanda M; Nakamura Manabu T, Disruption of FADS2 gene in mice impairs male reproduction and causes dermal and intestinal ulceration. Journal of lipid research; 50(9):1870-80., 2009
2009 Lawler, D.F., Larson, B.T., Ballam, J.M., Smith, G.K., Biery, D.N., Evans, R.H., Greeley,E.H., Segre, M., Stowe, H.D., Kealy, R.D. Diet restriction and aging in the dog: Major observations over two decades. British Journal of Nutrition 99:793-805; 2008.
Greeley Elizabeth H; Spitznagel Edward; Lawler Dennis F; Kealy Richard D; Segre Mariangela, Modulation of canine immunosenescence by life-long caloric restriction. Veterinary immunology and immunopathology 2006;111(3-4):287-99, 2006
Mitchell Ho and M. Segre. Inhibition of cocaine binding to the human dopamine transporter by a single chain anti-idiotypic antibody: its cloning, expression, and functional properties. Biochimica et Biophysica Acta 1638:257-266; 2003
Segre, M. Vulnerability of the developing immune system to environmental Polychlorinated Biphenyl contamination. in Recent Research Developments in Immunology, 5:237-254, Research Signpost, Kerala, India ; 2003
Arena, S.M., Greeley, E.H., Halbrook, R.S., Hansen, L.G. and Segre, M. Biological effects of gestational and lactational PCB exposure in neonatal and juvenile C57BL/6 mice. Archives of Environmental Contamination and Toxicology 44:272-280; 2002
Kealy, R.D., Lawler, D.F., Ballam, J.M., Mantz, S.L., Biery, D.N., Greeley, E.H., Lust, G., Segre, M., Smith, G.K. and Stowe, H.D. Effects of diet restriction on life span and age-related changes in dogs. J. Am. Vet.Med. Assoc. 220: 1315-1320. 2002
Professional Affiliations
American Association of Veterinary Immunologists, 1979- present
American Association of Immunologists: 1979- present
American Society for Microbiology, 1979-1989
Phi Zeta (Honorary Member), 1991 (inducted)
Service Activities
1985 Midwestern Association for Biological Aging, Organizing Committee, Chair
1997-present Member of the University of Illinois Environmental Toxicology Faculty, University of Illinois
1999-2002 American Association of Immunologists: Veterinary Immunology Committee
2004 PCB Workshop June 13-15 2004, University of Illinois Organizing Committee
LDAP Details for

Segre, Mariangela