Three University of Illinois students traveled to Honduras for a 1-2 week externship. This trip is routinely organized by Christian Veterinary Mission.
Amanda Stiegal
"My trip with Christian Veterinary Mission greatly improved my clinical skills. I had the opportunity to work with doctors all over the country, including new graduates, seasoned veterinarians and a small animal surgeon from LSU. I was given abundant opportunities to practice neutering and spaying dogs and cats and castrating horses and pigs. Additionally, we were able to provide preventive medicine including deworming of cattle, horses, dogs, cats and pigs."
Daily Log
Monday: spayed 3 dogs and 2 cats
Tuesday: castrated 7 horses (1 had an intrabdominal cryptorchid testicle that was removed), 2 mules and dewormed 17 horses and 2 mules
Wednesday: neutered 3 dogs (1 had an intrabdominal cryptorchid testicle that was removed), castrated 1 pig, castrated, dewormed and floated the teeth of one horse and spayed a cat
Thursday: spayed 1 dog, examined, administered oral electrolytes and made dietary recommendations for a bunny and dewormed 8 pigs
Friday: castrated and dewormed 6 horses and dewormed 1 dog
Saturday: performed rectal palpation on 60 head of cattle, discussed options for low pregnancy rate and spayed a female cat about 4 weeks into gestation
Monday: castrated 5 horses, dewormed 14 horses and assisted on 1 dog spay and 1 dog neuter
Tuesday: castrated and dewormed 6 horses and 2 mules
Wednesday: spayed a dog and a cat and castrated and dewormed a horse
Thursday: taught/assisted with a cat neuter and dewormed 45 head of cattle
Abby Mathew
"I learned a lot on the short-term mission trip to Honduras with Christian Veterinary Mission! The people were very nice, and their culture and food had many parallels to my own. I was stunned by the beauty of all the locations we visited, and the weather was mostly pleasant. I worked with two different groups of people for each week, but some of us stayed the entire duration. There were veterinarians, veterinary technicians, other veterinary students, and family members who joined us for the trips and assisted with surgeries. We worked with a variety of animals, and I was amazed and impressed by the relationships between the people in each community with their animals. The faith of the communities was also evident, and they were very appreciative of us coming to serve. I was able to confidently do spays and neuters for cats and dogs without assistance by the end of the trip and learned new techniques, which were very helpful. I had never done horse castrations or worked with pigs before at all and became quite confident in the techniques used. Overall, this trip was a wonderful learning experience."
Daily Case Log (Starting May 30 and ending June 9):
Monday: Performed half a dog spay and half a dog neuter (Clinician performed the other half). Dewormed one horse and a puppy.
Tuesday: Performed a cat spay, a cat neuter, and a dog neuter. The dog neuter also had what appeared to be an inguinal mass – the mass was excised carefully and appeared to be very similar to a third testicle, but tissue type was not confirmed. Dewormed two pigs.
Wednesday: Performed two dog neuters, ½ a pig castration and a horse castration. Administered electrolytes to a dehydrated rabbit.
Thursday: Performed one dog neuter and dewormed two pigs.
Friday: Performed one horse castration and one dog neuter. Dewormed one dog, one cat, and 15 cattle.
Saturday: Performed one cat spay and palpated four open cows. Dewormed one dog.
Monday: Performed a cat spay, a dog neuter, a half horse castration, and a horse Deworming.
Tuesday: Performed one spay, assisted with 5 spays and 2 neuters (all dogs) and sedated the dogs for surgery.
Wednesday: Performed one dog neuter and one cat spay.
Thursday: Dewormed two horses and a mule, assisted with two cat spays and one cat Neuter.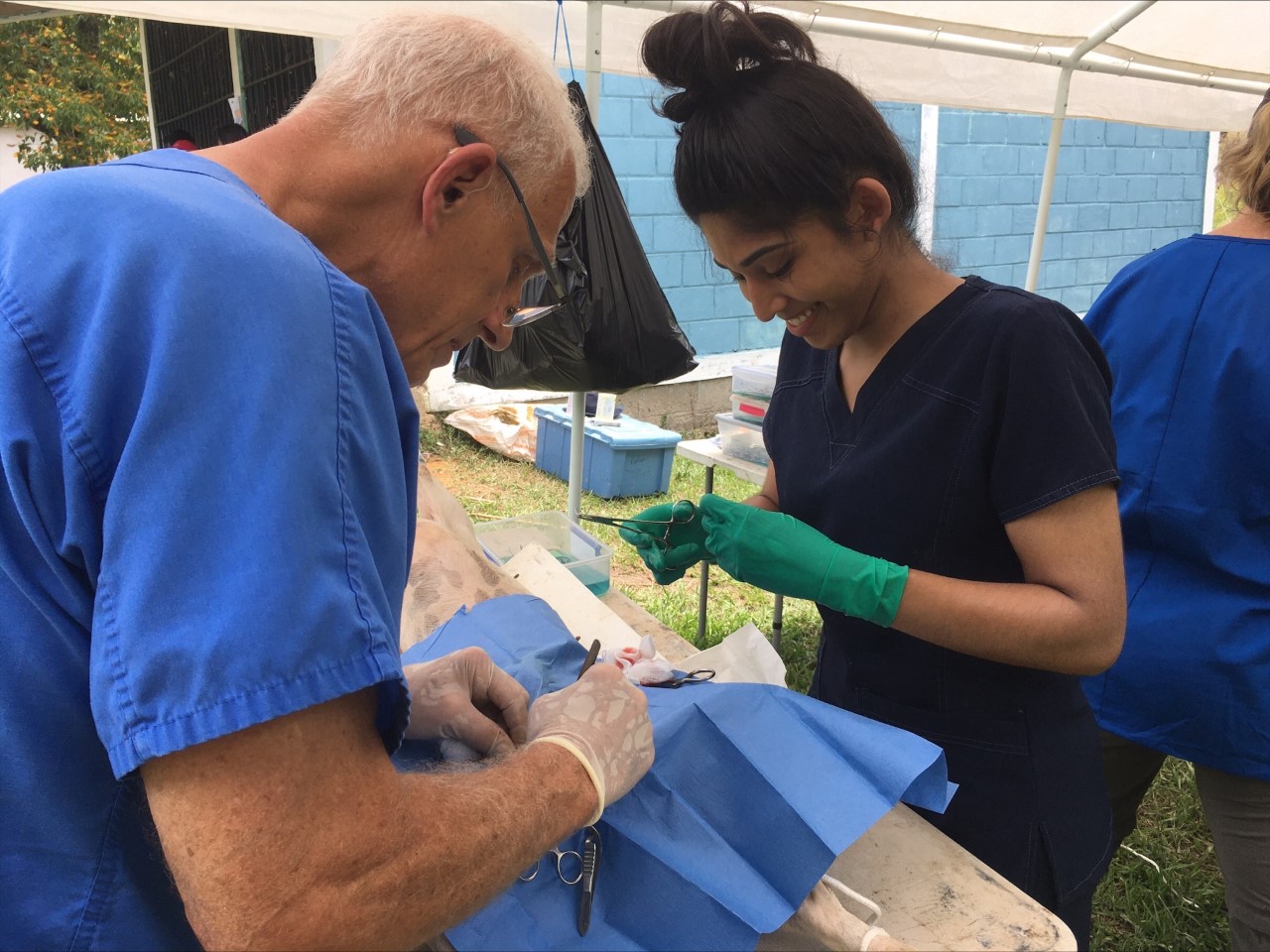 Sophia Welk
"This summer, I had the opportunity to spend May 28 through June 4 in Honduras. Each day, our team traveled to remote communities and performed spays and neuters for animals in the villages that would not normally receive veterinary care. I learned so much on this trip and grew professionally as a future veterinarian. First, I was able to grow more confident in my surgical skills. There were four experienced veterinarians on our team, and each one had insight to techniques that would improve my surgeries. They guided me where I needed guidance, and every day I became more independent with my surgical procedures. Previously, I had minimal large animal experience, but I learned how to castrate horses, deworm swine, and float horse teeth. Next, I was able to gain experience in a high-volume spay-neuter setting with limited supplies. Not only did I learn to adapt to unexpected situations, but I also left with a greater appreciation for all that we have available to us here in America. Lastly, it was amazing to see how grateful they were for our service. The children showed us thanks by bringing us candy, pretty rocks, or putting flowers in our hair. The community sang with us and prayed with us each day before we left. I left having gained so much from this experience as well, and for that I am very thankful."
Below is the daily case report for procedures I performed:
Monday: Location- El Mico- One cat neuter, one cat spay, two dog neuters, and one dog spay
Tuesday: Location- El Nanzal- One cat spay, one dog spay, two dog neuters, and one horse castration
Wednesday: Location- El Pedrero- One dog spay, and two dog neuters
Thursday: Location- El Quiscamote- One dog spay, one dog neuter, and ten pig dewormings
Find out more about Illinois students' international experiences.