The importance of chronic valvular disease (CVD) as a canine health problem can hardly be overstated. Much of the research has been focused on improving diagnostic methods and developing effective therapies for the long-term medical management of heart failure and slowing progression during the preclinical phase.
While pimobendan has been shown to delay the onset of heart failure, 80% of these patients are likely to worsen or die within 2 years of diagnosis. Once they experience congestive heart failure, the median survival time is 9 to 12 months.
In the past two decades, advances in mitral valve repair have made a substantial impact on CVD treatment in small dogs.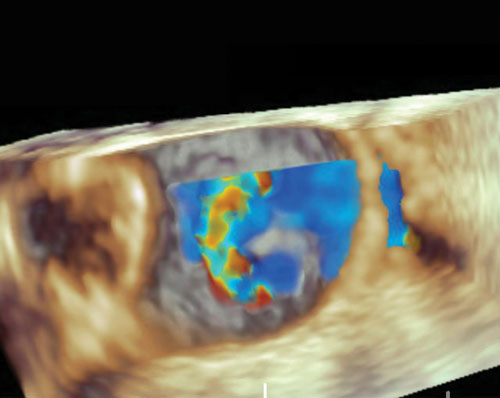 En face view of the mitral valve annulus. Image A: Presence of severe mitral regurgitation pre-clamp. Image B: The V-Clamp is seen in the middle of the mitral valve orifice resulting in significant reduction in the mitral regurgitation.
An Alternative to Open Heart Surgery
Open heart mitral valve repair surgery results in a successful outcome, but it is not widely offered due to travel and cost constraints. A new procedure called transcatheter edge-to-edge mitral valve repair (TEER) appears to be an alternative to open heart mitral valve repair, based on promising early clinical results reported by the Colorado State University.
TEER is a minimally invasive beating-heart intervention for treatment of severe mitral regurgitation secondary to chronic valvular disease. The TEER procedure in dogs is performed under general anesthesia through a small incision (2″ to 3″) in the chest wall and transapical cardiac approach in the beating heart under fluoroscopic and transesophageal echocardiographic guidance with a device called the V-Clamp.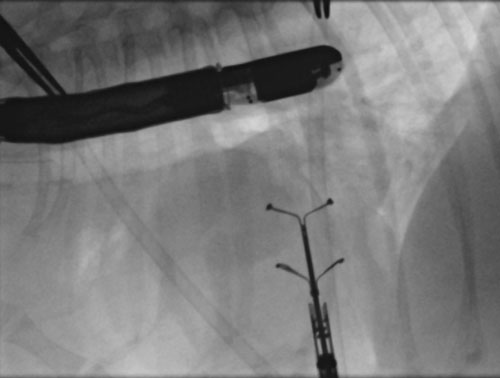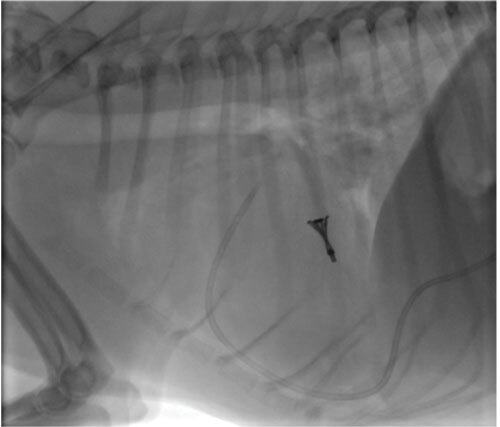 At left: Fluroscopic image during the procedure showing the open V-Clamp positioned at the level of the mitral valve. At right: Radiographic image showing the locked V-Clamp positioned at the level of the mitral valve with a nearly perfect vertical alignment.
Eligibility for TEER
To be eligible for this procedure, the patient must weigh between 4 to 15 kg and have evidence of ACVIM stage B2 or stage C. Dogs in latestage C/D or atrial fibrillation are considered poor candidates for this procedure.
An important predictor of outcome in dogs undergoing TEER is mitral functional anatomy. Dogs with favorable functional anatomy can be expected to have the best outcomes in terms of reduction in mitral regurgitation severity and extension of life expectancy with low procedural risk. Dogs with less favorable functional anatomy may derive equivocal benefit from TEER with some associated increase in proce dural risk. Dogs with unfavorable functional anatomy carry a high procedural risk compared to potential benefits and are not candidates for the TEER procedure.
Surgical Outcomes and Cost
Early clinical evaluation of the TEER procedure over the past year has been associated with low procedural risk and significant decreases in mitral regurgitation severity.
Long-term follow up is limited, but early data indicate a freedom from all-cause and cardiac-related mortality at 9 months of 87.4% and 91.1%, respectively.
Patients typically are walking outside the day after the procedure and released from the hospital within two to three days. Regular follow-up evaluations by the referring cardiologist over a minimum period of 1 year are expected.
The medical costs are estimated at $5K and the device is an additional $8K. The average total cost after workup, hospitalization, and procedure is $14K to $15K.
If you have a patient that might be eligible based on the criteria described here, the patient should be evaluated by a veterinary cardiologist.
For more information, please contact the cardiology service at the Veterinary Teaching Hospital: vthcardiology@vetmed.illinois.edu
By Saki Kadotani, DVM, DACVIM (Cardiology), and Ryan Fries, DVM, DACVIM (Cardiology)