A full range of farrier services, including therapeutic shoeing and hoof care delivered in partnership with veterinary experts, is available through the Veterinary Teaching Hospital. Our farrier is a member of the American Farrier's Association (AFA). He provides in-hospital services at our Large Animal Clinic in Urbana and both in-clinic and on-farm services through Midwest Equine at Illinois in Farmer City.
Contact him by calling (217) 300-7222 or via email at farrier@ vetmed.illinois.edu.
---
Tobias Ellis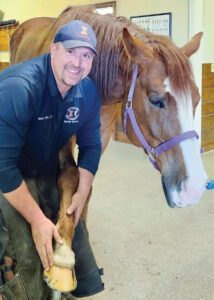 Tobias Ellis is originally from Blodgett, Ore. After graduating from the farrier science program at the Linn-Benton Community College, in Albany, Ore., he owned and operated a farrier service in Central and Western Oregon.
Ellis became a member of the American Farrier's Association in 2015 and became a Certified Journeyman Farrier in 2021. Since joining the Veterinary Teaching Hospital in fall 2022, has also initiated mentored training of veterinary students, veterinarians, and professional farriers.
He was recently named vice-president of the Land of Lincoln Horseshoers Association.