This message will appear in the Illinois State Veterinary Medical Association Epitome.
---
As our spring semester wraps up, I have good news to share. Most importantly, I want to tell you what a great job our students did hosting SAVMA Symposium March 16 to 19. It had been quite a while since the previous Illinois symposium.
As pointed out by Dr. Leah Nehila, a 2023 graduate who, as a SAVMA delegate in 2021, orchestrated the bid to host symposium: "The last symposium to be held at Illinois was in 1995, before many of us were born."
(This statement makes Dr. Anne Barger, who was one of the student organizers of the 1995 SAVMA Symposium, feel a little old. But I was an Illinois faculty member who attended that symposium, so you can imagine how it makes me feel.)
Updated Rankings
Before I get to the symposium recap, though, I want to be sure you have heard that our college moved up a remarkable eight spots in the new US News & World Report rankings of U.S. veterinary colleges. The new rankings were released in April. Illinois ranked No. 15, in a three-way tie with Michigan State and Washington State.
A different ranking system with an international focus, the QS rankings, issued an update in March. Illinois advanced one notch, to No. 16, among U.S. veterinary colleges. QS puts Illinois a fraction of a point below Purdue and above Kansas State.
A third platform, Edurank, puts Illinois at No. 11 for U.S. veterinary colleges.
It is wise to be skeptical of rankings, despite their popularity. The US News & World Report veterinary rankings are derived solely from a survey mailed to deans and hospital directors at the 33 AVMA-accredited colleges. Respondents are asked to rate peer programs on a 1-5 scale of academic quality. The QS rankings use both reputational surveys and objective data, such as publication citations. Edurank focuses on research performance.
Despite the imprecision of these methodologies, I take satisfaction in knowing that my peers in veterinary academia voted us up eight spots. I think our true worth is coming to light.
Symposium: A Time of Learning
The 750 veterinary students from across the country and around the world who attended SAVMA Symposium got a close look at Illinois, and they gave it high praise.
Attendees had the opportunity to participate in more than 130 lectures, seven panels, nearly 30 wet labs, six field trips (including ones to Chicago's Brookfield Zoo and Shedd Aquarium), and 17 social events. The Illinois strength in zoological medicine took a prominent place in the programming and proved highly popular. Dr. Mike Adkesson, our 2007 graduate who was recently named CEO of the Chicago Zoological Society, gave the opening keynote address and sat on a panel about careers in zoo medicine.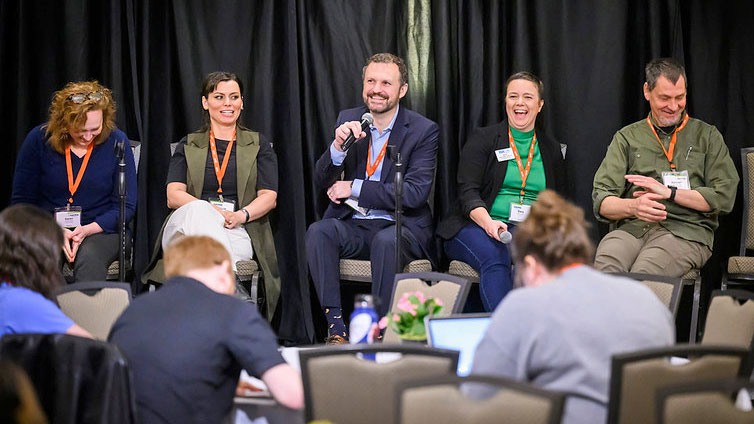 Wet labs gave attendees hands-on experience with many species and specialties, from canine dentistry and drug compounding to transrectal equine ultrasound and uterine body and horn flush on a cow.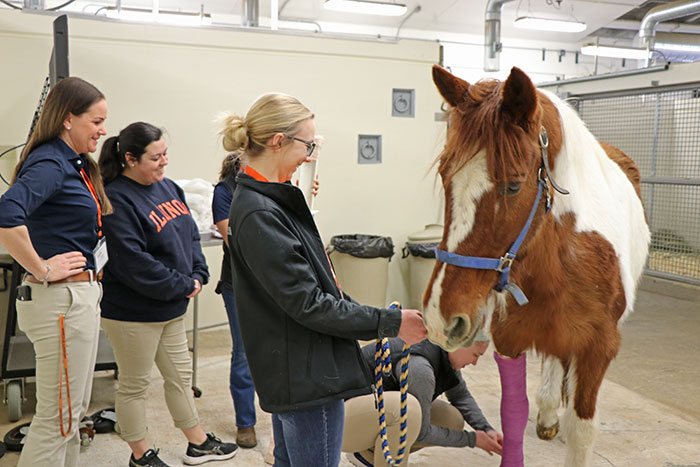 Here is a small sampling of attendees' responses to the question "What was the most interesting thing you learned today?"
"An endoscope for a beluga whale is almost 3 meters long"
"Even nontoxic chemicals can disrupt the endocrine system, causing transgenerational health problems"
"How to be a better empathizer so the clients' and patients' experience of euthanasia is more positive"
"It can take a long time to euthanize reptiles"
"Paying your loans off quickly can actually be much more expensive than paying them off slowly using the correct methods"
"Sled dogs and Olympic rowers have similar EKGs"
"Venomous snakes can defecate old fangs that potentially have venom in them"
Another attendee noted: "The U of I Wildlife Medical Clinic is such an amazing resource for DVM students. I wish my school had similar access."
Illinois and Its Students Shine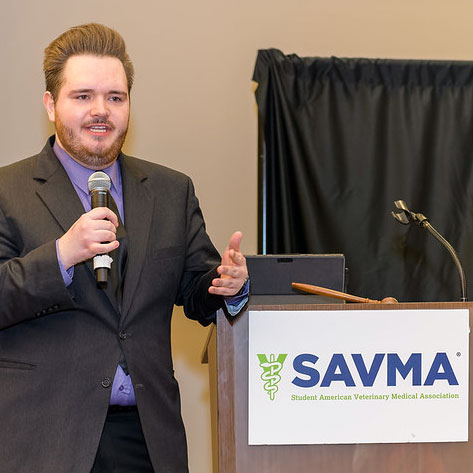 While most attendees were busy learning and socializing, others were conducting important business for the Student AVMA House of Delegates. There are SAVMA chapters at 40 veterinary programs worldwide. One order of business was inducting Max Paulson, an Illinois veterinary student, as SAVMA president. He will serve as president over the coming year while he completes his DVM.
A handful of Illinois student leaders organized the entire four-day event. I'd especially like to call out Grace Wischmeyer, symposium general manager; Myranda Richied, treasurer; and Taylor Miller, fundraising chair. These three women began working over a year ago to make the event a success. They continued wrapping things up through the end of spring semester.
Our SAVMA chapter presidents and delegates, including Crystal Munguia, Hassan Hanna, Emily Verwers, and Tess Santoro, rounded out the core team for symposium. Dr. Will Sander, SAVMA chapter advisor, guided them through the process, from presenting the bid in 2021 to delivering a great conference this spring. Hundreds of other Illinois students and faculty participated as volunteers and speakers.
Hosting SAVMA Symposium put a spotlight on our college. Thanks to our students and faculty, Illinois shone brightly.