In March Dr. Tara Donovan was named the 2023 Swine Practitioner of the Year at the annual meeting of the American Association of Swine Veterinarians (AASV). Dr. Donovan served as AASV president in 2012 and has dedicated countless hours to the association's Transboundary and Emerging and Infectious Diseases, Human Health and Safety, Pig Welfare, and Pharmaceutical Issues Committees.
As the vice president of health and management for The HANOR Company, Dr. Donovan oversees the veterinary management for 85,000 sows and 1.9 million grow-finish pigs. She's also a current student in the Master's in Veterinary Science (MVS) program at the University of Illinois.
We caught up with her recently to learn more about her career and her experience in the MVS program.
---
How did you find your way to a career in swine medicine?
Dr. Donovan: I grew up on a farm in central Nebraska. We had dairy cows, raised a few pigs, and grew alfalfa and corn. I had a love for animals. As long as I can remember I have wanted to be a veterinarian.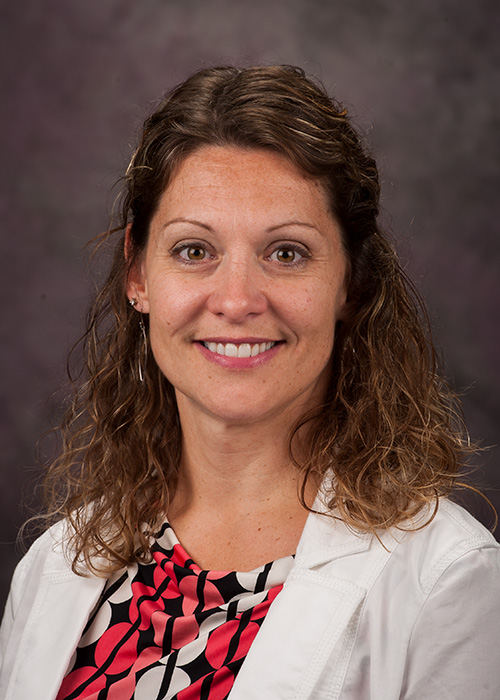 When I started veterinary school, I was dead set on being a mixed-animal practitioner. But after I got to see the feedlot operations at Kansas State University, I realized I am an analytic person. I was attracted to feedlot medicine because there is lots of data to analyze.
Then I was introduced to swine medicine, which is also heavy in use of production records and return on investment decisions. My first job out of vet school was as a herd veterinarian with HANOR, a vertically integrated swine operation, based in Oklahoma.
That was in 1999, a tough year for pig markets. I had some second thoughts when there was so much disruption and loss of revenue for the swine industry that year. Agriculture can be a tough and volatile business, but it's also rewarding in many aspects. After a few years as herd veterinarian in Oklahoma, I was asked to oversee the entire company's veterinary operation, which required moving to Wisconsin, where the company's headquarters was located.
It was a trial by fire, but HANOR believed in me, and I had wonderful mentorship. I am deeply grateful to my mentors.
Why did you decide to pursue a master's degree at this point in your career?
Dr. Donovan: Part of it is that I'm a lifelong learner. I enjoy learning and reading.
But also, I have been thinking about what is next in my career. What do the next 10 years hold?
I realize how much I enjoy bringing new veterinarians on and having student interns as part of the team. I especially love when students who do not have a farm background get a spark for agriculture.
I'd like to be able to nurture students, so potentially I will find a role within a university. When Dr. [Jim] Lowe called to tell me about the MVS program, it seemed like a good opportunity and a potential bridge to a role with students.
Plus, I had already been part of the University of Illinois as an EVP graduate. I loved that program because it put you in the trenches with your peers. The networking with peers was so useful. I continue to connect with many of the veterinarians in my EVP cohort at the annual AASV meeting.
Has the MVS program met the expectations you had going into it?
Dr. Donovan: I was excited to be returning as a learner. Because veterinary education is very disease oriented, I was kind of expecting the MVS program to be like that. However, it is much different—in a good way. I already stay up to date on disease information because that's the core of what I do.
The MVS curriculum covers business management and systems and takes a more global focus than just disease and medicine. I've learned more about the basics of business, such as articulating the vision and purpose of a company.
In fact, not all the students are veterinarians. It was fun to interact with this diverse group and to hear other views.
I learned about other ag industries from my fellow students and from the assignments. For example, there was a person who runs a sheep farm in Colorado, people in sales positions in the pharma and ag industries, and people in academic positions. One of our projects related to the cow/calf business.
Additionally, being in this program has re-instilled my love for agriculture and the important role it plays around the world. It has helped me appreciate that, even in a small job or company, you are contributing to the big picture of feeding the world.
Would you encourage DVM students to pursue a career in swine medicine?
Dr. Donovan: PRRS and PED are tough viruses, not for the weak at heart. We know a lot more now than we did when they first emerged, but there's still so much we don't know.
This career is challenging but also rewarding. And you don't have to be from a farm in the Midwest to enter this profession. We need smart young vets who can bring new thought processes to persistent problems like biosecurity, bioexclusion, avian influenza, and more.
One of my main pieces of advice for students—not just veterinary students, but for my own children, who are in college now—is to reach out to your professors. That interaction is important. Even if you are doing an online degree, the interaction should not be only through the computer.
Build a multigenerational network. Get out and ask questions. That's how you find opportunity.