Tell us about your background.
I am Canadian and was fortunate to grow up in the beautiful and diverse area of Vancouver, British Columbia. Growing up, my family was extremely active, both with sports, but also various activities – camping, hiking, cycling – that immersed us in nature, which fueled my passion for animals and the environment!
I completed an undergraduate degree in biology with a minor in kinesiology in B.C. prior to graduating from the Western College of Veterinary Medicine at the University of Saskatchewan in 2014. Veterinary school directed my endeavors toward becoming a zoological medicine specialist. My post-graduate training path included a small animal rotating internship here at University of Illinois, a specialty internship at Texas A&M University, and a residency at North Carolina State University.
After almost 3 years in private practice, I knew returning to academia would support my goal to train future veterinarians, while remaining active in the clinic, collaborating with other specialists, and performing clinically important research.
What draws you to Zoological Medicine?
This is an incredible field to be a part of! It is continuously evolving as we learn more and more about the diverse array of species we are lucky enough to work with. This includes not only how to best diagnose and treat the illnesses they get, but also how we can improve upon their overall health and welfare.
I also love that we never know what our day may look like, so we are constantly challenged to apply our critical thinking skills to solve problems and ultimately provide the best care for our patients.
Tell us about a favorite case of yours.
I have been fortunate to have so many memorable patients! One that stands out is Chuck Norris the tortoise who unfortunately suffered an injury of her hind foot that ultimately required a hind limb amputation.
To support mobility despite the loss of her foot, we consulted with a pet prosthetist and created a unique prosthetic device. This involved a platform for her plastron (bottom shell) to sit on and an outrigger wheel system that ran along the side of her body to replace the function of her foot.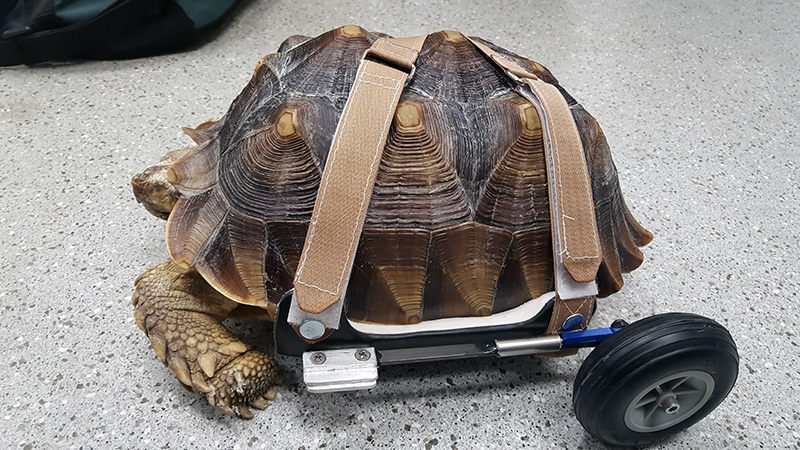 After several tweaks to the prototype, Chuck Norris was able to navigate through the grass and dirt in her yard at home and was loving life as a three-legged tortoise! It was amazing to see everyone work together to find a solution that could maximize her quality of life!
What are your special interests?
Within the field of zoological medicine, I am drawn to anesthesia and analgesia, as well as endoscopy. I am also passionate about supporting the referring veterinary community to improve accessibility for clients with zoological companion animal pets.