I am lucky to be a part of the Illinois chapter of Christian Veterinary Mission Fellowship, where we hold weekly Bible studies and outreach events. In January I had the opportunity to attend our regional veterinary conference, Real Life Real Impact, which incorporates our faith with real veterinary issues and problems in a day full of sessions and fellowship.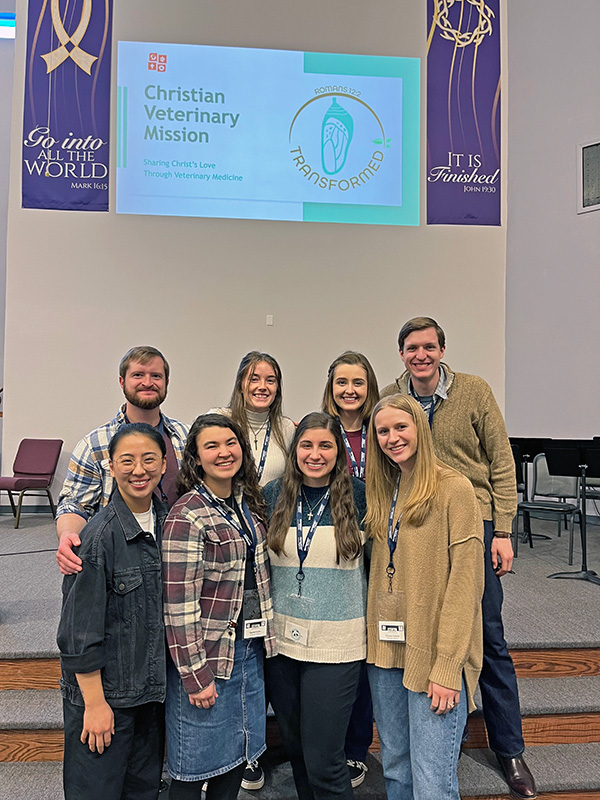 This year, the North Central Regional conference was hosted by Iowa State. Ames was a long 5½-hour drive from the University of Illinois, and we headed out in the middle of classes on a Friday.
That evening, events included dinner, opening ceremonies, and worship. The next day we got to select four sessions from a variety of options to attend. I learned some amazing things from these veterinary leaders that really changed how I view the profession and myself.
Here is some of what I learned.
My first session, "Being a Female, Christian, Large-Animal Veterinarian," led by Dr. Diane Noll, talked about common struggles faced by a Christian veterinarian, such as ethical fatigue, client comments, creature/creator relationship, humility, and character over success. It made me feel like I was not the only one experiencing these challenges and there were people who understood.
"Transforming Your Mind … In Practice, Home, and Life!" was led by Nancy Krutzsch, CVPM. We dove into alternate meanings of "ego," and I realized that my ego in school is limiting my gifts and how I interact with others.
"Workplace Ministry: Who are We Really Ministering To?" led by Dr. Michael Joyce revealed some unique ways of running a Christian-based practice and what the practicalities would look like. While right now I do not anticipate owning a practice, it was good to hear some ways this would play out in practice.
The last speaker-led session I attended was "Time Mgmt: Tips and Tricks to Manage Your Time So You Don't Wonder Where It Went," led by Dr. Lauren Charles. I learned practical ways to better manage time to relieve some anxiety and live a fulfilling life.
At the end of the day, there was a women's panel led by Dr. Noll, Krutzsch, and Lindsey Abrams, CVT, to talk about being a female in the profession and some stereotypes we may face.
We also had plenty of free time and meals to talk with veterinary professionals one-on-one to hear more about their lives in the profession and who they are as individuals. I had the incredible opportunity to talk with people from Kansas, Missouri, Wisconsin, and Iowa about what their practice is like. I also got to talk to some Illinois grads about their experiences here and advice for the next classes.
Overall, this was a great—and not-so-intimidating—first vet conference experience. I would recommend it to anyone looking to connect a purpose with their passion as well as find a great community of like-minded people.
By Annie Davis, Class of 2026