The Society of Toxicologic Pathology (STP) honored Dr. Lyn M. Wancket with its 2022 Distinguished Early Career Award. Presented in June 2022 at the STP's annual meeting in Austin, Texas, the award recognizes the contributions of a trainee or early-career pathologist to the society and profession. The society promotes and represents the interdisciplinary field of toxicologic pathology, which is focused on studying how environmental, animal, and human health are impacted by drugs, chemicals, devices, and other agents.
Dr. Wancket earned her veterinary degree from the University of Illinois in 2006, and it was her Illinois experience that helped her decide to carve out a unique career in veterinary medicine research. In 2013, she earned a PhD in Comparative & Veterinary Medicine at The Ohio State University, with a focus on rodent models of systemic and pulmonary inflammation. She is a board-certified veterinary (anatomic) pathologist.
Dr. Wancket credits Dr. Matthew Wallig and Dr. Wanda Haschek-Hock, currently professors emeriti at Illinois, as being instrumental in introducing her to the STP, which she joined while she was a DVM student. While still in graduate school, she served on the Career Development and Outreach Committee and networked with STP members to learn more about toxicologic pathology and help others find their optimal career in the field.
During her fourth year as a DVM student and while she was doing a summer externship at the National Cancer Institute in Washington, D.C., the society held its annual meeting there. This proximity gave her "a chance to speak to many more members of the STP.
"I've been an STP member longer than I've been a veterinarian," she said.
Service to STP
The award is particularly meaningful to her because "I understand how early-career members can be involved in the organization," she said. The honor recognizes her vast contributions toward furthering STP's goals and advancing toxicologic pathology.
Veterinary pathologists do not diagnose human tissue, but the lines are overlapping more in research. Veterinary pathologists can look at human tissue and see results of the research — not providing the diagnosis but working in a collaborative or supporting role for more research-type tasks.
Dr. Lyn Wancket, Scientific Director | Charles River Laboratories
In addition to having served on several committees and task forces at the society, currently she is the chair of the Scientific and Regulatory Policy Committee, a group that tackles issues to share knowledge with members and "promote appropriate industry practices and good regulatory policies," according to the STP. The committee organizes STP members to write and submit manuscripts such as best-practices recommendations or "points to consider" manuscripts, and she contributed to a recent publication on medical-device evaluations. She also serves as a member of the STP's International Harmonization of Nomenclature and Diagnostic Criteria (INHAND) rabbit working group and the Diversity, Inclusion, and Belonging Task Force.
Dr. Wancket has written numerous book chapters and scientific articles; co-chaired symposia sessions; and presented toxicology and pathology courses. She "was instrumental in creating the STP Speakers/Training Institution Program" and "was a founder and first chair of the STP Medical Device Special Interest Group," according to the society.
Growing Up in Illinois
Dr. Wancket grew up in Springfield, Ill., with a long-held interest in science. She attended Springfield High School for ninth grade, then completed her last three years at the Illinois Mathematics and Science Academy (IMSA) in Aurora.
"Because of my time at IMSA, I decided I wanted to earn a biology degree and immerse myself in Russian literature," she said. She attended Brandeis University in Waltham, Mass., where she spent time working at the institution's Lois and Henry L. Foster Biomedical Research Center. There she worked with Dr. Kenneth ("KC") Hayes, professor emeritus of biology and former director of the research center.
For more than 35 years, Dr. Hayes has focused his research on how lipoprotein metabolism is affected by fats and oils, specifically studying "smart fats" as a way to combat high cholesterol. Dr. Wancket worked on a project evaluating serum vitamin levels in retinitis pigmentosa patients.
Mindful of her affinity for science, animals, and research, she came back to Illinois to earn a DVM and explore potential careers combining those interests.
Illinois Veterinary Mentors
Dr. Wancket said she chose Illinois in part because she was a state resident. "I applied to other Midwestern schools, but the opportunities to work in research labs and do more hands-on research in the fourth year" made Illinois an attractive option, she said. It also was where she discovered pathology as a career choice.
Drs. Wallig and Haschek-Hock not only introduced her to the STP but also to the field of pathology, especially as they brought speakers to Illinois to talk to students about pathology as a career, she said. From visiting with those lecturers, she learned specifically about toxicologic pathology, which led to her PhD at Ohio State.
"I chose the (PhD) program because it combines research and a residency, which I did at the Nationwide Children's Hospital in Columbus, Ohio, focusing on a general class of molecules that help inhibit the inflammatory response," she said.
Discovering Medical Device Pathology
After graduation, her professional career began in medical device pathology at the North American Science Associates (NAMSA), LLC. NAMSA is a contract research organization in Northwood, Ohio, that focuses on testing and evaluating medical devices and providing healthcare industry clients with guidance and support for device development and commercialization. Among the work she did in her four years at NAMSA were histopathology evaluations and study designs, with a focus on bone-supported devices. In this position, she used her veterinary science and research skills to promote human and animal health.
Although she didn't know it at the time, her experience as a Brandeis student working at the Foster Biomedical Research Center was serendipitous to her current job. Since 2018, she has been a toxicologic pathologist at Charles River Laboratories in Durham, N.C. Charles River was founded in 1947 by Dr. Henry Foster in Massachusetts, who also was a prominent, longtime supporter and trustee of Brandeis until his death in 2008.
Advancing Human and Animal Health
Dr. Wancket is now a scientific director. Her work "is similar but a bit broader" than what she did for NAMSA, she said. As a scientific director, she manages a team of pathologists and fields questions from sponsors. She also conducts risk assessments for health-related therapies on the nonclinical, pre-human testing aspects of treatments such as vaccines, cell and gene therapies, and medical devices. One of the primary goals in her specialized work is to ensure a medical device or medication functions as intended but with minimal toxic or other injurious effects.
"Our main goal is to support human health, but the translatability is very high for items like medical devices. … The non-clinical work tested in animals is improved for use in both animals and humans, and many of these solutions are the exact same product," she said.
"There are not many [diplomates of the] American College of Veterinary Pathologists — certified veterinary pathologists — in total, maybe fewer than 2,200 — and of that group, very few people do medical device work.
"Veterinary pathologists do not diagnose human tissue, but the lines are overlapping more in research. Veterinary pathologists can look at human tissue and see results of the research — not providing the diagnosis but working in a collaborative or supporting role for more research-type tasks," Dr. Wancket explained.
Advice on Veterinary Education and Careers
As to why a student interested in veterinary medicine should consider the U of I, she said, "One thing I really like about Illinois is that you have an opportunity for a broader experience than some other schools. We have companion animal medicine in Urbana and Chicago, the wildlife clinic in Urbana, and interactions with the Brookfield Zoo and the Shedd Aquarium. And you can afford a lot more in central Illinois, because the cost of living is more affordable than many other cities."
For anyone in veterinary medicine considering career choices, Dr. Wancket advises, "Keep an open mind to what opportunities may develop during your career. When I finished my training at Illinois, I had no idea I would do anything related to medical devices." But she encountered that opportunity when she was looking for her first job, and she ended up enjoying it.
"It might have turned out that I would have said, 'This isn't really for me,' but it still helped determine what direction to take," she said. Having that flexibility and willingness to try things helped forge her future and allowed her to explore multiple options.
"Veterinary pathology is a profession that gives you many different opportunities, and you don't always know what the opportunities are when you start down that path," she said.
By Susan McKenna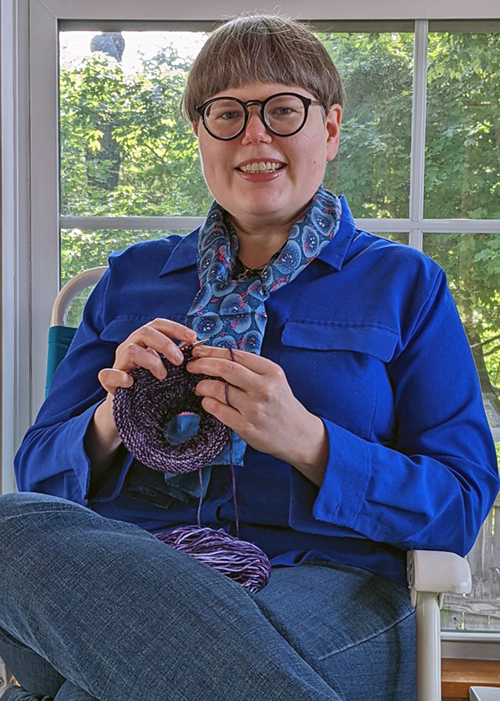 During the pandemic, Dr. Wancket found a way to not only keep busy in her downtime but also brighten the days for her colleagues and her pets. She revived the crochet skills she'd learned while a student at Illinois and the knitting she picked up later. If you've seen the College of Veterinary Medicine's Facebook page from March 2021, you may know that she started knitting during the pandemic from an online pattern, "The Bluebirds of Crappiness."
"I thought, 'Okay, I can make some of these and hand them out at work.' Sometimes, if you're having a frustrating day, these little birds could help lift the mood," she said. She also likes that Anna Hrachovec, the Chicago designer of the patterns, donates a portion of the purchase price to Chicago food banks.
Once word got around at Charles River that she was making these birds for co-workers, the requests poured in and more than 60 little birds "flew the coop."
She also has been making crocheted catnip mice since vet school and each batch is tested by her own cats.
"No matter how many they have, they always think they need more," she said of her pets, Sami and Lulu, who she nicknamed "Quality Control" and "Quality Assurance."
More recently, Dr. Wancket has been knitting purple hats for newborns as part of the Click For BabiesTM, a Period of Purple Crying Campaign. An initiative of the National Center on Shaken Baby Syndrome, the campaign distributes the hats (and baby booties) and educates caregivers about normal infant crying and how to appropriately address it, to help prevent child abuse. This past week, Dr. Wancket sent 40 new hats to a distribution site in North Carolina.