On Sunday, October 2, from 10 a.m. to 4 p.m., more than 300 veterinary students will host a behind-the-scenes look at the state's only veterinary college. Whether you are an aspiring veterinarian or an animal lover of any age, there's something for you at the University of Illinois College of Veterinary Medicine Open House.
Back in full swing for the first time since 2019, the event features more than 40 fun and educational exhibits and hands-on demonstrations. Among the animals will be cows, horses, dogs, snakes, ferrets, lizards, and birds of prey.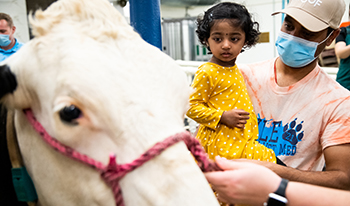 The veterinary student leaders who organize the event chose the theme "The Adventure Awaits" to emphasize the variety of options to explore within the veterinary field. There will be a scavenger hunt for kids along with the usual favorites of animal-themed face painting, animal headbands, and mock-surgery at the Teddy Bear Repair hospital.
Vet Med Open House provides a chance to see many sides of the profession. Visitors can milk a cow and learn about veterinarians in food animal practice. Representatives from the USDA Animal and Plant Health Inspection Service will answer questions from the public.
Live animal demonstrations and talks will include the Illini Service Dogs, the Wildlife Medical Clinic resident birds of prey, and horse-shoeing. Other exhibits educate about the role of epidemiology in protecting wildlife from emerging diseases, veterinary careers in laboratory animal health, and shelter medicine.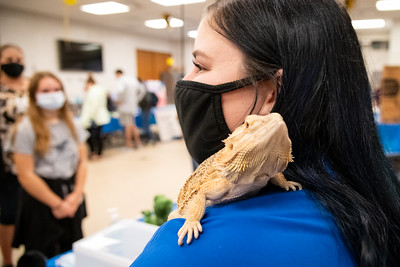 Prospective veterinarians are encouraged to attend Open House. Admissions talks will demystify the path to becoming a veterinarian and offer details about the unique Illinois curriculum and the Doctor of Veterinary Medicine degree program.
The event is free; registration is not required. Free parking is available in Lot F-27 at 2001 S. Lincoln Ave., Urbana, at the College of Veterinary Medicine. For a list of exhibits and directions, see https://vetmed.illinois.edu/animal-owners-community/open-house10/
Please note that the event is for human visitors only.