By Susan McKenna
For two Midwest dog owners whose pets were diagnosed with malignant melanoma, the 2021 clinical trial led by Dr. Tim Fan at the Veterinary Teaching Hospital turned out to be their best option and their greatest hope.
---
'Miracle' Max
The first sign that something was wrong with Max, a large, furry, mixed-breed black-and-brown rescue dog, was in early 2020 when his owner, Daniel Martin, was putting up a fence in his backyard, and Max started barking at him.
"Max isn't a barker," Martin said, so he was certain something was wrong. Martin checked his dog and discovered an enlargement along Max's gum line.
Max had been a treasured member of the family for 14 years, so Martin took him to see Dr. Tejal Rege at All Breed Pet Care in Newburgh, Ind. Dr. Rege did a biopsy of the affected area in Max's mouth, and the lab confirmed a diagnosis of melanoma.
Dr. Rege suggested that Max see Dr. Fan at the University of Illinois Veterinary Teaching Hospital for treatment. At Illinois, Martin learned that one option was surgical removal of a portion of Max's jaw, followed by radiation sessions, rest, and monitoring. Although his dog seemed fairly healthy, Martin said he could "see the tumor growing daily." He also learned that, without treatment, Max might only live another six weeks.
Then Martin was told about the clinical trial that was starting. Enrolling Max in the trial would mean making the seven-hour round trip for weekly and then bimonthly visits plus overnight stays.
"I have had so many people tell me that they couldn't believe I was doing this for my dog, because there was missing work and travel time. But I had to do this for my boy," Martin said.
Max received the immunotherapy treatments in the clinical trial through August 2021 and went through scheduled follow-up visits. No surgery was involved. Now they go for follow-up CT scans every three months, and Martin checks Max's mouth daily.
"… I got to celebrate his birthday last year, and I didn't think he'd make it to that one. We put a party hat on him, and he got to sit at the table and have a piece of cake."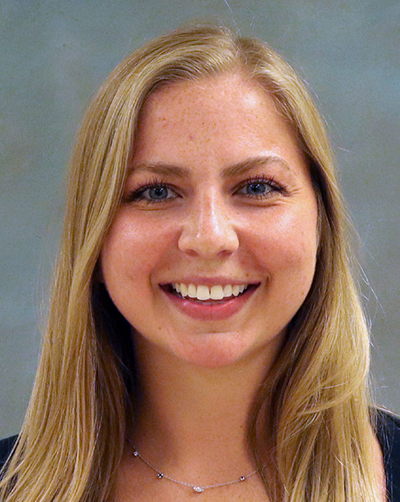 The CT scans are critical during the treatment process, according to Dr. Jordan Hampel, an oncology resident who, as an intern in 2021, helped facilitate and run the first melanoma trial. "The scans help us monitor their response to treatment both at the primary tumor site and at distant sites (regional lymph nodes and lungs). We also perform full bloodwork and a urinalysis at each visit to monitor the patient's overall systemic health and ensure they are having an appropriate response to the treatments," she said.
"If we see elevated liver values, it shows that the patient is having a more systemic response to the treatment. The liver is what we call the 'shock organ' in a dog," she said. "So we can use the patient's liver values to help us determine if the treatment has affected them systemically."
Today Martin believes in what he calls "a miracle" regarding his healthy, happy pet. "Max's color has improved and the tumor has shrunk," he said. "You can't even see it, and it can't be measured by the follow-up scans.
I cannot thank the University of Illinois enough for giving us the extra time with Max. Not only is he doing well, but it is great to know that Dr. Fan is helping both animals and humans.

Daniel Martin
"I was driving three and a half hours just crying," he said of that first trip back to Indiana. "Then I got to celebrate his birthday last year [September 2021], and I didn't think he'd make it to that one. We put a party hat on him, and he got to sit at the table and have a piece of cake.
"I cannot thank the University of Illinois enough for giving us the extra time with Max," said Martin. "Not only is he doing well, but it is great to know that Dr. Fan is helping both animals and humans."
---
Dedication to Dezzi
Amanda Ostrander's beloved 12-year-old companion is Dezzi, a mostly black rescue dog of Rottweiler and border collie mix. When she heard him making a funny noise one day in March 2021, she said she didn't notice anything unusual in his mouth at first. "But then I opened it real wide and discovered a nasty growth."
She took him to a veterinarian and then was referred to a surgeon. After the tumor was removed and biopsied, she learned her dog had melanoma. At that point, the surgeon suggested follow-up radiation sessions in Aurora, Ill. — about an hour from her house — or at the University of Illinois Veterinary Teaching Hospital in Urbana. The first available appointment was in Urbana, so Ostrander drove the two hours from her house in Tinley Park, Ill., for a consultation.
"From the minute I went there, I absolutely loved every single person [we met]," she said. "They were so kind."
Ostrander learned that, to get rid of the growing tumor, Dezzi needed extensive surgery that would remove a large portion of his mouth, followed by multiple radiation sessions. Then she was given another option — Dezzi might be a candidate for a new treatment in a clinical trial.
First, Dezzi had two sessions of radiation to see if that would slow the expansion of the tumor, "but it wasn't responding; it was still growing," Ostrander said. Then she learned that Dezzi had been accepted into the trial.
Starting at the end of May 2021, Dezzi's treatment at the U of I began with a dose of radiation, the cytokines injection, then rest and monitoring in the veterinary hospital. This was repeated weekly and then bimonthly, as was the case with Daniel Martin's dog, Max.
"If we had turned down the clinical trial because it was too much of a drive, we wouldn't have this time with him… If he hadn't gone there, he probably had only a few weeks left and might not be with us today.
"The dedication and commitment to these trials can be taxing on an owner," Dr. Hampel said. "The first two treatments, the dogs stay here for 48 hours. The dedication is not only beneficial to these owners' pets but to future pets, too."
Ostrander was fortunate that her parents stepped in to help out with some of the early trips until she was free for the summer and could take over. She and her husband are both educators, she explained, but she wasn't allowed to take vacation time or even unpaid days to take her dog to Urbana and back.
"I was seriously ready to walk away from my career to help my dog live," Ostrander said.
After Dezzi's last treatment in August 2021, she got to take him home and monitor him herself in between three-month scans and checkups.
"He is doing fabulous and is completely himself," she said. "He walks one to two miles a day." Ostrander and her husband check Dezzi's mouth every day, and there are no signs of the tumor.
As a veterinary technician at Illinois, Rebecca Kamerer has been involved with the care and treatment of the dogs in both immunotherapy trials, including Max and Dezzi from the earlier trial and Sampson, the first dog treated in the Ankyra trial. Kamerer has worked with Dr. Fan for more than 10 years, helping to grow the clinical trial service in veterinary oncology at Illinois.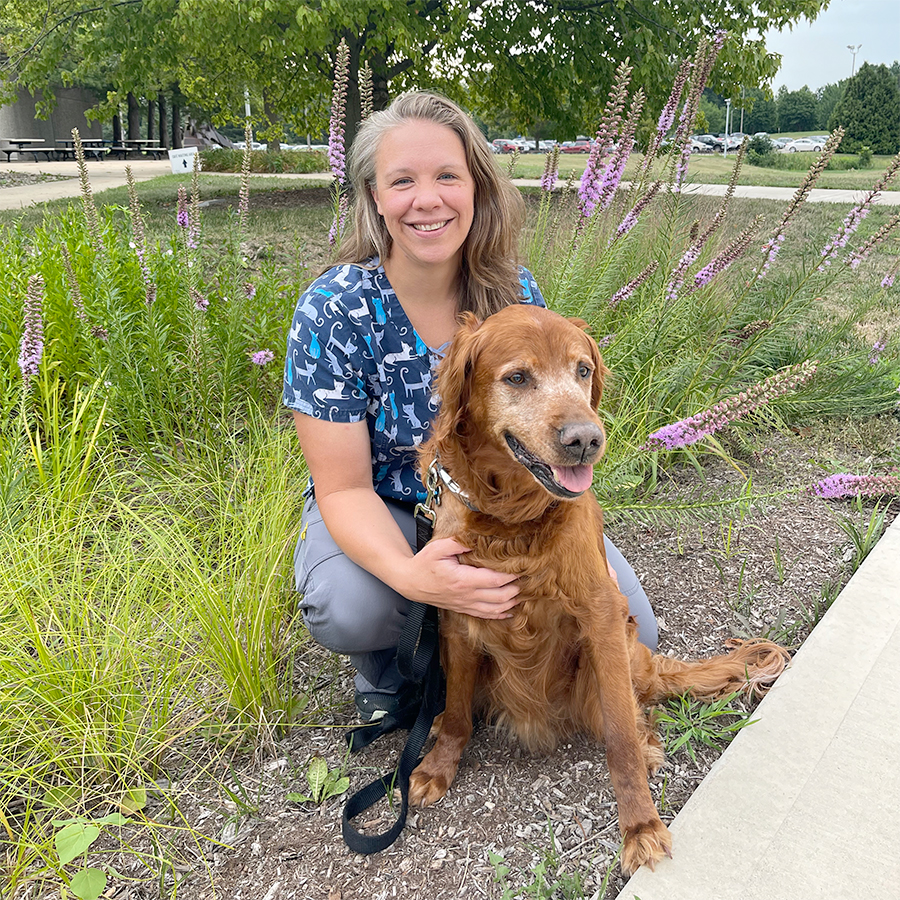 "When someone asks me what I do for a living and I reply that I'm a veterinary technician who helps with oncology clinical trials, they always say, 'That must be a depressing job.' But it's stories like Max's and Dezzi's that I hold onto and are why I look at my job as a rewarding career.
"Getting to know our clients and their furry family members brings me joy. On top of that, we get to help those pets feel better and get more good days with their families, while trying to improve cancer treatments for other pets and humans," Kamerer said.
Dr. Hampel is so great, and the first vet we saw there, as well as Rebecca, the vet tech, were all phenomenal. They absolutely saved Dezzi's life."

Amanda Ostrander
When Ostrander thinks back to the beginning of this journey with Dezzi's participation in the trial, she realizes that the sacrifices of time and effort were well worth it.
"If we had turned down the clinical trial because it was too much of a drive, we wouldn't have this time with him," she said. "It almost feels like borrowed time. If he hadn't gone there, he probably had only a few weeks left and might not be with us today. I ended up telling myself, 'If nothing else, at least we're helping science.'
"Overall, I want to say 'thank you' to the clinical trial team and staff at Illinois. We love them so much, especially for loving my dog as much as I do," she added. "Dr. Hampel is so great, and the first vet we saw there, as well as Rebecca, the vet tech, were all phenomenal. They absolutely saved Dezzi's life."