When Kate Varela started her veterinary studies in 2008, she knew she wasn't seeking a traditional career as a clinician.
"After working in Washington, D.C., for two years between undergrad and vet school, I had a policy bug going into vet school," she recalled recently. "I didn't know until I got to vet school that there was a term for all that I was interested in — One Health."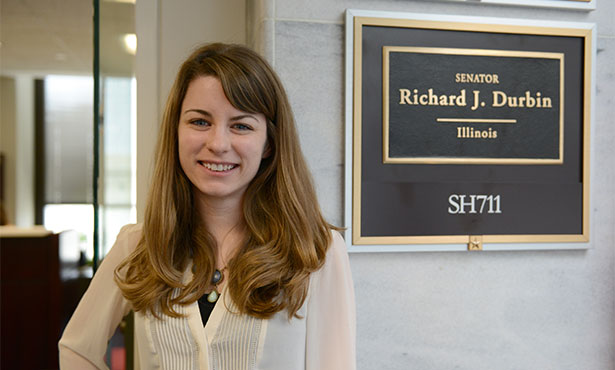 She finished her veterinary degree at Illinois in 2012 and, as part of the joint DVM-MPH program, her master's in public health two years later. During this period, Dr. Varela worked as a Congressional Science and Technology Policy Fellow for the American Association for the Advancement of Science; as a volunteer for Veterinarians Without Borders in Uganda; and as a field officer for the U.S. Department of Agriculture, surveilling poultry farms in California for Highly Pathogenic Avian Influenza.
However, she said, working at the Centers for Disease Control and Prevention (CDC) wasn't "on my radar" until a friend sent her a job posting in 2017 and she realized: "Oh, this is a perfect job for me."
Her five-year career at CDC has included working as an Oak Ridge Institute for Science and Education Fellow from 2017-2019, as an Epidemic Intelligence Service (EIS) Officer and, beginning in 2021, as a Preventive Medicine Resident and Fellow in the One Health office. It does seem to be a perfect fit.
Woman of Steele
In recognition of her outstanding contributions to veterinary public health, Dr. Varela received the CDC's 2022 James H. Steele Veterinary Public Health Award. Created in memory of a leader whose 70-year career was devoted to preventive veterinary medicine, the award recognizes an EIS officer who has worked with multiple disciplines to attain optimal health for people, animals, and the environment.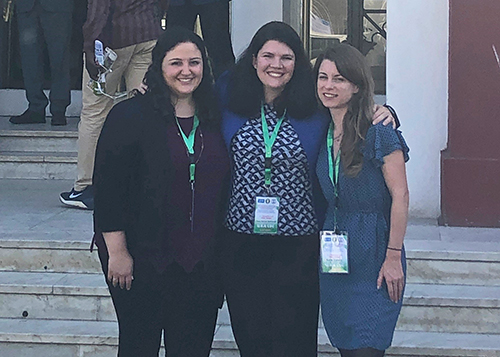 "I am humbled to be among the group of people who were considered for the award," Dr. Varela said, "because they're all people I look up to…
"It's a huge honor, and I know how important James Steele was as an advocate for One Health and integrating veterinary public health at CDC and in public health around the world. He was especially influential to my current CDC supervisor who was his mentee for over 10 years, and she's also been an exceptional mentor to me.
"She saw my potential and how all the pieces of my background could fit together to advance CDC's One Health Office goals… I wanted my career to help make a difference for both human and animal health, so having these opportunities has been incredibly meaningful and rewarding for me."
Elephants, Tigers, and Mink: One Health in Action
Shortly after starting as an EIS Officer, Dr. Varela moved to Morgantown, W.V., to work at CDC's National Institute for Occupational Safety and Health. She led a multi-disciplinary team to determine risk factors related to zookeepers getting infected with latent tuberculosis from the elephants in their care. The team examined the zoo's ventilation system, enclosure cleaning protocols, work safety practices, and more to develop recommendations to improve working conditions by preventing further TB transmission.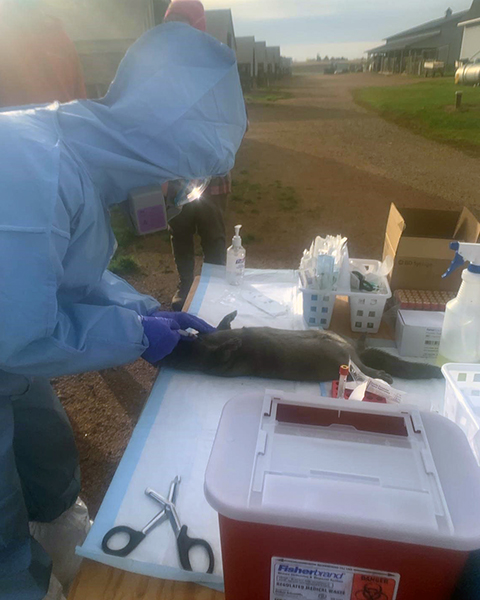 During the COVID-19 pandemic, Dr. Varela gained more experience investigating health emergencies involving exotic animals. In 2020, she served as the occupational health and safety lead as part of a response team investigating an outbreak of the virus on a mink farm. When SARS-CoV-2 cases were increasing in big cats and other zoo animals, Dr. Varela worked with partners to develop safety guidance and recommendations for zoos.
She also helped set up a federal interagency One Health coordinating group that created COVID-related health and safety recommendations for pet owners and veterinary hospital personnel, people working with wildlife, or having recreational contact with animals (e.g., hunters), and other settings.
Last fall, when the world started to see "an uptick in the SARS-CoV-2 Delta variant," she said, "I didn't realize that I'd be using that experience with the elephants in so many different settings to prevent transmission of SARS-CoV-2 between people and a variety of animal species."
Compendium Publication a 'Labor of Love'
For the past four years, Dr. Varela has served on a committee working with the National Association of State Public Health Veterinarians (NASPHV) to develop comprehensive guidance on preventing zoonotic disease outbreaks from non-traditional pet species, such as small mammals, reptiles, amphibians, and backyard poultry.
[T]ake every opportunity you can and see what comes of it. You never know where it will take you, but you'll always learn something.

Dr. Kate Varela
"I did legwork to collect and analyze outbreak data, pulled together the draft document from committee input, and kept the project moving forward," she said. "It was a rewarding experience to get to work with so many subject matter experts from across academia, public health, agriculture, and the private sector to bring this guidance document for veterinarians and other partners to fruition."
Among the experts on the guidance committee was Dr. Mark Mitchell, a 1992 DVM graduate of the college who was on the Illinois faculty when Dr. Varela was a veterinary student. Today Dr. Mitchell is the Marie Louise Martin Professor, a professor of zoological medicine, and director of veterinary clinical services and the veterinary teaching hospital at Louisiana State University.
Dr. Varela hopes the resulting document, published last month in the journal Vector-Borne and Zoonotic Diseases, will become an important resource for veterinarians treating exotic pets. Partly because of her efforts on this project — which she calls "a labor of love" — the NASPHV supported her nomination for the Steele award.
Around the World with CDC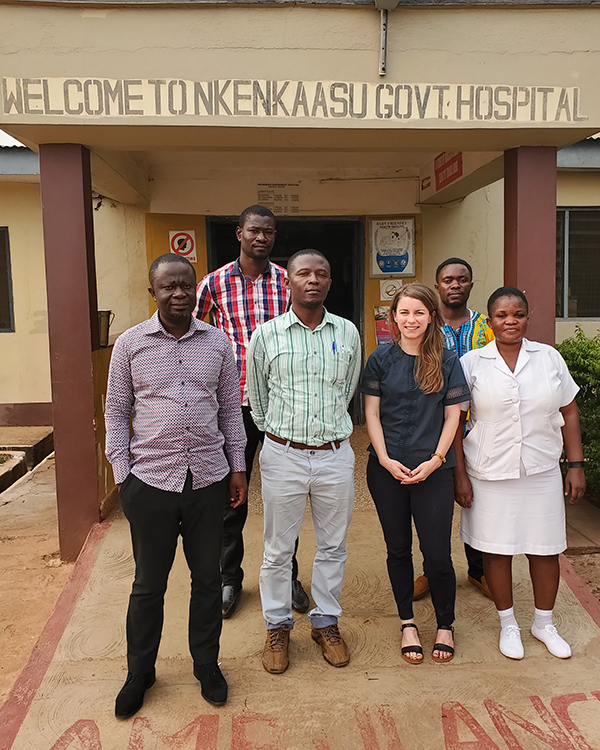 Dr. Varela also has helped countries become better prepared to address Ebola and polio via CDC training and guidelines. "I conducted poliovirus surveillance strengthening in the Ashanti region of Ghana and led case investigation and response for two confirmed cases of polio," she said, of her duties just before the COVID pandemic hit.
"It was an eye-opening One Health experience to apply my medical training in a human healthcare setting, working with clinicians in remote areas of Ghana, reviewing medical records to look for potential polio cases, and conducting polio case investigation and response when we did find them."
In May 2021, "I deployed to Rwanda to work on Ebola preparedness and provided One Health subject matter expertise to the government of Rwanda," she said. "We updated viral hemorrhagic fever surveillance protocols and training materials for the Rwanda Ministry of Health … in light of Ebola outbreaks in the region. And we provided technical support on the One Health Policy and Strategic Plan, which was endorsed by the Rwandan government in August 2021."
'You'll Always Learn Something'
Thinking about what career advice she might offer students and veterinarians with similar interests to hers, Dr. Varela said, "It helps to have an experience at CDC and to do an epidemiology elective rotation there. I actually didn't do [the latter] because it didn't fit into my fourth-year schedule. But it's a great entry point to learn more about CDC and make valuable connections."
Dr. Varela said she is thankful for the mentors she had while in veterinary training at Illinois. She is "really grateful I could do a joint-degree program to explore my policy, epidemiology, and preventive medicine interest areas during vet school to prepare for my career. Thank you for having that opportunity for vet students."
She encourages students to look into veterinary public health opportunities. "This type of career might not seem straightforward (for a veterinarian)," she said. "But take every opportunity you can and see what comes of it. You never know where it will take you, but you'll always learn something. Trust that it will work out if you keep at it."
— By Susan McKenna