Falling in love with horses at the age of five set the course for Dr. Laurie Goodrich's future career. As a child, she continually asked her parents for a horse of her own. "I drove my father crazy with my persistence," she said. Finally, when she was 11, he relented and bought her what she called a "wild appaloosa … I learned to ride and handle him, and it was a great partnership over the years."
The veterinary path is a journey through science and medicine. And it's not about the end — it's all about the journey and being curious along the way.
Laurie Goodrich, DVM, PhD, DACVS-LA | 2022 Research Day Keynote Speaker
Dr. Goodrich, who earned her veterinary degree at Illinois in 1991, will deliver the keynote address at the college's Research Day on April 27. She'll talk about her journey from a love of horses to her career as a veterinarian, surgeon, teacher, and research scientist whose discoveries not only benefit horse health but also translate to human health.
Horses + Medicine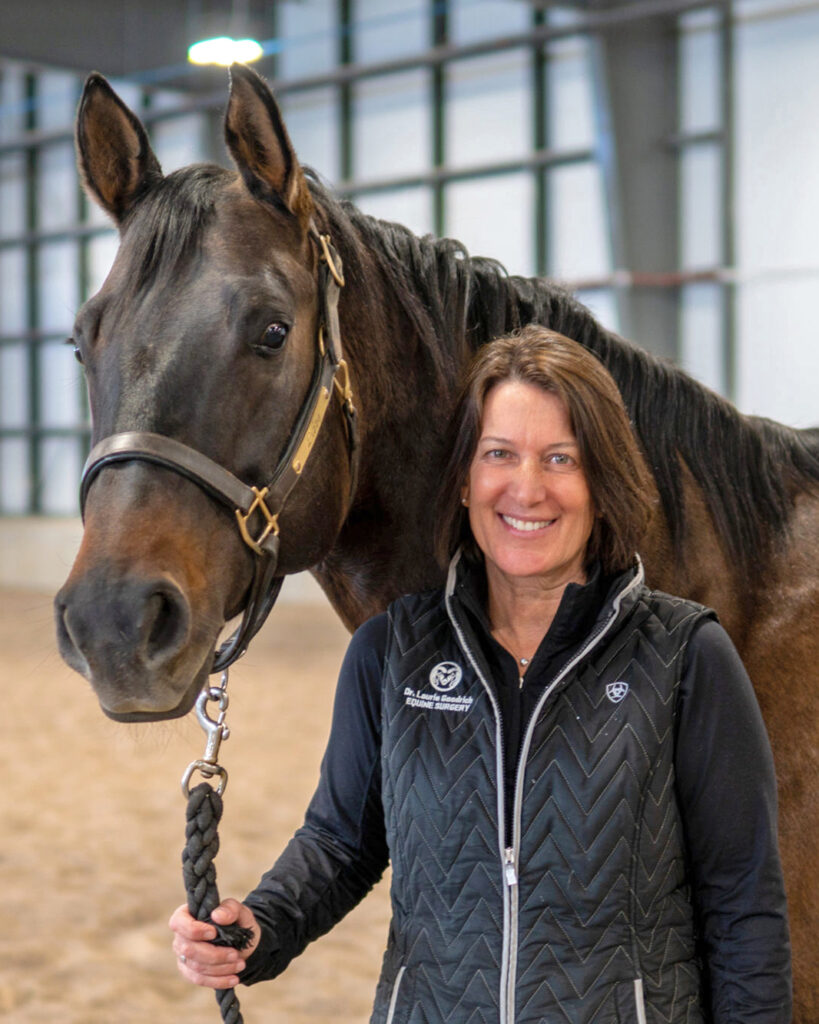 She grew up in Prospect, Conn., where a big part of her childhood included taking care of her horse, riding, and performing. Her parents were both medical professionals—a nurse anesthetist and a dentist. The combination of horses and medicine in Dr. Goodrich's early life helped drive her to become a veterinarian.
Her equine activities expanded to include riding hunter/jumpers, playing polo, riding Western performance, trail riding, and swimming in the reservoir with her horse as she progressed through high school and entered study at the University of Connecticut.
While at UConn, she also discovered an interest in research while working in a dairy science lab. In fact, she chose Illinois from among 10 veterinary schools that accepted her because of the opportunity to be in a research assistantship program.
The Illinois Years
One of her first research projects at Illinois was looking at endocrinology in cows when they calve. She and her lab partners would be called out — often in the early-morning hours — after a cow gave birth. They would help remove caruncles from the cow's uterus, break them up in the lab, and study the hormones in the tissues.
"I learned a lot about research, investigating lab samples with assays, and the use of ELISAs [enzyme-linked immunosorbent assays]," she said. The experience helped set the tone for her future.
Dr. Goodrich also loved being in the operating rooms at Illinois. "I spent as much time in the ORs as I could and in the equine clinic," she said. "I knew that's where I wanted to be because I was so interested in equine surgery and medicine."
For a while, she even lived in the teaching hospital's intern quarters. After hours, when horses and cows would come in with health issues, she and other veterinary students would admit them, help with the initial workup, and handle night treatments.
"This was a wonderful opportunity to get exposed to emergency medicine," she said. "And between classes, I would check on the animals. I felt like I did an internship while in vet school."
The Spark to Be a Surgeon
A guest lecturer at Illinois helped crystallize Dr. Goodrich's decision between specializing in equine medicine or surgery. Dr. Wayne McIlwraith was on the forefront of using arthroscopy in the horse, and this appealed to her. She knew that his work was going to change the way that horses were treated and change the outcomes.
"I was fascinated by using the technology to look inside a horse's joint and explore the disease process. I love working with my hands, and I have a surgeon's mentality. I like to apply it, fix it, and get instant results," she said.
"Sometimes you listen to a talk, and it sparks the fire."
She continued to ride all through vet school, including spending time with Terri Foreman, a horse trainer and the wife of one of her mentors, Dr. Jonathan Foreman, professor of equine medicine and now also associate dean for academic and student affairs.
"Even cleaning stalls was incredibly therapeutic," Dr. Goodrich said, as long as it kept her near the horses.
"I have such great memories of Illinois," she recalled. "It was really the basis for my success. I had opportunities in the scientific realm. It was a wonderful education, and I had professors who cared."
Delving Deeper into Research
After earning her DVM, Dr. Goodrich completed an internship in equine surgery and medicine at the Virginia-Maryland Regional College of Veterinary Medicine and a surgical residency at the Marion duPont Scott Equine Medical Center in Virginia. There she also investigated medical therapeutics and pharmacologics, especially studying non-steroidals and their potential toxicity for horses.
Her first position as an equine surgeon was at Cornell University. There she also began work on a PhD that combined her interests in surgery, cartilage repair, and osteoarthritis.
She said she loves the pharma side of medicine, digging into why various medicines work or don't work and why they have different effects in different patients. Under Dr. Alan Nixon at Cornell, she also studied gene therapy treatments, including regenerative stem cells.
"I was very interested in how treatments work not only for the horse but also as translational models to humans," she said.
Collaborations with 'Gene Jockeys'
As she was finishing her PhD at Cornell, she began collaborating with Dr. Jude Samulski, professor of pharmacology at the University of North Carolina and director of the UNC Gene Therapy Center. He was pivotal in allowing her to study a new type of vector in musculoskeletal disease.
"He was interested in my work," she said, "and I was interested in his." A National Institutes of Health award— her first NIH funding—kept them working together. Although she already had taken a position at Colorado State University in 2005, "CSU was great about allowing me to do [the NIH study]. I got to spend time at UNC with the 'gene jockeys' and was able to concentrate on a specific type of gene therapy for use on the horse," she said.
This work also ultimately led to her growing the gene therapy research done at CSU. She continues to work closely with Dr. Samulski. Their current collaborations are supported by two Department of Defense grants for work on osteoarthritis that they hope will yield benefits for both horses and humans.
Role at Colorado
Today Dr. Goodrich is director of the Orthopaedic Research Center at the C. Wayne McIlwraith Translational Medicine Institute at CSU. She also holds the Barbara Cox Anthony University Chair in Orthopaedic Research. Her appointment balances research, teaching, and clinical service, with about 30% of her time spent seeing patients with students on rotations. She also lectures and conducts continuing education courses, especially in advanced orthopedics such as arthroscopy and fracture repair.
On clinics she treats all horses: family horses, show horses, performance horses, racehorses, and especially those used in the Western way of life, such as working ranch horses. For a lot of ranchers, she said, "These horses are like their kids. They're part of the family. We don't just treat the athletes — we treat the family pet."
Passing on the Spark
In returning to Illinois for Research Day 2022, Dr. Goodrich said she wants her listeners to see that the veterinary path is "a journey through science and medicine. And it's not about the end — it's all about the journey and being curious along the way."
She hopes to spark an interest for someone, in much the same way Dr. McIlwraith sparked her own interest.
Dr. Goodrich said, "It's just such an exciting time for veterinary medicine right now because there are so many areas you can go into. You get to combine your love of animals, science, medicine, and people.
"It's a very powerful thing to have the privilege to observe and improve on the discipline. … It's hard work and physical, but you also get to use your mind, body, and passion to do something that's fulfilling."
—By Susan McKenna