Tell us about your background.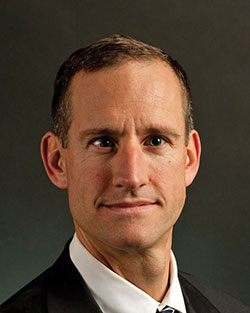 I am originally from southwest Florida and attended Auburn University for my undergraduate studies and veterinary school. My first job as a veterinarian was at the University of Illinois as an intern in the food animal group with Drs. Dale Nelson and Gordon Petersen on faculty and Drs. Dawn Morin and Christopher Ashworth as residents. I worked seven days a week and loved it.
After that, I spent two years in Minnesota at a mixed animal practice where I learned to ski (pretty big step for a kid from Florida), that I was not a very good equine practitioner, and that there were some fundamental issues behind the common problems I was seeing in dairy cows that I needed to understand better.
Drs. Ken Nordlund and Gary Oetzel had developed a new program in production medicine at the University of Wisconsin. I was lucky enough to join them as their second resident and complete a master's in dairy science with the residency.
My wife followed me to New Zealand for a one-year job doing mastitis research, and then I followed her to Kansas where she was on faculty at Kansas State University. We returned to Urbana (my wife, Dr. Laura Garrett, is an Illinois DVM graduate) in the spring of 2016 and have been enjoying working at the hospital and raising our three kids.
How did you become interested in Food Animal Reproduction and Medicine?
When I was about 10 years old, my folks started a cow-calf operation in Florida with a good friend of theirs. The first group of cows they bought were some high-headed, predominantly Brahman cross-bred cows that came off a large ranch where they rarely saw people. They were a challenge to work with, and it was a steep learning curve for everyone. In spite of the early challenges, my folks did not lose interest and neither did I. I spent every weekend with them doing something at the ranch. The cattle operation changed locations a couple of times and grew with each move and stabilized at about 200 cows by the early to mid 1990s. My interest in livestock has never waned since I was 10 years old.
What are your special interests?
There is nothing involving livestock that I don't like, so I struggle to focus. I became board certified in theriogenology two years ago and have really enjoyed the additional focus on reproduction that accompanied that process. I find working on lame cows very satisfying because the vast majority of cases improve quickly after treatment. The fact that we have an indoor facility with great equipment and well-trained assistants makes it a much easier job for me than for most veterinarians.
Tell us about some of your favorite cases.
There have been a lot of favorites over the years! There was a Jersey heifer that developed blackleg and survived because the owner was a veterinarian and gave her penicillin on the onset of symptoms. We spent a long time managing the biggest wound I have ever seen on a live animal, and it eventually healed completely.
I did a C-section on a sweet Brown Swiss cow with a uterine torsion that belonged to the husband of one our graduates. The uterus had ruptured, so the calf was the first thing I found when I entered the abdomen. Closing the uterus was a challenge and amazingly the cow survived and bred back.
On the production side of things, I worked with a cow-calf herd of about 30 cows that was struggling with some reproduction and calf health issues, and we were able to make changes to their feeding program that led to great improvements. We also visited a dairy herd that was struggling with respiratory problems in young calves and we were able to greatly reduce their incidence of respiratory disease by modifying their calf management procedures.