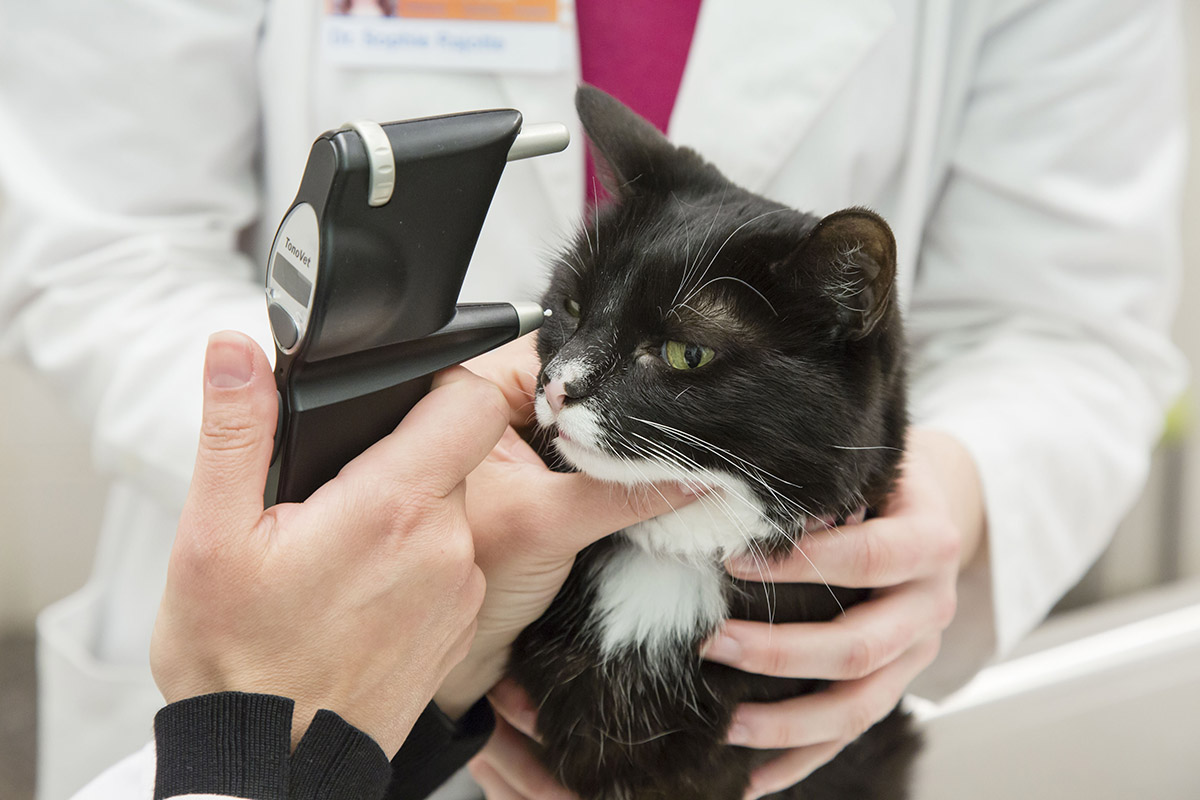 Learn more and apply
We're Growing
Newly structured Ophthalmology service looking for 2 new ophthalmologists to develop and grow the service. Opportunities exist for applicants both in clinical and research interests. 
We are seeking two ophthalmologists to develop and grow our newly structured ophthalmology service. The successful candidate will deliver clinical service, engage in clinical and didactic teaching of professional students, interns, and residents, and contribute to the scholarly mission of the college.
The Comparative Ophthalmology Service at the University of Illinois boasts a long tradition of outstanding service, teaching, and research. The service began in 1966, when Dr. William Magrane, the founder of this specialty, agreed to help develop an ophthalmology service at the Veterinary Teaching Hospital. For 16 years he traveled from his Indiana practice two days each month to teach and see patients in Urbana.
Today, we see a robust caseload with a solid referral base using state-of-the-art equipment in our newly renovated service ward and operating room. Our faculty thrive because of our talented and experienced technicians dedicated to the service.
And when it comes to curriculum, we have established courses throughout the veterinary curriculum in didactic and clinical ophthalmology education.
Our service enjoys a large and varied caseload with small and large animal patients. Hospital resources include state-of-the-art diagnostic, therapeutic, and surgical equipment. Eye-related conditions commonly seen include:
Cataract and cataract surgery
Conjunctivitis
Corneal transplant
Corneal ulcers
Dry eye
Eyelid diseases and defects
Glaucoma
Hereditary eye disease
Ocular surface reconstruction
Uveitis
Special capabilities in the ophthalmology service include:
Corneal grafts
Electroretinography
Endolaser treatment for glaucoma
Episcleral cyclosporine implants for dry eye in dogs
Episcleral cyclosporine implants for immune-mediated keratitis in horses
High-frequency ocular ultrasound
Iris cyst ablation
Phacoemulsification for cataract removal
Suprachoroidal cyclosporine implants in horses
Meet Our Ophtho Technicians
Shari Poruba "Shortly after becoming a certified veterinary technician through the associate's degree program at Parkland College in 1999, I joined the hospital's ophthalmology service. I have enjoyed working alongside many clinicians and veterinary students. Cultivating relationships with our clients and community and advancing the education of future veterinarians are among my greatest accomplishments."
Lorri Zoch "I also completed the Parkland College program to become a certified veterinary technician. I have worked in the ophthalmology service here since 2008 and enjoy teaching veterinary students about all aspects of ophthalmology."
We're Investing in Our Programs
A $12 million hospital-wide renovation and expansion project wraps up this year. Over the past six years we've added:
A 9,000 sq ft small animal surgery win with 8 ORs, including an interventional radiology suite
A state-of-the-art linear accelerator and a new 128-slice CT to support its use
A 3T MRI
A new facility for small animal primary care, zoological medicine specialty service, and our Wildlife Medical Clinic
We Want You!
The University of Illinois College of Veterinary Medicine values work-life balance and collegiality. We are a friendly and interactive hospital, and we seek new colleagues who excel clinically and academically while having fun at work and building strong relationships with coworkers.
JOIN OUR SUPPORTIVE AND INCLUSIVE COMMUNITY
Together we create a workplace culture that fosters respect, inclusion, trust, and support for personal and professional growth. The more diverse our community, the stronger we are. We practice compassion and selfcare. We celebrate successes, knowing that our most valuable assest is our people.
More About US
Boarded clinicians in 16 areas of specialization
Innovative approaches to integrated veterinary education, post-graduate veterinary education, and online learning
Collegewide research strengths in comparative and diagnostic medicine, conservation medicine and ecosystem health, environmental health and toxicology, infectious diseases, and reproductive biology
Part of a top-ranked public, land-grant university
Located in a vibrant, diverse and international community that still offers Midwestern friendliness and affordability
You will become a member of the Department of Veterinary Clinical Medicine which is currently 94 faculty strong
~ 50 residents and interns
> 500 veterinary students
The University of Illinois is an Equal Opportunity, Affirmative Action employer that recruits and hires qualified candidates without regard to race, color, religion, sex, sexual orientation, gender identity, age, national origin, disability or veteran status. For more information, visit http://go.illinois.edu/EEO. The University of Illinois conducts criminal background checks on all job candidates upon acceptance of a contingent offer. Convictions are not a bar to employment. The University of Illinois System requires candidates selected for hire to disclose any documented finding of sexual misconduct or sexual harassment and to authorize inquiries to current and former employers regarding findings of sexual misconduct or sexual harassment. For more information, visit Policy on Consideration of Sexual Misconduct in Prior Employment. As a qualifying federal contractor, the University of Illinois System uses E-Verify to verify employment eligibility.