Tell us about your background.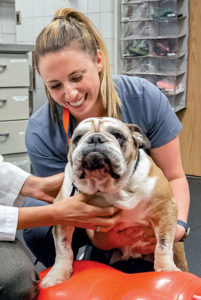 I am originally from Pontiac, Ill., and am the youngest of three children. As my family will gladly tell you, I've had a passion for taking care of animals since I can remember.  As a child growing up in the country, I was frequently taking in sick, stray animals and nursing them back to health, so it was no surprise that I chose a career in veterinary medicine. I originally began my college career with the goal to become a veterinarian when I became more interested in the nursing aspect of veterinary medicine, recognizing veterinary technicians as an equally integral part of the veterinary medical team. In 2009, I was accepted to Parkland College's Veterinary Technology Program and graduated in 2011, earning my license as a Certified Veterinary Technician. I began working at the Veterinary Teaching Hospital immediately following graduation and went on to earn my CCRP (certified canine rehabilitation practitioner) certification through the University of Tennessee in 2016.
How did you become interested in rehabilitation?
As an athlete through high school and college, I had to undergo more physical therapy for different injuries than I care to admit, but quickly became a believer in its important role in the healing, pain management, and recovery process in the body. Once I realized that rehabilitation was a recognized specialty in veterinary medicine, the rest was history.
What are your special interests?
Manual therapy techniques have easily become a special interest of mine as a rehabilitation specialist. I enjoy looking at the way the body heals as a comprehensive process and take special interest in paying attention to how the soft tissue structures such as muscles, tendons, or ligaments affect and contribute to that process. I also take special interest working in academia as a career. I enjoy contributing to the evolution of veterinary medicine through research opportunities and the education of the future doctors and technicians of our profession.
Tell us a fun fact about yourself.
Outside of work, I've been a gigging musician/singer-songwriter since 2010, frequently traveling with my band (when there's not a pandemic) and recording music as much as my schedule allows. I also stay heavily involved in the local C-U community, sitting on the board of directors for non-profit organizations, Girls Rock CU, which empowers young girls through music, and the McKinley Foundation, which focuses its efforts on issues of social justice, diversity and sustainability. I enjoy spending whatever is left of my free-time outdoors and try to visit at least one national park per year.
Tell us about one of your favorite cases.
Joy, an 11-month-old pit-bull with a femur fracture, is a case that forced me to think outside the box and exceeded my expectations. Her femur injury caused a subsequent injury to her sciatic nerve that left her with the possibility of not being able to regain full function in that limb. Many different services put their heads together to give her the best possible recovery. Thanks to the dedication and diligence of her owners as well as the many professionals involved in her care, she made a full recovery. I'm happy to report she is still doing very well and living life as a happy, normal pup. Her case was a great reminder that persistence, patience, and teamwork can yield amazing outcomes even when we don't expect them.