Member of the Class of 1967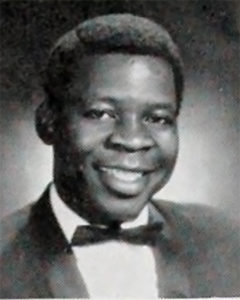 The first Black veterinary graduate of our college was Dr. Emmanuel N. Agwuna, from Inyi, Nigeria. Nearly all that we know about him today has been gleaned from the 1967 edition of The Illio, the campus yearbook.
Dr. Agwuna was a member of the Omega Tau Sigma veterinary service fraternity. In the photo above, cropped from the OTS group photo in the 1967 Illio, Dr. Agwuna is seated in front and just to the right of Dr. Erwin Small, a 1957 graduate of the college who spent more than 35 years with the college as professor and associate dean.
Dr. Agwuna was also listed as a member of the Student Chapter of the American Veterinary Medical Association throughout his four years at the college. Other groups he participated in include the African Student Club, the American Institute for Industrial Engineering Association of International Students, the Y.M.C.A., and the Rifle and Pistol Club.
The yearbook lists California Polytechnic College (now known as California Polytechnic State University) in San Luis Obispo as the institution for Dr. Agwuna's undergraduate studies.
Unfortunately, the college lost track of Dr. Agwuna after graduation. We believe he returned to Nigeria after graduation, where he initially worked for Oke-Afa Farms, Ltd., in Lagos. An internet search uncovered a document that identifies Dr. Agwuna as taking a position with the Nigerian Federal Livestock Department at the Zonal Office in Enugu, Nigeria, in 1970. His hometown of Inyi is located in Enugu State.
The Bigger Picture
The 1960s were a time of social upheaval, and not just in the United States. Nigeria gained independence from Britain in 1960. During Dr. Agwuna's years at the Urbana campus, there were rallies, teach-ins, and protests against the Vietnam War.
In 1967, the year Dr. Agwuna earned his veterinary degree, the University celebrated its centennial. That year only 372 of 30,400 University of Illinois students were Black.
In 1968, following the assassination on April 4 of the Rev. Dr. Martin Luther King Jr., student and community activists pressured the University to accept more students from underrepresented backgrounds. In the fall of 1968, through the Special Education Opportunities Program (aka "Project 500"), more than 500 Black and Latino/a students entered the student body.