Invention Makes Treating Cats Safer
If you've never handled a cat in a veterinary setting, you may think you can predict their body movements but you would be wrong! They will surprise you. Dr. Kristen Knight, a veterinarian at Banfield Pet Hospital in Oswego, Ill., and a 2014 graduate of the college, created the Sassy Cat Stick this year as an innovative solution to a common veterinary problem. The product allows veterinarians to hear the heartbeat of aggressive cats without the risk of being bitten by the animal.
"Cats can manipulate their bodies in such a way that they can easily reach your hand or arm, if they so desire. If the cat flips around, the veterinarian can get bitten or scratched," says Dr. Knight. The Sassy Cat Stick eliminates the need to touch an animal to hear its heartbeat, leading to safer and more thorough veterinary examinations.
Developing the Sassy Cat Stethoscope Stick
One week, Dr. Knight encountered a high number of "sassy cats" at work scratching or avoiding the stethoscope. She discussed this common veterinary problem with her husband, an engineer, and the two decided to merge their expertise to create a solution.
Dr. Knight brought her stethoscope home and worked with her husband to develop several prototypes. The final design involved a simple stick that attaches to a stethoscope by means of a clip at one end. The stick allows veterinarians to hear a cat's heartbeat from a short distance without having to use force on the animal and risk being bitten or scratched.
A programmed 3D printer located in Dr. Knight's home prints each Sassy Cat Stick. The machine heats a plastic polymer to melting temperature, and a stringy, spaghetti-like substance stacks on top of itself until a rod or a stick is created.
After completing their first Sassy Cat Stick, Dr. Knight posted the item on Facebook to show her friends what she and her husband had developed. According to Dr. Knight, "The feedback was incredible! I had over 300 people say that they wanted it, they would like one, and I was just floored. But if it would help people, I thought, 'Sure!'"
Improving the Way Vets Practice
Dr. Knight recalls two customers who particularly benefited from her invention. "One has hemophilia, and she said that having something like this could change how she practices medicine with cats. When somebody says something like that to you, you're like, 'Wow, I can really help this person.'"
Another Sassy Cat Stick customer performs high-volume spays and neuters on feral animals and was often unable to get an accurate listen to these "sassy" cats' heartbeats prior to an operation. Now veterinarians working with feral animals have a way to listen to heartbeats without force to the animal or injury to the vet before administering anesthesia.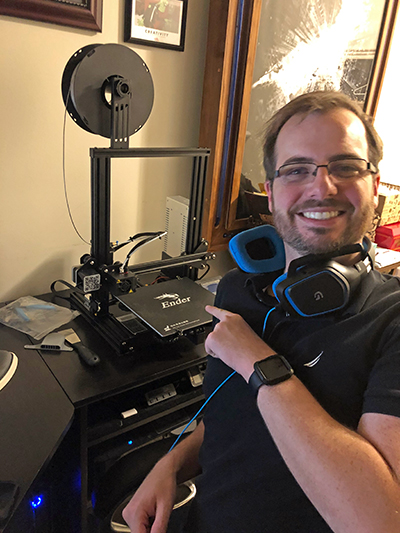 "I was excited to be able to offer this tool to those people," says Dr. Knight.
This product also gives hope to the Fear-Free supportive community. Fear Free is an initiative in companion animal medicine that uses alternative methods for animal handling so that pets enjoy a stress-free experience at the veterinary clinic.
Overwhelming Reception for the Sassy Cat Stick
Dr. Knight and her husband responded to demand by creating additional Sassy Cat Sticks to be sold on Etsy. When the sticks sold out within just a few hours, Dr. Knight knew something was clicking. The veterinarian has gone on to sell more than 100 sticks and has since been contacted by individuals requesting mass quantities for subscription boxes.
"We're really trying to make sure that this is something that works for our community rather than trying to make a profit," says Dr. Knight of her business model.
The innovator and veterinarian has also connected with a website called VETSY — the veterinary counterpart of Etsy. Dr. Knight now has a list of people interested in purchasing the stick on this site and is working diligently to keep up with demand.
Behind the Sassy Cat Scenes
Making two Sassy Cat Sticks takes about 5 hours, and with full-time jobs in addition to Sassy Cat Stick development, Dr. Knight jokes that she and her husband are "slaves to the printer. If the 3D printer doesn't want to work nicely, there's a lot of tinkering and my husband eventually has to fix the thing."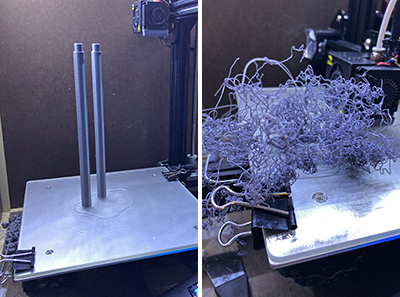 When sending out orders of the Sassy Cat Stick, Dr. Knight manages to have some fun with the packaging. The package arrives in a bubble mailer covered ironically in stickers usually found on veterinary clinic animal charts warning "caution," "may bite," and "approach slowly." (In the image at top, Dr. Knight's own cat snoozes peacefully next to a stickered mailer.)
'Putting Nine Lives Back in Your Hands'
Thanks to Dr. Knight, sassiness will no longer stop vets from accurately hearing cats' heartbeats. In small animal veterinary medicine, a cat bite is probably the worst bite you can get. The more serious or deep bites may have to be treated with IV antibiotics.
"When a veterinarian gets bitten, the discomfort and pain makes it difficult if not impossible to treat animals for the rest of the day, or longer. Sometimes there are fatal consequences for the cat if it shows neurologic signs. With just this simple tool, we can avoid all this trouble and get the answers we need quickly before we act," says Dr. Knight.
Just like the product's clever tagline—"Putting Nine Lives Back in Your Hands"—the Sassy Cat Stick will help vets everywhere practice safer feline care.
By Stephanie Maurer