Tell us about your background.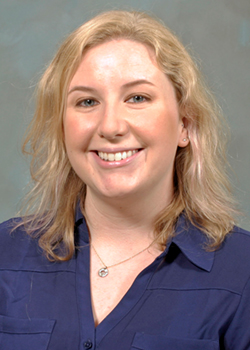 I am the middle of three daughters of a wildlife conservationist father and the most caring mother anyone could ask for. While animals were always a passion of mine, I had initial dreams of becoming a wildlife (specifically for bears) biologist, which led me to an undergraduate degree in biology and a master's degree in education for added security. However, after shadowing several of the veterinarians at Brookfield Zoo, and watching them work with so many different animals, I became enthralled with veterinary medicine and the added species diversity. Thus, I returned to the Midwest, where I graduated with my DVM from the University of Illinois College of Veterinary Medicine in 2014.
How did you become interested in anesthesiology?
While zoological species have always been a notable interest of mine, it was not until I participated in an anesthesia internship at the University of Illinois after earning my DVM that I found my true calling as an anesthesiologist. It was during this time that I developed a sense of the intricacies of the "art of anesthesia" that really piqued my interest.
What are your special interests?
As a self-proclaimed lifelong learner, I have always envisioned myself in an academic setting. As a new faculty member at Illinois, I enjoy the opportunity to educate future veterinarians and technicians using my educational and clinical background and to collaborate with other specialists and referring veterinarians in helping to advance safe and effective anesthetic and analgesic protocols for domestic and zoological species.
Tell us about a favorite case of yours.
Already in my short career I have many "favorite" cases. I would say that in general, my favorite cases are ones that are hemodynamically unstable in some way. One of my more recent favorites was an orangutan that needed an abdominal exploratory surgery for a ruptured appendix. The case was very challenging from beginning to end, both anesthetically and surgically, and everyone involved in the procedure was very relieved that the procedure had a positive outcome.
Tell us a fun fact about yourself.
I enjoy horseback riding and spending time outside, which led me to spend the month before I joined the faculty as a backcountry cook and day-ride guide for a guest ranch in Montana. Yes, I DID SEE SOME BEARS.