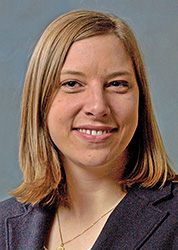 Tell us about your background.
I'm a Cardinals fan (born in St. Louis, grew up in the Metro East area and southern Illinois). I did my undergraduate studies at Southeast Missouri State University (bachelor's in agribusiness, animal science concentration), followed by veterinary school, small animal internship, and clinical pathology residency at University of Illinois College of Veterinary Medicine.
I was an instructor at U of I for more than a year before beginning work for a commercial diagnostic laboratory. After several years, I found that I missed the variety and engagement of academics, as well as working in a lab affiliated with a veterinary hospital, and I was fortunate enough to return to U of I as a clinical assistant professor in September 2017.
How did you become interested in clinical pathology?
I developed a strong interest in small animal internal medicine during my fourth-year clinical rotations and consequently pursued an internship. Ultimately, I determined that my gravitation toward internal medicine was due to my interest in the diagnostic puzzles of case data and cytology. My internship experiences and guidance of mentors here were invaluable in reaching this conclusion.
What are your special interests?
I am interested in clinical problems, particularly knowledge gaps that lead to limitations and difficulties for clinicians and their patients. I have enjoyed collaborating on reptile hematology projects with our exotics/zoo veterinarians, residents, and students, and I look forward to continued involvement in this important area of reptilian and avian research.
Tell us about a favorite case of yours.
My favorite happy-ending case is my own dog, Jade. As a puppy, she became ill and was initially suspected to have a liver shunt. However, her blood work was most supportive of hepatitis, with hyperbili­rubinemia and signs of inflammation, in addition elevated liver enzymes. Thankfully, Jade recovered after a few days of intensive care and grew up to be a joyous addition to our pack. She's great fun to train, and I hope to start agility training with her in early 2020.
Tell us a fun fact about yourself.
I'm 5'10" tall and I'm the shortest person in my family.