Many Ways to Reach Current Students
[row][column size="6″]
To help employers capture the attention of students, the College of Veterinary Medicine has organized formal and informal events where students and alumni can meet. We also recently introduced a free online job board where practices can post internship and job openings. The job board is searchable by location, position type, and more.
The job board allows employers to create their own accounts to manage position announcements. This feature eliminates the need to re-enter contact information for additional posts, and also allows employers to manage how long the announcement stays on the board.
Job seekers can create accounts if they want to receive alerts when new positions are posted in a geographic or practice area of interest.
[/column][column size="6″]
New Job Board Gets Noticed
The new job board has been abuzz with activity from job posters and viewers since it went live in September 2019.
1,718 unique page views (vs 684 for the previous job board in the preceding month)
More than 80 positions posted in less than two months
 Time spent on the page more than doubled
[/column][/row]
It's (Partly) the Economy
In the current economy, a reasonable salary and standard benefits are not enough to attract the best new colleague to your practice. Work-life balance is important to today's graduates, and most mention mentorship as a top priority.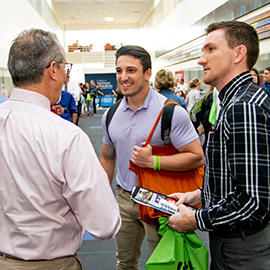 Of course, salary is a big consideration, as are geography—only 55 percent of Illinois students report interest in working in Illinois—and practice interests. A desire to pursue specialization often leads students to choose an internship rather than enter practice directly.
The economy contributes greatly to the demand for veterinary graduates. In the wake of the 2008 recession, AVMA's Workforce Advisory Group forecast that, through 2025, there would not be veterinary jobs for as much as 14 percent of veterinary graduates. Less than 10 years later, the federal Bureau of Labor Statistics was predicting a 19 percent growth in the veterinary job market between 2016 and 2026.
Regardless of the economy, Illinois intends to educate the very best Day One practitioners on the market. We are committed to equipping graduates with not only the clinical skills and knowledge needed, but the leadership and confidence to be selective about their first position.
Practical Strategies for Practices
We're also here to assist practices in becoming employers of choice so that they too find the best-fit associate regardless of the economy. Dr. Larry Firkins, associate dean for public engagement at Illinois, is an international speaker on veterinary employee management. This year and last year, he led a day-long session on "Becoming an Employer of Choice" as part of the annual Fall Conference for Veterinarians pre-conference. Topics covered included how to foster a culture that drives employee engagement, how to hire and retain the best people for your workplace, and what current senior students are looking for from prospective employers.
Dr. Firkins advises employers to start connecting with students early, even if the anticipated position won't be open for a few years. Formal summer experiences for students after their first and second years in the DVM program can forge connections and serve as a low-risk "get to know you" opportunity for both parties. Dr. Firkins has helped many veterinary practitioners develop learning objectives for these experiences.
Job Fair, Informal Networking
Also as part of Fall Conference, the college and its alumni association hosted job fairs in 2018 and 2019. (See photo above and an album from the 2019 job fair.) In 2019, the available spaces for employers were quickly sold out, and a second location for the job fair was opened. A fall golf outing hosted by the alumni association allows alumni to meet students in an informal setting. Students are also present at many of the alumni receptions held in conjunction with national veterinary meetings, such as North American, AVMA, and Western Veterinary Conference.