On October 1, swine veterinarians and livestock professionals from 14 countries on four continents tuned in for real-world recommendations to prevent disease transmission on livestock production facilities. The speaker, Dr. Jim Lowe, is an associate professor at the University of Illinois College of Veterinary Medicine who has spent the past 25 years helping swine producers around the world become more profitable by managing disease risks on farms.
The free webinar, available at bit.ly/BiosecurityRecordedWebinar, is entitled "A Systems-Based Approach to Biosecurity." It covered the importance of robust biosecurity systems, how to assess a biosecurity risk, reasons biosecurity protocols succeed or fail, and current data on the ideal and practical biosecurity system.
Dr. Lowe defined biosecurity—the largest issue facing the swine industry today—as "a system of physical and procedural barriers implemented to enhance the economic output of independent production systems by reducing the probability of the introduction of a novel infectious disease." Biosecurity measures need to be evaluated by weighing implementation costs against potential economic impact of a disease outbreak.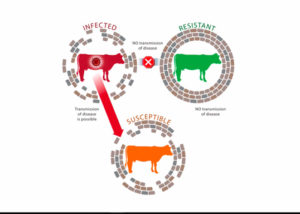 "To be successful when controlling infectious disease, you have to think about the problem from the bug's [microbe's] point of view," Dr. Lowe said. "The bug thinks 'what makes it easier for me to come in contact with a new host.' To control infectious disease, focus on the ecosystem of the microbe."
Dr. Lowe directs research into the transmission and impact of infectious diseases in a clinical setting. He also heads the college's i-Learning Center, which delivers on online and global veterinary education. The i-Learning Center currently offers two online certificate programs for the livestock industry, in Livestock Systems Health and Livestock Business Operations.
Attendees of the webinar logged on from Canada, Chile, Colombia, France, Germany, Hungary, India, Italy, Mexico, Pakistan, Saudi Arabia, Sweden, United Kingdom, and the United States.
Dr. Ben Blair, who oversees Dr. Lowe's biosecurity laboratory, facilitated the question-and-answer portion of the webinar. Questions related to routes of transmission, the global African Swine Fever situation, and the role of filter barns in biosecurity systems.
"The adoption of systems-based thinking, as presented in the webinar, is the key to optimizing the health and production of a swine farm," said Dr. Blair.
To listen to the recorded webinar, use this link: bit.ly/BiosecurityRecordedWebinar
For more information about online educational offerings from the University of Illinois College of Veterinary Medicine, visit https://online.vetmed.illinois.edu/ or contact the i-Learning center at 217-300-7439.