Brilliant, World-renowned, Gracious
Dr. Victor E.O. "Ted" Valli, who served as the fifth dean of our college from 1990 to 2001, passed away on August 9 in Visalia, Calif.
We remember him as deeply committed to veterinary students, a mentor to more than 30 master's and PhD students, a tireless researcher and diagnostician who made tremendous contributions in the field of veterinary hematopathology, and a skilled statesman in veterinary academia.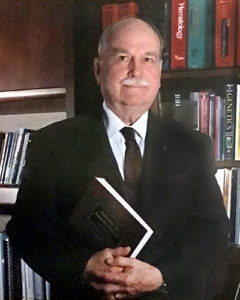 He was also, as fondly recalled by his student and colleague Dr. Anne Barger, "funny, practical, and brilliant—a wicked combination for an educator."
Praise from Veterinary Leaders
Dean Peter Constable was a faculty member at the college when Dr. Valli was dean. "Ted was a great storyteller, and his stories always started with a warm twinkle in his eye," recalled Dean Constable. "Dean Valli was a world-renowned expert on the hematopoietic system of domestic animals and was a long-time contributor to the definitive textbook Pathology of Domestic Animals. It is this book that he is holding for his official portrait as dean."
Another faculty member and administrator who served with Dean Valli at Illinois was Dr. Joseph DiPietro, who went on to be the dean at the University of Florida College of Veterinary Medicine and later president of the University of Tennessee system. "Ted Valli was a significant mentor of mine who was instrumental in my success. A classy guy, courageous administrator, and always gracious and welcoming. He loved life and people and will be dearly missed," noted Dr. DiPietro.
Impact at Illinois and Beyond
During Dr. Valli's tenure as dean, the Illinois veterinary college benefited from nearly $6 million in state funding through a new venture technology program. He fostered strong connections with veterinary students by hosting fall welcome and spring graduation celebrations in his home and by lecturing in histology. After he stepped down as dean, he continued on the Illinois faculty until 2008.
Dean Valli was boarded in both anatomic and clinical pathology, and remained active in research and diagnostic service during and after his deanship. His professional recognitions include the Lifetime Achievement Award from the American Society of Veterinary Clinical Pathology in 2011, the Theilen Tribute Award from the Veterinary Cancer Society in 2015, and the designation Distinguished Member—the highest honor bestowed by the American College of Veterinary Pathologists—in 2017.
Early Life and Training
Dr. Valli was raised on a ranch in Alberta, Canada, and served in the South Alberta Regiment from 1945 to 1954. He received a DVM degree from the University of Toronto and master's and PhD degrees from Ontario Veterinary College and was board certified in both anatomic and clinical pathology. Before his appointment as dean at the Illinois college he chaired the Department of Pathology and served as associate dean of research at Ontario Veterinary College.