Eight Illinois veterinary students and two alumni were recognized at the 50th Annual Meeting of the American Association of Swine Veterinarians (AASV) in Orlando, Fla., this month. Pictured above (from left) are Dr. Erin Lowe and veterinary students Erin Kettelkamp, Brandi Burton, and Abby Vennekotter.
Swine Practitioner of the Year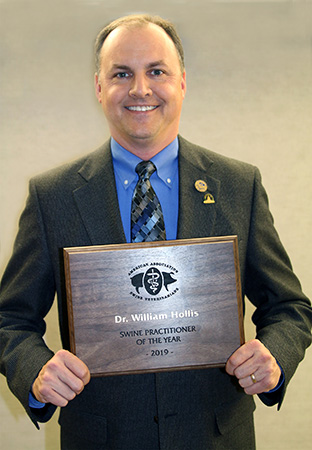 Dr. William Hollis, of Bushnell, Ill., received the Swine Practitioner of the Year award. The award is given to the swine practitioner who has demonstrated an unusual degree of proficiency and effectiveness in the delivery of veterinary service to clients.
Dr. Hollis (Illinois DVM '96) is currently a partner and veterinarian of Carthage Veterinary Service (CVS). As a farm management advisor, he strives to build client partnerships that are both sustainable and profitable, facilitates producer family and industry networking, and invests in farm and industry staff training. In December 2018, Hollis was elected president of Professional Swine Management, the swine management service company he and other CVS partners founded in 2000.
Recognized by his peers as demonstrating strong proficiency and effectiveness in veterinary service, Dr. Hollis understands what constitutes sound science and bases decisions on data and information analysis, diagnostic interpretation, and intervention planning and communication.
"This is a dream come true to be recognized by my peers in the industry," he noted upon receiving the honor. "There have been many people in my life who have helped me continue to grow as a veterinarian and a business owner. My family has supported some crazy long days and time away. I really appreciate the recognition."
Student Scholarship Winners
Zach Talbert, Class of 2020, was one of 10 second- and third-year veterinary students enrolled in North or South American accredited colleges of veterinary medicine to receive a $5,000 scholarship sponsored by Merck Animal Health and the AASV Foundation.
Four Illinois veterinary students were selected to give oral presentations at the student seminar: Erin Kettelkamp (Class of 2021), who received a $2,500 scholarship, and Daniel Brown (2020), Brandi Burton (Class of 2019), and Abby Vennekotter (Class of 2020), who each received $1,500 scholarships sponsored by Elanco Animal Health. Each student also received a $750 travel stipend from Zoetis to attend the meeting.
The top 15 abstracts not selected for oral presentation at the student seminar were invited to participate in the veterinary student poster competition. Brooke Smith (DVM/PhD Program) received a $300 scholarship in the veterinary student poster competition, sponsored by Newport Laboratories. Also presenting posters were Megan Bloemer (Class of 2020), Jessie Kordas (Class of 2021), and Zach Talbert.
And More
The recipient of the 2019 AASV Meritorious Service Award, Dr. David Madsen, is a graduate of the Pioneer Class of the Executive Veterinary Program at the University of Illinois who was also a charter member of the American Association of Swine Practitioners (now AASV) in 1969, AASV president in 2001, and a driving force in the field of swine medicine for many decades.
Dr. Erin Lowe (Illinois DVM '04, EVP '09) was named the 2019 recipient of the AASVF Hogg Scholarship, awarded annually to an AASV member who has been accepted into a qualified graduate program to further his or her education after years as a swine practitioner. Dr. Lowe is currently the associate director of field services and data integration with Boehringer Ingelheim Animal Health. She has been accepted into the Science-Information Management master's degree program at the University of Illinois.
Read more on the AASV website:
AASV Honors Awardees at Annual Meeting
Merck Animal Health Announces 2019 AASVF Veterinary Scholarship Recipients
AASV Foundation Announces Student Scholarships
AASV Announces Veterinary Student Poster Competition Awardees
AASV Foundation Announces Recipient of Hogg Scholarship