Tell us about your background.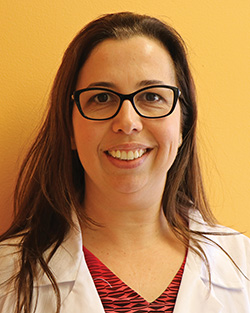 I am originally from Rio de Janeiro, Brazil. I grew up spending most of my free time at the beach and rescuing stray animals. My family and friends tell me that since I was young they knew I would be a veterinarian.
I did my veterinary degree in Brazil, followed by a dermatology specialization (equivalent of a dermatology internship), a Master and a PhD degrees. For seven years I worked as a dermatology professor until I had the opportunity to move abroad and start on a post-doc position at the University of Minnesota. Then I went to Colorado State University to complete a dermatology residency combined with another master's degree.
How did you become interested in dermatology?
I believe it was "love at first lecture"! As soon as I started attending the dermatology class in vet school, I became fascinated by the specialty. Also, the passionate dermatology professor I had, and the large case load of skin diseases seen at the veterinary hospital contributed greatly to my interest.
What would you like to share with referrers about the dermatology service?
Dermatologic diseases can often be frustrating for the clinicians and clients due to diseases' chronicity, possible recurrences and time-consuming diagnostic work ups. I would like the veterinarians to know that we are here to help in any way that we can: examining the patient or discussing a case, whatever works for everyone to assure the best care for the animals.
Tell us about a favorite case of yours.
After so many years working with dermatology it is hard to choose one single favorite case. Sometimes treating the most common cases such as allergic dogs and cats, that have been uncomfortable for so long, can be greatly rewarding. It is an amazing feeling to be able to restore the animal and the owner's quality of life!