This summer, Shelter Medicine faculty, staff, and students volunteered their time and service to help homeless animals on the island of Rhodes, Greece. The team provided physical examinations on all shelter animals located at the Rhodes Animals Shelter, diagnostic testing (skin cytology, blood smears, UA, CBC/chem), sterilization surgeries, behavioral assessment tests, and preventative care.
The  2018 Illinois Vet Med in Greece team members were Drs. Agapis, Valentine, Wooten, Stocks, and Heather Soder alongside 14 veterinary students, including Annie Phillips, Alexa Gutauskas, Wing Suen Lau, Alyssa Dillonaire, and Molly Burke.
Annie Phillips: Saturday, June 16 
Any great trip starts with a long travel day, and this one started just that way. most of the group arrived at O'Hare International airport 3 hours before our plane took off at 9 p.m. We traveled with many bags full of surgical supplies for use in Rhodes. We landed in London for a 10-hour layover and met up with the rest of the group. We had decided that any chance to see a new place and new culture should be taken, so we took a train to London. We split off into different groups and got to know each other very quickly.
London is a big city. For most of us, it was not a huge culture shock but definitely a good stepping-stone for what Greece would be. We saw the classic sites and enjoyed some food. We saw many dogs with their owners, which as vet students we are always on the lookout for, but no stray cats. It was an interesting difference between what we would later see in Greece.
Annie Phillips: Sunday, June 17 
Our first official day on the island of Rhodes was spend adjusting to the 8-hour time difference. We got to the dormitory around 5 a.m. and went to bed. The next day we slept in and once we woke up, walked down the beach to eat and relax in the sun. This was our first glimpse of the beautiful island of Rhodes, and for me, it was my first look at Greece and it's culture.
The houses were various light-colored stucco buildings, and they were simple yet elegant. They were not lavishly decorated but were almost always surrounded with beautiful flowers, almost always bearing some kind of delicious fruit. Each person that passed would say hello, or good morning, even though they clearly did not know who we were. That was very telling about the kind of culture that exists in Greece. They are so welcoming to any person that wants to visit their country and learn about their culture.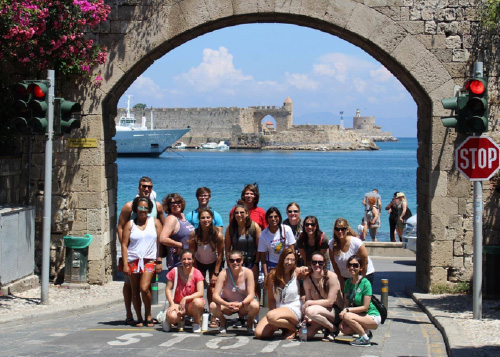 Annie Phillips: Monday, June 18 
The first cultural stop on our trip was to Old Town. Encompassing the parts of the original town is the citadel of Rhodes. It is a world heritage site as well as one of the best-preserved medieval towns. It is still livable today and is now a huge spot for tourists. It is truly breathtaking in its architecture as well as its history. The streets of Old Town were full of restaurants and souvenir shops. The shops ranged widely in the things they carried; mostly clothing items and trinkets but there were also shops that had fish tanks that were used for pedicures. The restaurants all offered very classic Greek cuisine, including things like seafood, gyros, and souvlaki. One of the most interesting things was that they incorporated many other cultures into their restaurants. Gelato shops were abundant, and they used the traditional Italian recipes.
We spent the morning walking around and taking in the views before we made our way to the Paideia's educational building. We spent the day listening to presentations that each person on the trip had made on a different topic such as upper respiratory infection in cats, aggression in dogs, heartworm disease, and laboratory tests. It prepared us for the work we would be doing at the shelter in weeks to come.
Alexa Gutauskas: Tuesday, June 19
Our day began with a lecture from special guest Dr. Kleo Triantafillou, one of the few equine veterinarians from mainland Greece and its surrounding islands. She graduated from Thessaloniki, the larger of the two veterinary schools in Greece, and did her post-DVM training in the UK. Her main patients that she encounters daily are donkeys. Donkeys play a major role in the daily life of Grecians, from carrying the daily crop harvests from family farms to the home or carrying tourists to the Acropolis of Lindos or the beautiful white-washed town of Santorini. Her lecture, "Donkeys are not Horses," systematically compared anatomical, behavioral, and illness-related differences between donkeys and horses. Dr. Kleo explained how donkeys are much more stoic in their presentation, which can mask signs of major illness. She also talked about the difficulties she encounters with client education and willingness to treat.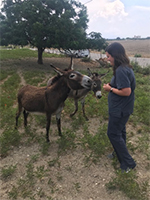 After the lecture, the students, faculty members, and Dr. Kleo visited a pasture of a local family that owned two donkeys, a mother and daughter pair. We performed hands-off physical exams and Dr. Kleo taught us how to assess the environment to search for clues regarding their health. The owner was grateful for our efforts and recommendations. He decided to host us at his tavern, where we enjoyed a glass of their homemade krasi kokkino (red wine).
We visited a nearby restaurant for lunch with Dr. Kleo. The table was covered in endless delicious traditional Greek dishes, including fried calamari. We took the opportunity to discuss Dr. Kleo's experiences, the differences between our veterinary school curricula, and animal welfare issues surrounding donkeys in Greece. After that, we said our goodbyes to Dr. Kleo and enjoyed a little time in the sun on a nearby beach.
Our next destination was the private small animal clinic of Dr. Giannis Michellarakis in the city of Rodos. The setup of his clinic was familiar with an exam room, surgical suite, and radiology room. He and his wife are the two veterinarians at the clinic. Dr. Giannis explained how clinics on the island typically have a small shop connected to their reception area where clients can purchase prescription food, treats, cat litter, leashes, collars, and toys. We discussed the differences in monthly preventatives and vaccines offered in Greece compared to the US. He explained how heartworm disease is non-existent on the island because the species of mosquito that transmits the disease is not present. He also explained that they do not vaccinate against rabies because there has not been a case reported on the islands.
Dr. Giannis gave a lecture on Leishmania, a protozoal organism that is heavily found throughout Greece. He talked about the visceral and cutaneous forms of the disease, its prevalence in his clinic, the test used for screening, treatment options, and the benefits and limitations of the available vaccine. Leishmania is prevalent near the US-Mexican border. It is unknown if the disease is moving north as the screening test is not currently available in the US.
The day ended back at the Paideia building in Old Town where Heather Soder, CVT, gave a lecture on feline behavior and handling techniques to be used at the Kalithea cat sanctuary we would visit on Thursday.
Alexa Gutauskas: Wednesday, June 20
The day was designated for exploring the area of Faliraki, a popular city with the younger generations on the east side of the island. Some students spent the day on a local beach and visited nearby shops. My husband and I made our way to Anthony Quinn Bay, a beautiful rocky beach surrounded by forested cliffs on either side. The bay is named after the famous actor from the movie Zorba the Greek (1964). Anthony Quinn bought the bay after filming Guns of Navarone (1961) at this location. The thunderstorms did not stop us from exploring the forested trail and the rocky cliffs on the east side of the bay. After an hour or so, the sun emerged from the clouds and we enjoyed the beautiful clear Aegean saltwater. We were able to swim from rock to rock, viewing various species of tropical fish while snorkeling. Sailboats docked in the middle of the bay to enjoy the sun. Before we left the bay, we hiked on the rocky edge of the western cliff to an observatory with views that could not be forgotten.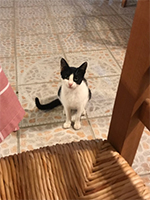 We dined at Loukia's, a taverna across the street from our lodging when we returned. The restaurant was owned by Dr. Loukia Agapis' aunt. We enjoyed delectable Grecian-style pizza while sharing stories of our adventures from the day. We were joined by a sweet black and white cat that sought out table scraps and attention. The locals in Greece do not keep cats in the animal shelter, but rather allow them to roam freely in the towns, often leaving out dishes of food and water. Such practices are different from those in the US, where we now recognize the importance of population control by sterilization. This sweet cat and others like her around our lodging would soon be trapped, health assessed, sterilized, and returned to their familiar environment. We were updated on the condition of the only shelter on the island, which currently houses 400 dogs, and discussed a game plan for health assessment, identification, preventative administration, and sterilization status determination for the next day.
Wing Suen Lau: Sunday, June 24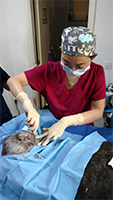 With a full day ahead of us, we started our morning off fairly early as we all woke up for breakfast at 7 am. We wasted no time heading off to our first stop, where we were scheduled to perform five surgeries at the vet clinic we had been working at for the past few days. We also met up with Dr. Helen Valentine, who had just arrived in Rhodes the night before. Dr. Wooten got started on a dog spay immediately, and she patiently walked us through the procedure while handing out useful tips and allowing students to scrub in for a more hands-on learning experience. It was very humbling to have the opportunity to learn from her as I assisted in a larger canine ovariohysterectomy where she guided me through the steps of tying a Miller's knot around the pedicle. Despite the nerves that kicked in, the success left me feeling accomplished and in good spirits.
After the last surgery, we all packed our bags and headed south to Lindos. Words cannot even begin to describe how breathtakingly picturesque this village is with its acropolis situated high on the cliffs and its white villas overlooking the stunningly clear waters of the beach. We pulled off to the side of the road for some pictures before heading closer to the town. As we were all starved for food, we decided on a nice restaurant right by the beach for lunch. I was still in awe at the scenic views as I savored my fresh quinoa salad over joyous conversations with my peers.
We only had a couple hours in Lindos, so we spent our time wisely and took off exploring right away. A group of us decided to hike up to the whitewashed buildings for some souvenir shopping, and we even passed by some donkeys and goats along the way. The climb proved quite challenging as the weather was scorching hot with barely a breeze. However, the 15-minute walk up definitely paid off as we finally reached the shops. They were unlike anything I have seen before other than in pictures. I took in the beautiful white architecture and the stone-paved roads. We spent a good hour wandering through all the different stores before heading back down to relax on the beach. I hardly went swimming ever since I arrived in Rhodes, but today was the perfect day to get in the water and cool off with friends.
Before long, we found ourselves getting back into the vans and heading to Old Town for an important evening function. We had all changed into more presentable attire as we went to meet the vice mayors of Rhodes for dinner. We were also joined by the many hardworking shelter volunteers and two U of I alumni, Dr. Kelsey Stocks from ASPCA and Dr. Steven Zachar from the Countryside Veterinary Center. It was a lovely event, and the vice mayors were very hospitable in welcoming our group to Rhodes and thanking us for all the time and work we had been putting in at the shelter. They were very impressed with our efforts in doing all we could for the animals aside from just spaying and neutering. Although Mayor Fotis Chatzidiakou was unable to be present that night, we were each awarded an honorary distinction from him in the form of a certificate of appreciation along with commemorative gifts as we were invited back next year.
Wing Suen Lau: Monday, June 25
Last evening ended on a really high note, which was continued by starting today off with an excursion to the bee museum! This museum is the only one of its kind in all of Greece, and we were very fortunate to have the chance to visit. After watching a quick educati
onal video on bee pollination and how honey is made and harvested, we were given a tour of the museum's exhibits. We learned a lot from beekeeping and bee
products to the importance of pollination and the value of honey. We even had a close-up look at the bees hard at work in the observation hives and had the opportunity to sample different kinds of honey and various honey products.
As we wrapped up at the museum, we prepared for another day at the shelter. Since most of the wellness exams were finished, I got started on running some diagnostic tests. Even though heartworm has not been diagnosed in Rhodes for over seven years, we were curious to see if there was a chance for it to have come back. Gathering all the supplies we needed, Emma and I headed out into the heat in search of a mixed sample size to work with. We spent hours drawing blood and running the diagnostics. Although conducting the tests themselves was straight-forward and did not take long, the real challenge was maneuvering through the cages of animals and finding the more patient ones amidst the surrounding high-energy dogs. Despite the hard work, we had a good time and felt very accomplished by the end of it all, and it turned out that all the heartworm tests came back negative!
After a long day at the shelter, we stopped at Kallithea Springs to see the bathhouses. Although they are no longer functional, we were still able to appreciate the beauty of the pavilions in such an idyllic spot. We also visited the beach nearby that is conveniently located next to Kalithea Cat Sanctuary and climbed up to the top of the neighboring cliffs. From there, the view was astonishing, and you could even catch sight of Turkey in the distance.
Molly Burke: Wednesday, June 27
The excursion we had planned for June 27 was to hike up 300 (steep) steps to Tsambika Monastery. I would consider myself an active person, but let me tell you…this had me sweating and my hair a mess, but it was so worth it because it was beautiful at the top! This monastery was extra special because it had an old folktale about a Virgin Mary picture that if prayed to, would help women with infertility problems. So, not only did people hike up the steps for the wonderful views, but some also hiked to come and pray.
Molly Burke: Thursday, June 28
The following day, our excursion was to go to the Valley of the Butterflies and hike through its trails. Since they are technically moths (night butterflies), they weren't very active, but you could see them on tree trunks or on the leaves. The hike was cool because there were waterfalls and little ponds as well. One exciting aspect of this excursion was that we had some special guests with us: two tiny kittens. Two days before this excursion, we found two kittens, just a few weeks old, outside our house that seemed to be abandoned by their mother. Naturally, being vet students, we took them under our wing and decided to take care of them. So, when it came to hiking through the Valley of the Butterflies, we had to bring them with and we did so in style: in a fanny pack.
Molly Burke: Friday, June 29
On June 29 we took a trip out to Old Town of Rhodes and toured Castle of Grand Magister and the Archeological Museum of Rhodes. Let me just start off by saying, everything in Old Town is exciting, pretty, and fun. There are also stray cats EVERYWHERE so, naturally, I was in heaven. The castle was beautiful (of course!) and there were lots of rooms on the second floor with cases full of artifacts ranging from little toy figurines to different kinds of pottery to precious gems. There were also lots of statues, or rather, remnants of statues, of both historical figures and just simply Greek culture. One of the funniest parts for me was how short some of the doorways were because I could barely walk through some of them without ducking.
This excursion occurred in the evening and we had to split up: Half the group stayed behind at the shelter to finish up surgery, while the other half ventured to Old Town. The two groups ended up going to different historic locations and never met up. However, a funny thing happened when my group was driving home. We saw a lady waving at us in the street, and it ended up being Dr. Agapis! The other group stopped on their way home to take a photo at this statue, Diagoras Monument, so we turned around to join them.
Molly Burke: A Glimpse into Shelter Life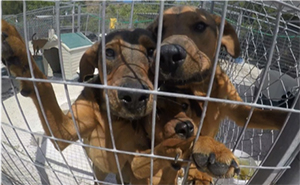 We spent most of our time working at the Municipality Dog Shelter aka Strays of R.A.W.S. (Rhodes Animal Welfare Shelter). To be honest, before I even flew to Greece, I had a kind of bad perception of what I thought this shelter was going to look like and how the dogs were going to be treated. But, boy, was I proved wrong! Yes, this shelter was not the most luxurious one I've ever seen, and it was very overcrowded (there were around 400 dogs here), but it was cleaned every day, every dog had food, water, and shelter, and the volunteers genuinely cared about the dogs. Also, the dogs were so sweet!! Some were very shy, but they all were so kind and just wanted love. So of course, I gave it to them and I fell in love with so many dogs (my boyfriend was genuinely concerned I was going to try to bring home 2 or 3 dogs). Roxanne, Lilly, and Chester are just three of the many adorable, loving dogs at the shelter.
Surgery was happening constantly and students would just filter in and out of the surgery room. We all had the opportunity to prep, monitor, and perform surgery. When you weren't helping in surgery, you were either microchipping, administering preventative treatments (vaccinations, dewormers, and flea/tick products), running fecals and urinalysis, removing ticks, trimming nails, brushing, cleaning ears, or drawing blood to run BG, PCV/TP, BUN, and and a Leishmania or Snap test. We tried to do that for most dogs, but if a student noticed something significant on their physical exam, then she could run additional tests. For example, a classmate of mine, Annie, and I had a dog with really bad skin, so we did a skin scrapping and an impression smear. We also did an FNA of a large mass on a different dog. That dog needed to be neutered so the mass was removed at the same time.
Another amazing thing that we started to do was write little bios and take pictures of very adoptable dogs for the shelter to post on their website and promote people to come visit and adopt them. Annie Phillips actually started this project the second week of our trip, and others joined in quickly writing about their favorite dogs.
Alyssa Dillonaire: Sunday, July 1
On this day, the students with late flights and those going on the study tour had the opportunity to help do some last-minute sterilization on Rhodes. We started in the morning by setting up the clinic for some TNR surgeries on cats brought to us by a local group concerned with the welfare of the cat population on the island. These surgeries gave us great experience in working with feral cats, which were not handleable. The students took responsibility for most of the jobs involved with surgery including prep, anesthesia, supervised surgeon, and recovery. Since the group was smaller than previously, this was a great opportunity for those of us with less experience to gain some confidence and autonomy while performing the tasks required in a surgical setting.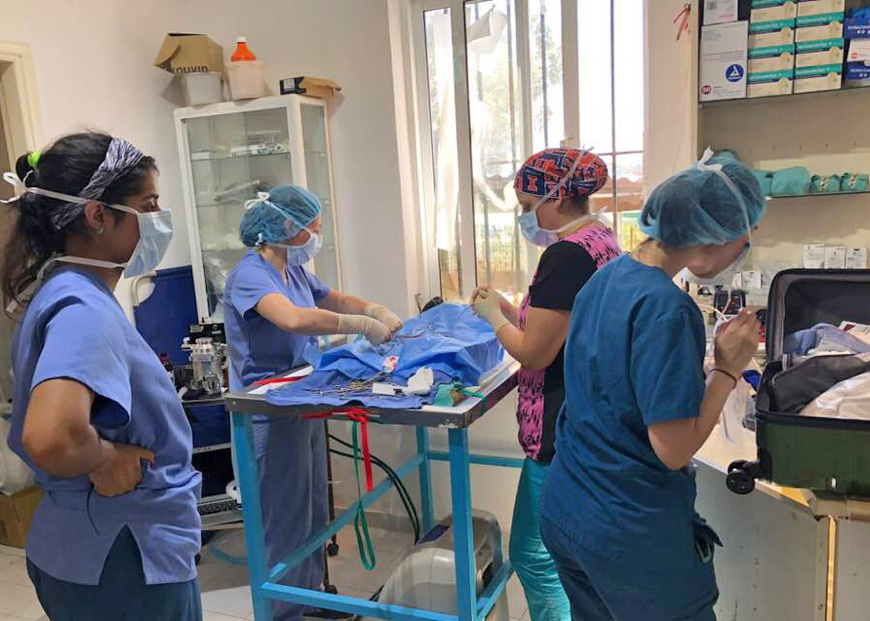 In the afternoon, we traveled over to a local veterinarian's clinic, where he graciously offered his facilities for dog sterilization surgeries. A local rescue brought a few animals for spays and neuters as well as general wellness care. One of the animals was a cat that was emaciated and had a severe respiratory infection, which was quickly leading to significant dyspnea (difficulty breathing). It was determined that it was in the cat's best interest to euthanize her. Although it is always a difficult decision, in my view, I feel that euthanasia is one of the greatest gifts that we have available in veterinary medicine not only ethically in that no animal deserves to suffer in their final moments, but also in that we might afford our patients the same comfort in their passing that they have given us through their loyal companionship.
We continued the afternoon with sterilization surgeries, one of which included a dewclaw removal. One of the students performed the dewclaw removal since there was no bone involvement; however, a small amount of unexpected bleeding gave us the opportunity to learn, under the guidance of Dr. Agapis, how to deal calmly with complications during a procedure. The next surgery was done by a student doing her first dog neuter. Based on the "watch one, do one, teach one" model of learning adopted in the U of I Shelter Medicine Program, Dr. Agapis supervised as a classmate and I talked the student surgeon through the procedure for a scrotal neuter in a dog. I found that this method of teaching greatly boosted my confidence and helped build a sense of camaraderie among those of us teaching and learning from each other.
While a few of us stayed at the clinic to do surgeries, the others left to trap cats for more TNR surgeries to be done later in the day. The last surgery at the local veterinarian's clinic was a complicated geriatric female with congenital abnormalities. It can be very intimidating for a fresh student surgeon to scrub in and attempt surgery on a high-risk patient like this, but ultimately, every experience increases knowledge and skill making for a better veterinarian. This surgery offered me the opportunity to perform a hand tie ligature and observe hydronephrosis (fluid-filled kidney). Afterward, we headed back to sterilize the cats that had been trapped by the other students.
The rest of the day was much like the morning, performing TNR sterilization surgeries. I think the group greatly appreciated the additional experience they received on this day; I know I certainly did. I think that by having the opportunity to perform so many of the tasks on our own, we are so much better prepared to enter junior surgery in our third year.
The exceptional mentorship that we received throughout this trip by Drs. Agapis, Valentine, Wooten, Stocks, Zachar and Heather Soder, CVT, cannot be overstated. With their guidance, I feel we all grew significantly in confidence and skill throughout our trip.