The past five weeks I had the honor of participating in AQUAVET® III: Clinical Aspects of Captive Aquatic Animal Medicine. The course is offered through Cornell University College of Veterinary Medicine and takes place at the Georgia Aquarium in Atlanta, Ga.; the University of Georgia College of Veterinary Medicine in Athens, Ga.; and Dolphinaris in Mexico. We arrived in Atlanta in late June to begin our two weeks of training in clinical veterinary medicine at the Georgia Aquarium. This portion of the course featured a combination of lectures, demonstrations, and hands-on learning. The topics were diverse, encompassing all facets of aquarium medicine, from marine mammal training and life history to environmental quality and life support systems.
Poolside Labs
One of the most beneficial aspects of this portion of the course was the hands-on learning during the labs. We performed physical exams and diagnostic sampling in the hospital and poolside on reptiles, elasmobranchs, and teleosts. We also performed our own analyses of diagnostic samples. The cownose ray physical exam lab was my favorite activity because it was comprehensive. We monitored anesthesia in elasmobranchs, performed physical exams, ultrasound, blood sampling, and cloacal washes. This lab was also done poolside so that we could see firsthand the challenges of working with aquatic animals and the importance of communicating with the aquarists during medical procedures. It also served as our "wet vet" initiation into aquatic animal medicine.
The next portion of the course took place at the veterinary college with Dr. Steven Divers. This portion of the course also featured lecture and laboratory components. The lectures covered reptile and fish anesthesia, surgery, and rigid endoscopy. We also had several four-hour laboratories where we performed venipuncture, induced and monitored anesthesia, and performed rigid endoscopy on fishes and reptiles.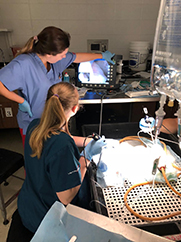 Valuable Endoscope Training
Although it took some time to become acquainted with the proper handling of the endoscope, we became more comfortable and efficient at driving the scope and taking biopsies as the week progressed. In addition to having training in rigid endoscopy in reptiles and fish, we also gained valuable training in fish anesthesia and surgery. We worked with two different immersion anesthetics, MS-222 and clove oil, to induce and maintain our fish during the surgery and endoscopy procedures. This experience was extremely beneficial because we saw firsthand how the two anesthetic agents differ. We also performed liver biopsies via endoscopy and surgery to see how the two approaches differ. I look forward to incorporating endoscopy into my veterinary medical practice in the future.
Dolphin Interaction
The last portion of the course took place at Dolphinaris in Mexico. The first week focused on dolphin training and medical procedures and the second week focused on ultrasound in dolphins. We began the first day doing a workout with the lifeguards and trainers, and then we had a whole day of hands-on learning in dolphin training. This day of the course gave me a greater appreciation for marine mammal trainers and the importance of working as a team with the trainers. We collected and analyzed blood, gastric, chuff, and semen samples and we spent time participating in enrichment and training sessions with the dolphins. We spent the last week in the pool with the dolphins performing ultrasounds. This week gave us a strong appreciation for the open communication between trainers and veterinarians to keep the people and animals safe.
Activities and Observation
Two fun activities that we also participated in during our time in Mexico was a free-ranging whale shark swim off of Isla Mujeres and a SCUBA dive at a reef in Cozumel. We were very fortunate to be able to observe both free-ranging whale sharks and whale sharks under human care only weeks apart from each other!
Holistic Training Opportunity
Overall, each experience added to the one prior, creating a holistic training opportunity. I am extremely grateful for the mentorship and knowledge that I gained from all of the veterinarians, aquarists, and marine mammal trainers that I had the pleasure of working with and learning from. I look forward to applying the skills and knowledge that I have gained during AQUAVET® III to my clinical experience in a few months!
By: Sarah Wright, third-year veterinary student