Dr. Charles W. "Bill" Smith, a member of the college faculty from 1969 to 2000, passed away on Friday, August 31, 2018, at the age of 78.
"Many of our alumni remember learning principles of surgery from Dr. Smith, and all who knew him enjoyed his collegiality and passion for veterinary medicine," noted Dr. Julia Whittington, chief of staff of the Veterinary Teaching Hospital and a 1997 alumnus of the college, who herself learned from Dr. Smith.
Dr. Smith was born in Pontiac, Ill., attended Northern Illinois University in Rockford, and graduated from the University of Illinois College of Veterinary Medicine in 1965.
Donations
The family has asked that donations in Dr. Smith's memory be made to the College of Veterinary Medicine Class of 1965 Scholarship Fund. Donations may be made online or by calling 217-333-0490 to speak with the college's Office of Advancement.
After practicing veterinary medicine in northern Illinois and serving in the Army Veterinary Corps, Dr. Smith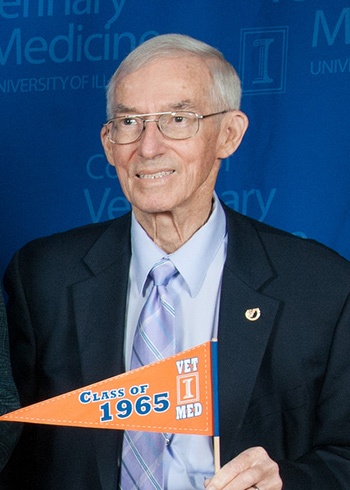 joined the college faculty. In 1974 he became a diplomate of the American College of Veterinary Surgeons, and in 1978 he was appointed chief of small animal surgery at the Veterinary Teaching Hospital. He gained tenure as a full professor in 1980.
He was recognized for outstanding teach many times over. On three occasions—in 1977, 1983, and 1991—senior Illinois veterinary students selected him as the recipient of the Norden Teacher of the Year Award. (In the photo above, Dr. Smith, at right, posed with student Bridgit Hollis.)
He garnered the Outstanding Instructor Award from the Chicago Veterinary Medical Association in 1995. Also in 1995, the college gave him the All-around Excellence Award. In 2000, Dr. Smith received the Campus Award for Excellence in Professional and Graduate Student Teaching.
After retiring from the college, Dr. Smith continued to perform surgeries as a veterinary consultant at various practices in Illinois. He attended his 50th class reunion at the college's annual veterinary conference in 2015.
Dr. Smith is survived by Ann, his wife of 52 years, four children, and 11 grandchildren. His obituary may be seen here: http://www.morganmemorialhome.com/obituary/charles-bill-smith/