A note from the program organizer, Dr. Margarethe Hoenig:This program would not have been possible without the collaboration with Professor Muhairwa at the Sokoine Agricultural University Department of Veterinary Medicinein Morogoro. We thank Anthony Mhandoand Dr. Nickson Ng'umbiand the local veterinary officers for their daily assistance. We could not have done this without our wonderful drivers, Moses and Musa. We gratefully acknowledge the sponsorship of Henry Schein andBoehringer Ingelheim Vetmedica, which generously donated vaccines and surgical equipment, and are thankful for the financial support of the College of Veterinary Medicine at the University of Illinois.
The Tanzania 2018 Illinois team members were Drs. R. Avery Bennett and Margarethe Hoenig and veterinary students Michelle Beermann, Abby Curiel, Sarah Dobin, Hayden Kaderly, and Michael McCallion.
Hayden Kaderly: Monday, July 23
Today marked the first official day of our trip. Unusual, dry-season showers in the early morning luckily transitioned to a beautiful day. We began with a tour of the vet school at Sokoine University of Agriculture. The impression of simple pragmatism due to limited resources was striking and really put our lavish veterinary teaching hospital into perspective. Still, it's impressive what the only vet school in Tanzania is able to accomplish.
Soon after the tour, we disembarked to the first location of our trip, along with Nickson, our Tanzanian veterinarian, and Anthon, the technician. Our site for the day was in Mazimbu Baracuda at a beautiful home surrounded by orange, mango, and banana trees. Dozens of chickens wandered the yard and clucked from their coops. A detached garage served as today's operating room.
Set-up was filled with the first-day confusion, not knowing what to put where, but once the surgeries started, the group really found our groove. It was odd doing surgery with an audience of locals, their children, and even the occasional chicken and lizard that strayed into our OR. It was exciting to dive right into the spays and neuters—a stark contrast from junior surgery. As the sun sank lower, an operating table was moved to the shade of an orange tree where the breeze made it more comfortable and the light was better.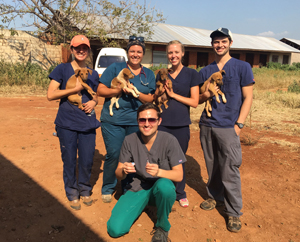 We performed four dog spays and four neuters, and Dr. Bennet performed a preputioplasty on a dog with paraphimosis. Our team also dewormed, vaccinated, and applied a topical antiparasitic to almost 25 dogs in addition to the ones that received surgery.
The first day was a big success, and we were already feeling more comfortable with our surgical skills. We returned to the Arc Hotel for much needed showers, food, and sleep.
Michael McCallion: Tuesday, July 24
Today we headed to Bomba La Zambia, Kingolwira, a small village outside the city of Morogoro, to set up our vaccine and spay/neuter clinic for the locals. We set up camp in a small area consisting of buildings that were in the process of being completed to become a small farmers market for the locals to trade and sell goods. It was a beautiful, sunny, ~75 degree day, perfect for our surgical clinic.
We kicked off the day by castrating a young puppy, and soon had a line of animals forming to be sterilized throughout the day. We did roughly 12 procedures in 5 to 6 hours, showing improvement in our surgical skills from the first day and starting to understand how our mobile surgical clinic operates and flows. Many animals also presented throughout the day just to receive vaccinations, keeping ourselves and Nickson busy the entire day.
As our day was coming to a close, a young boy approached us carrying a bucket on his head. As he got closer, it became apparent that the bucket was filled with four young puppies, a nice surprise for everyone! After examining the puppies, deworming, and socializing them a bit, we vaccinated the remaining dogs and soon packed up our gear and left Zambia for the day.
Overall, it was a productive day, as we were becoming much more efficient in our surgical practice and operating a mobile surgical clinic. It is truly amazing to be able to practice veterinary medicine in such unique locations, such as an open farmers market only kilometers from the Morogoro mountains. I don't think I'll ever find an operating room with this kind of view again in my lifetime.
Sarah Dobin: Wednesday, July 25
On the third day of our trip we found ourselves at Kingolwira (junior seminary) in Morogoro. Under the watchful eye of the Uluguru Moutains, we pulled up to a farm with old equipment rusting in the weeds and a tractor with flat tires waiting over a pit for an overdue oil change. Dogs were already running through the buildings and yard, and we knew it would be a busy day. We unpacked the tables and equipment to the sounds of multiple animals singing in the distance, and ancient trees whistling along with the wind.
It was only Day Three, but we felt confident and assured in our abilities (especially with the mentorship of Dr. Bennet). The distant sounds began to fade as we focused on the dogs and task at hand. Not only were we working efficiently, but we were laughing and becoming playfully competitive. We worked well as a team, and it showed with a record-breaking 17 surgeries!
As the day wound down, we could once again hear the whistling of the trees and the sounds of birds. Like the ending of an old western, the sun began to set, lighting up a beautiful baobab tree. Watching us admire the peaceful giant, Nickson told us this ancient tree was once a beacon for the sick and weary and a resting place for slaves. In need of a little rest ourselves, we packed up and headed into the sunset.
Ni siko nzuri sana. It was a beautiful day.
Michelle Beermann: Thursday, July 26
The dogs were already waiting for us when the bus drove up to today's location in the Kilakala Kola community. By Day Four, the setup was running like a well-oiled machine as we formed an assembly line to unload the gear from the truck. The morning started off at a steady pace of spays and neuters performed with the usual audience of locals. However, yesterday's record-breaking pace was sharply contrasted by today's lazy afternoon as the number of surgeries dwindled and we found ourselves with more and more downtime. Our quiet afternoon was well-spent practicing Swahili and exploring the farm.
Today's residence featured tiny chicks, a pair of newly born goat kids, and a massive billy goat – all watched over by the family's very enthusiastic dog, Rick. And as anyone who has worked at a clinic might know, the day isn't complete without last minute add-ons. Just as we were starting to pack up the equipment, two neuters and a cat spay were requested, all of which were happily obliged.
While certain aspects of the day have become routine, we still found ourselves rewarded by simple moments of a man appreciating Sarah's "big heart" and a group of schoolchildren gathering closely to watch surgery.
Abby Curiel: Friday, July 27, 2018
Today we woke up extra early to go visit APOPO! This is an organization that trains African giant pouched rats to detect land mines and tuberculosis. Most of us had heard of these rats but had no idea how they detected land mines or how they were trained, so we were very excited to learn. It was a cloudy and chilly morning when we arrived at APOPO and met a few other tourists coming to visit the famous rats. The trucks pulled in with each individual rat in a carrier labeled with their name.
Our first reaction was that they were much larger than we expected! We walked over to the training fields where we were able to watch the training session for the novice rats. They wore little harnesses and were trained to run back and forth between two trainers and to scratch at the ground when they discovered the metal ball containing TNT scent. The rats are trained using only positive reinforcement in the form of bananas and clicker training.
We then watched the more advanced training session where the rats need to sniff out actual buried land mines and are not always rewarded with food. It was amazing to learn that the rats could cover an area in 20 to 30 minutes that would take a human four days to search. And of course, the highlight of the morning was getting to hold the rats. They are much stronger and heavier than you'd imagine, but so cute!
We went back to the Arc hotel for breakfast and to pack up and then back out to get some surgeries in for the day. Today we set up on the porch of a little building in Morogoro. There were already dozens of dogs and people waiting for us when we pulled up. Luckily, many of them were there for vaccines but we got six surgeries done in the short time that we had. Lunch on the go today was (surprise, surprise) veggie pizza! Little did we know that this we would the last day of edible veggie pizza without peas.
We returned to the Arc Hotel to grab our luggage, buy last-minute souvenirs from Shadraq, and prepare for the drive to Mikumi. Most of us fell asleep during the drive until we awoke to Michelle yelling "giraffe!" The highway to Mikumi passes through Mikumi National Park, and we were stunned to see many giraffes, zebra, impala, baboons, and wildebeest right next to the road! This was the first time many of us had seen these animals in the wild, and it was so exciting!
We asked Moses, our driver, to pull over so we could get pictures of three giraffes staring us down. By the time we arrived at the Tan Swiss Lodge we were excited to see a new menu for dinner and a pool.
Hayden Kaderly: Saturday July 28
Safari day! After a quick breakfast at the Tan Swiss Lodge, we loaded into the three-tiered, open-air, safari truck and headed to Mikumi National Park. Our guide and driver, Terry, navigated the vast park for us. The morning was chilly in the breezy vehicle, but excitement for our safari seemed to override the cold.
Our first animals were a couple of repeats from the day before on our journey to the hotel—impala and baboons. The new animals kicked off with a bang as Terry tracked down a recent lion spotting by talking to other safari drivers. We spotted the lioness walking over the tall grass with a couple of cubs barely visible at the top of their prance. It was a brief sighting, but it got the adrenaline pumping and we were eager to see more animals.
A stop at a pond revealed a group of hippos with their babies bullying crocodiles that wandered too close. Other crocodiles, large and small, sunned themselves on the banks.
Next, Terry picked up a hot lead on a herd of elephants, and we rushed off to find them. They were truly majestic to see so close in the wild. A large group with several small babies filtered around the safari vehicles, not seeming to mind our presence. A couple of young bucks practiced sparring. We watched the elephants for quite a while and rapid-fired photographs of them.
As the day went on, we also spotted giraffes, bushbuck, redbuck, eland, zebra, wildebeest, vervet monkeys, and many types of birds ranging from well-camouflaged to strikingly colorful. Just when we had given up hope and were heading back to the Tan Swiss, we spotted a water buffalo on the side of the road. Terry threw the truck in reverse so we could glimpse this member of the Big 5. Somehow sitting all day in a safari vehicle was exhausting work, and we were pretty tired by the time we got back to the Tan Swiss.
Michael McCallion:  Sunday, July 29
With today being Sunday, it was a non-surgical day for our clinic. Looking to go out and explore the beautiful country we were in, we spent the day hiking the Sanje waterfalls trail in the Udzungwa Mountains National Park. This trail holds the highest waterfalls in all of the Tanzanian national parks and was a must-see for us while on the this trip.
We met with our guide that morning, Wynalder Joseph, a 22-year-old Tanzanian who has been working this trail and many others of the park for the past two years. Wynalder, a young man from Arusha, Tanzania, loved nature and was a very knowledgeable guide, routinely stopping to speak about animals and plants we encountered on our hike to the waterfall summit.
One tree, for example, creates a loud echo when struck due to the structure of its base, and can be heard for kilometers throughout the forest. Wynalder showed us how to properly strike this tree and explained that the elders used to strike it various amounts of times to send messages and communicate with each other (once for a marriage, twice for war, and three strikes for an emergency). We also saw many red colobus monkeys along the way, which often jumped along the treetops to collect fruits and siphon water from leaves.
After we hiked for about an hour and gained some elevation, we approached the base of the waterfalls. This area consisted of large, flattened rock in the water stream that allowed us a walk among the rocks and have an amazing view of the surrounding area. We could see numerous rice and sugarcane farms in the distance kilometers from the national park, a beautiful sight and wonderful location for us to enjoy lunch.
We continued to hike up the path to reach the highest accessible point of the waterfall. The summit was amazing, as two large, distinct waterfalls roared and collapsed into a pool near, launching up a very cooling mist. After taking pictures and speaking to some other tourists who had also made the hike, we ventured back down to reach the base of the waterfalls. This area contained small, calming pools into which the waterfalls drained, a nice area in which we decided to swim and cool off from the warm hike. The water was freezing but unbelievably refreshing after the long trek. We soon dried off, gathered up our gear, and headed back out of the trail and to our van after a long, rewarding day of hiking. I'll never forget the amazing views we saw there, and the beautiful Tanzanian land that could be seen for kilometers.
Sarah Dobin: Monday, July 30: Bulls on Parade
The Udzungwa Mountains were on the horizon as we drove up to an abandoned train station in Tambukareli, Mikumi. The overgrown tracks running from the sugar cane fields at the foothills of the mountains to the metropolis Dar es Salaam were barren and served as a vantage point to the west and east.
Like passengers waiting for their train, people were already lined up on the platform as we pulled up. Unlike the usual travelers at a train station, the people were patient, happy, and curious. They gathered around watching as their dogs were operated on.
Along with the crowd of people and dogs, all day ankole-watusi paraded by indifferently looking up in between bites of overgrown grass (appreciating the abandoned tracks more than anyone else). Unlike their passive long horned livestock, the herders were curious. They often asked questions and stuck around to watch a surgery or two.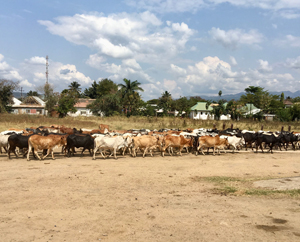 Even with the crowds, we were able to quickly complete another record-breaking day. After 19 surgeries, it was still early enough to talk and play with the locals. Mike played catch with the kids while Dr. Hoenig spoke with a Maasai about his nomadic lifestyle and rich traditions. Right before we left Mike and Abby got swarmed as they handed out stickers to excited children. After they were sufficiently covered in stickers, we said our goodbyes. Everyone was not only satisfied in their veterinary work but in the sense of community developing with each location we visit.
Michelle Beermann: Tuesday, July 31
The schoolchildren were excited to have visitors to their schoolyard as we set up today's makeshift clinic in Mikumi-Kidoma. We set up our operating tables under the shade of two trees, warding off the occasional falling ants and spiders.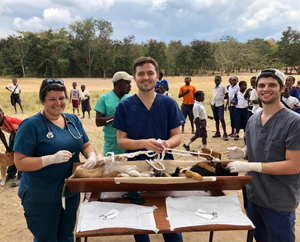 Several of the dogs presented to us today were afflicted with transmissible venereal tumors (TVT). TVT's are round-cell tumors that are transmitted venereally between dogs. TVT is typically treated with chemotherapy, which is not an option for us out in the field. Dr. Bennett managed the patients by debriding the neoplastic tissue to stimulate the immune response, and the animals were spayed/neutered to prevent further transmission.
In the afternoon, our crowd of children in their matching school uniforms grew as the kids poured out of their classrooms for recess. They gathered inquisitively to watch the surgeries and vaccinations until the schoolbell rang, calling them back to class.
We finished off the day in good spirits. Abby and Mike competed in dueling scrotal castrations. The competition was head-to-head, neck-in-neck, but Abby was victorious, completing her surgery just before Mike successfully finished his.
Abby Curiel: Wednesday, August 1
Today's location in Mikumi was the Ihombwe village. This location was a little farther drive than we were used to, but of course we easily recognized the site when we saw several dogs and people waiting under some trees for us. We learned that the people who live in this village need to walk to the river for water and carry it back to their homes. We also learned that sometimes elephants have been sighted walking through the area as they migrate.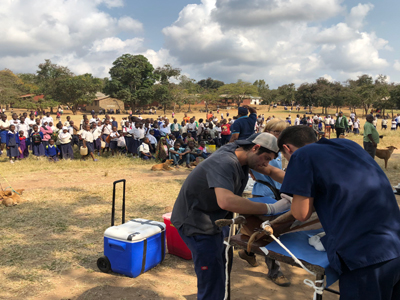 We didn't have any sort of building to use for shade today, so we set up under some trees and moved the tables as the sun moved throughout the day. During the early afternoon there was a lull where we didn't have any surgeries to perform, so Hayden built a Mancala board in the dirt with pieces of brick as the beads. We tried to pause our game and protect the board once the surgeries started coming in again, but there's only so much you can do to preserve circles drawn in the dirt.
As the day ended, many of our patients were slow to wake up so we had several similar-looking dogs sleeping in a row under the trees. It was a slower paced day and was very calm and quiet, which made us happy and relaxed as we returned to the Tan Swiss and lounged by the pool before dinner.
Sarah Dobin : Thursday, August 2
Baboons curiously watched as we drove past them on a dirt road, to another remote location. The road appeared scarcely used, as did our location for the day. The barren field had little shade, but plenty of dust. The worn-down grass sidelines and dusty field suggested we were at a well-used soccer field. Just like all the other locations, soccer was the game of choice for adults and children. However, no one was playing since our work was entertainment enough. Like spectators at a game, people sat in the shaded sidelines watching coaches Bennet and Hoenig give advice, and the rest of us players efficiently working through the day. Our wordless communication, quick handwork, and strategic planning made us feel like professionals.
2018 has become the year of record breaking. We've officially completed more surgeries than any other year and had 20 surgeries alone today! A little exhausted and sun burnt, we still had time to hand out stickers and stick-on moustaches to the giggling children. We felt like stars greeting their fans after yet another win. As we drove back, the baboons were once again waiting on the bumpy road to wish us a goodnight.
Michael McCallion: Friday, August 3
Today is officially the last work day of our clinic. We've vastly improved since Day One, and can now do as many surgeries as our clinical supplies allow us to do in a day, no longer limited by time!
We traveled roughly 15 minutes from Mikumi to a small village hidden away in the hillside. This rural village consisted of a few families living in small, clay and mud brick houses. There were also many children in this village, so many that the local school had to split their attendance into shifts, a morning and an afternoon shift, so they could accommodate them all.
As we started that day, the children present hung around and watched us perform surgery, very interested in what we were doing. As soon as things began to slow down, we gave them a small soccer ball we had brought with us and soon the whole neighborhood began playing a game of football (soccer).
As things came to a close, we tallied up our procedures conducted during these 10 work days, resulting in 136 sterilizations (50 spays and 86 neuters)! We were very happy and proud of our work these past two weeks, conducting the most procedures ever done on this annual trip, while also vaccinating and deworming numerous animals in every community.
Overall, we all believe we have helped make a difference here, as well as vastly improving our surgical skills and learning about a new culture in the process. We all agreed that the experiences had, new friends made, and skills learned while on this trip were things we would never forget.