In July 2018, I worked in Otovalo, Ecuador, as a student volunteer with World Vets, an incredible organization whose mission is to "improve the health and well-being of animals by providing veterinary aid and training in developing countries and by providing disaster relief worldwide." Their International Veterinary Medicine (IVM) Program trains vet students to complete spays and neuters on locally-owned dogs and cats under the supervision of skilled veterinarians, as well as to provide basic veterinary care (flea/tick prevention and deworming) to livestock and pets.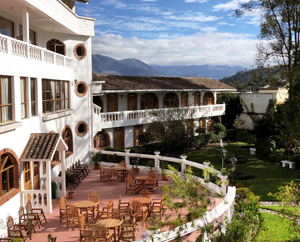 Day 1
After 14 hours in transit, a fellow Illinois vet student, Raquel Doke, and I arrived at the Quito airport in the capitol of Ecuador. We met up with 19 other people, from veterinary and pre-vet students to veterinary technicians and veterinarians. Our destination was the Fundación Latitud, a wonderful hotel in Otovalo, Ecuador, in the Andes Mountains.
Day 2
After adjusting to the 8,500-foot altitude overnight, we started our first full day with a hike to Cascada de Peguche, a beautiful mountain waterfall, followed by a visit to El Gran Condor, one of the few remaining family-owned shops that specializes in homemade woven products and demonstrations of the technique employed in dying and spinning wool to create one-of-a-kind items such as blankets, sweaters, and tapestries. It was amazing to witness the skill that goes into creating these high-quality products. Finally, we were introduced to a family who specializes in creating and playing musical instruments. They played for us, too!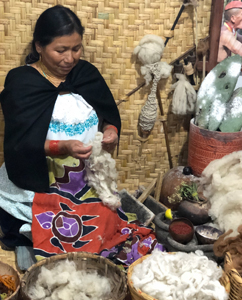 That evening, for our surgery and anesthesia orientation, the veterinary students paired up and went over the basics of a spay and neuter, practicing our suturing skills under the direction of a veterinarian. The group then went over the different aspects of monitoring anesthesia and what to expect on our first day of surgery.
Day 3
When we walked into the ClínicaVeterinaria BAI the next morning, clients and their pets were there to greet us as we set up the prep room and the surgery tables. The first surgery of the day, and my first invasive surgery ever, was a dog spay! I was definitely nervous, but veterinarian Dr. Stacey Hicks soon made me feel very comfortable and confident in my abilities.
Day 4
For our second day of surgery, paired vet students switched doctors in order to learn different surgical techniques.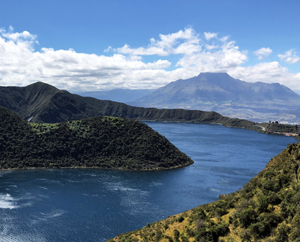 Day 5
On our free day, we hiked around gorgeous Laguna de Cuicocha (Guinea Pig Lake) inside of a volcano crater. On our boat ride around the islands in the center of the lake, we noticed water bubbling up from the active volcano underneath!
That afternoon, we visited the equator and stood in two hemispheres at once.
Day 6
On community outreach day, we traveled to a small town, where we set up in a field and provided veterinary care to dogs, cats, pigs, and cows, giving physical exams and providing flea/tick prevention, deworming, and wound care. This was a great opportunity to practice our Spanish and to get to know the people of Ecuador.
That afternoon at the Otovalo Market, we visited vendors selling ponchos, blankets, and shawls and indulged in street empanadas and delicious elote.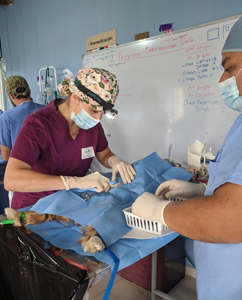 Day 7
On our final surgery day, I got to work with two other veterinarians. I had gained confidence in my spay and neuter skills. It was incredible how after only two previous days of surgery I had already learned so much.
Day 8
As the trip came to an end, I returned to the United States eager to start Junior Surgery in the fall. World Vets enhanced my skills, knowledge, and confidence as a veterinary student and future vet, and for that I am forever grateful.
—Maude Fitzmaurice, UIUC Vet Med Class of 2020