The year is 1963. Dr. Roger Jaenke has just received his DVM degree from the University of Illinois College of Veterinary Medicine. At the same time, drumbeats of war are sounding in the distance from a faraway country called Vietnam.
"Veterinarians were being drafted into the military," recalls Lynn Jaenke, his wife of 52 years. "He decided he wanted to do something more than inspect meat and look after the colonel's poodle."
A Research Appointment in the Army
So Roger enlisted in the Army, applied for a grant, and took a research position at the Walter Reed National Military Medical Center in Washington, D.C. It was his research, combined with his love for his alma mater, that led Lynn to establish the Dr. Roger Jaenke Pathobiology Scholarship at the college.
"He really enjoyed research," says Lynn, who created the scholarship in 2016, two years after her husband passed away. "He worked for a veterinary practice in St. Louis between his junior and senior year in college and enjoyed the things he did there, but he eventually decided he liked the research better than being a day-to-day practitioner."
After one year at Walter Reed, the Jaenkes were transferred to the Madigan Army Medical Center outside Tacoma, Wash., one of the largest military hospitals on the West Coast, where Roger was instrumental in developing a research and development lab in the facility. So invested was he in the art and science of discovery that he requested enrollment in the Air Force Institute of Technology (AFIT), the exclusive graduate school for members of the Armed Forces.
He talked to the upper echelon in the military and they said, 'Oh, yeah, AFIT is a possibility, but there's only one catch: you'll have to do one year in Vietnam first,'" Lynn relates. "His response was a little more colorful than I can say it. He was a colorful guy. Just say he declined."
Graduate Study, Teaching at Colorado State
Following his discharge from the Army, Roger attended a veterinary conference at Colorado State University and liked what he saw in the campus and its breathtaking surroundings. "He wanted to continue his research, and asked about available grants to pursue his PhD at the university," says Lynn. "They had one grant left, and they gave it to him!
"He called me and said, 'How do you feel about moving to Colorado?' I said, 'Sounds good to me!' Talk about being at the right place at the right time."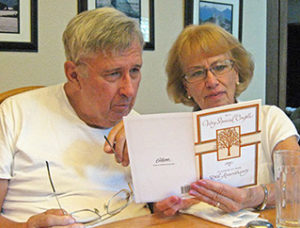 Roger earned his PhD in pathology at Colorado State, and was invited to join the CSU faculty upon his graduation in 1969. He remained on the faculty, as a researcher and professor of pathology, until his retirement in 1994.
"He spent his whole career there, doing research," Lynn says. "He got quite a number of grants from the federal government over the years. He was a pretty darn good grant writer. He published a lot of scientific papers there. And as a teacher, like I said, he was quite colorful. The students really liked him."
Devotion to Illinois Veterinary College
When it came time to create a memorial to his life and career, however, Lynn remembered her husband's words of devotion to the U of I.
"He always said that he wanted to do something for the University of Illinois," says Lynn, who also enrolled at Urbana after meeting Roger at a summer camp in Minnesota; she graduated with a degree in art education. "Because he really enjoyed his time there, he liked his professors and he believed in the work they were doing. That was one thing he wanted, so I started working on that."
The scholarship, earmarked for a veterinary student with a commitment to pathobiology, which encompasses a variety of research disciplines focusing on disease emergence, was augmented with an additional gift from Lynn last year.
"I was able to give a little more, and wanted to continue what I had started," she says.
Her dedication helps fulfill lifelong dreams for students like last year's Jaenke scholarship recipient, Eric Ledesma. "Ever since I was a child, I knew I wanted to be a veterinarian," says the Jersey City, N.J., native, who plans to pursue either anatomical pathology, surgery, or neurology after completing a small animal rotating medicine and surgery internship at the ASPCA upon graduation. "But back in 2002, a college advisor told me I could not get into veterinary school because it was too difficult."
Now a "non-traditional" student at 35, "I went back to school full-time to finish my bachelor's degree in biology while working full-time for a ferry service," Ledesma says. "I wanted to at least try to get into veterinary school. If I didn't get in, at least I could say I tried. I didn't want to live the rest of my life regretting not ever trying to reach for my dreams.
"I learned about the scholarship through the college website. I come from a low-income family background, so scholarships like this help me to travel to externships that I would not be able to go to otherwise."
By Jim McFarlin