Rehn Scholarship Rewards Rural Practice Interest
"I was blessed to have a wonderful husband," Jean Rehn reminisces about her late spouse of nearly 50 years, Wayne. "And I'm very thankful to this university that he was able to get his degree and thus provide for his family. Veterinary medicine has been very good to us."
So good that, upon the occasion of his retirement in April 2008, Jean established the Dr. J. Wayne Rehn Scholarship at the University of Illinois College of Veterinary Medicine.
Created in cooperation with the couple's daughter Lisa, son John and their spouses, the Rehn scholarship is earmarked for a student member of the Illinois State Veterinary Medical Association with a rural or food animal background; demonstrated achievements in 4-H or the Future Farmers of America; sound integrity; good academic standing, and a sincere interest in pursuing a career in rural veterinary medicine.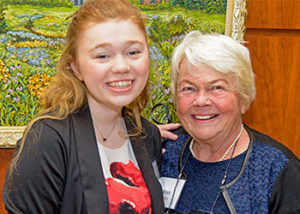 "I thought, 'What better tribute than to help someone else learn veterinary medicine on behalf of a person who loved it so?'" says Jean. "That's why I established it in his name. It was a shock to him, but a pleasant shock."
The "rural" part of the scholarship is especially important to Jean, who worked alongside Wayne for 30 years in practices in tiny Geneseo, Alpha, and Woodhull, Ill. "He was probably best known as a food animal veterinarian, meaning hogs and pigs," she says of Wayne, who died in 2011. "We also had a purebred Angus herd. We had a wonderful experience, practicing in a little town. We had a lot of vet students come and do internships with us."
Was she a farm girl? "Heavens, no!" Jean exclaims with a laugh, remembering how she met Wayne on a blind date while she was attending Oregon State University and he was in the Air Force stationed outside Corvalis. They were married a year later and returned to his parents' home in Illinois.
"They lived on a farm that had a crank telephone," she recalls. "I owned a dog once, but that was the closest I'd been to having animals. It was a little bit of culture shock, but we weren't the only ones who moved to that area from the military, and some of those people are still close friends. But yes, it was an eye opener."
Wayne's passion for his chosen profession was apparent early at the U of I. "Wayne was a great guy, a great classmate, and an extremely good clinic partner," recalls his fellow member of the Class of '61, Dr. Albert Day. "We had a lot of fun together."
Wayne was vice grand president of the Alpha Chapter of Alpha Gamma Rho, a national professional agricultural fraternity, and later president of the Illinois State Veterinary Association. However, in 1992, after three decades as a working vet, "He wasn't ready to retire, but physically, he felt it was time," Jean says. So he shifted gears and spent the next 12 years as CEO of AVMA Professional Liability Insurance Trust, based in Chicago.
"That probably doesn't mean a darn thing to you if you're not a veterinarian, but vets have to self insure and that's their insurance company," Jean explains. "He would go to all the colleges and a lot of vet meetings to help vets realize the importance of having liability insurance."
"He got to know so many students, and in the years he had that job it was fun to go to veterinarian meetings with him and have vets he talked to in college come up and say, 'I thought what you were saying was something I didn't really need, but you were right…I did need it.' I'm sure there are vets practicing today who are very thankful he was around. He was a very giving, caring person."
By Jim McFarlin