Kindness Sparks Donor Generosity
The future is clearer and brighter for pets and students at the Veterinary Teaching Hospital, thanks to generous donations made by client Connie Large out of gratitude for caring specialist Dr. Stanley Rubin.
Three years ago, when Large's long-haired dachshund, LD, wasn't getting well under the care of his primary care practitioner, she decided to bring him to see a small animal internal medicine specialist at the University of Illinois. There, she met Dr. Rubin, who realized that LD's medication wasn't working. Dr. Rubin changed the prescription, which saved LD's life.
Large (pictured above) has been coming to Dr. Rubin for LD's care ever since. Her positive experiences with Dr. Rubin led her to express an interest in financially helping the college.
"I decided to donate to Dr. Rubin's team for several reasons, but the one thing that truly made it easy was him. Dr. Rubin's kindness and caring made it very easy to talk with him, and right away we 'connected,'" says Large. "I will be forever grateful to Dr. Rubin."
She wanted Dr. Rubin to use her gift in any way he felt would help the internal medicine section, patients, and their owners.
"Some very gracious, generous donations have allowed us to acquire new equipment. Our new Olympus endoscopy system is used to pass an instrument into the body to examine various areas that can't be examined otherwise," says Dr. Rubin.
The new, state-of-the-art system has digital imaging in high-definition that provides the best quality images. It has a feature that allows the clinician can change the lighting so that lesions can be detected more easily than they can under regular white light.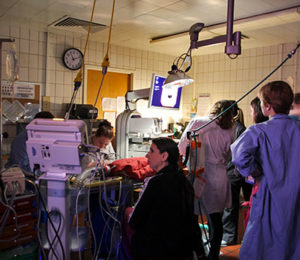 The new endoscopy system improves clinicians' ability to make diagnoses, to remove foreign objects that pets have swallowed, to examine respiratory tracts, and to perform cystoscopy or other examinations in pets' urinary tracts. It can also be combined with laser therapy to perform more sophisticated interventions.
"We are always looking to have the most-advanced equipment so that we can offer our clients the best, and we can always have the best to train our residents, interns, and veterinary students with," says Dr. Rubin.
Dr. Rubin will be retiring in March, but he is thrilled that veterinary students and specialists-in-training at the hospital will have this advanced technology to improve their skills. Because pictures are worth a thousand words, he believes students will learn even more by seeing how the equipment is used.
"We need veterinarians who understand not only how to treat disease, but also how important it is to be kind and caring," says Large. "Treating the diseases is one thing, but the students need to learn about positively reinforcing the animals and caring for the mental state of each animal. I got that from Dr. Rubin."
While Large knows that she will miss seeing Dr. Rubin, she hopes her donation will help future veterinarians succeed in their careers and will inspire others to pay it forward.
—Da Yeon Eom