Dr. Stephen Hadley, a 1987 graduate of the college, and his wife, Denyse, have a strong belief in mission work: They believe that not only does serving people and communities in need benefit the recipients of the service, but it is also life changing for the individuals who provide the service.
The couple have been making these life-changing opportunities available to Illinois students since 2005, when they established the Dr. Stephen P. and Mrs. Denyse L. Hadley Christian Veterinary Mission Scholarship.
The 2017 scholarship recipients, secondyear veterinary students Nicole Bledsoe and Katie O'Brien, both plan to use the financial support to fund mission trips to Nicaragua this summer.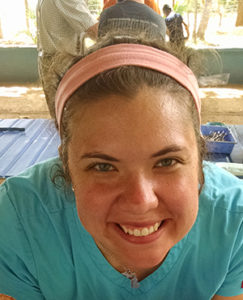 Bledsoe has been an active member of the student chapter of Christian Veterinary Mission at the University of Illinois. For the past two years, she went on mission trips to Nicaragua and had hoped to keep going back to help the communities. She is certain that the scholarship will benefit her academic progress by easing some of the financial burden of veterinary school. As to her career goals, she plans to pursue equine medicine and hopes to enter an equine internship.
"I am so grateful and blessed to have received this gift, and it will make an impact on my mental and spiritual health by reducing financial stress and allowing me to partake in the Nicaragua mission trip this year," says Bledsoe.
O'Brien, who had worked two jobs to cover the cost of a mission trip last year, says the scholarship will allow her to focus on school and be less concerned about finances. O'Brien is planning to become a swine veterinarian and to continue making veterinary mission trips after graduation.
For these two and other veterinary students, Dr. Hadley stresses the importance of exploring career options.
"Because the veterinary industry continues to evolve, students need to make choices in their career that will open more doors and raise their lifetime income potential," he says.
Mission trips, and the expansive horizons they open, provide just such an opportunity.
By Da Yeon Eom