[row]
[column size=8]
Dr. John Carl Thurmon, a member of the college faculty from 1962 to 1998, passed away on Monday, March 20, 2017, at the age of 87.
Dr. Thurmon was one of the founders of the anesthesia specialty, which was recognized by the AVMA in 1975. He served as the first president of the American College of Veterinary Anesthesiologists. In the 1980s he led his colleagues at Illinois in the development of injectable anesthetic protocols, including the "triple drip" combination, which made surgical procedures for a variety of species safer and more affordable and which continues to be used today in large and exotic species.
On learning of Dr. Thurmon's passing, Illinois veterinary dean Peter Constable wrote: "Dr. Thurmon had a tremendous impact on veterinary anesthesiology and built an outstanding anesthesiology research and training program at Illinois."
[/column][column size=4]
Donations
Donations in memory of Dr. Thurmon may be directed to the ACVAA Foundation to build a sustainable funding source for ACVAA resident research projects in honor of Dr. Thurmon's lifelong dedication to veterinary anesthesia.
[/column][/row]
The following narrative is excerpted from an obituary written by Dr. Thurmon's daughter, Nancy Schmitt, of Highland Park, Texas.
Professional Life
In 1971 Dr. Thurmon was selected by his peers in the American Society of Veterinary Anesthesiologists, a society with open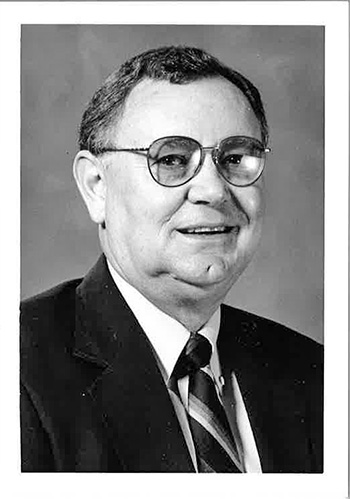 membership, to chair an ad hoc committee assigned to investigate formation of a veterinary specialty college. This level of specialty recognition required founding diplomates to meet specific requirements including: ten years of active service in the specialty, significant publications, sufficient training and being head of an anesthesiology program or equivalent. Formation of a specialty college also required the committee to write a constitution and bylaws, and gain approval of the new organization from the American Veterinary Medicine Association (AVMA) delegates.
The committee worked tirelessly, mostly during their free time, overcoming significant resistance from well-established surgery and internal medicine veterinary specialty organizations, eventually becoming known as "the stubborn seven" because of their persistence.
In 1975 the new specialty organization was recognized by the AVMA as the American College of Veterinary Anesthesiologists with Dr. Thurmon serving as the college's first president. Today the college is known as the American College of Veterinary Anesthesia and Analgesia (ACVAA) and has more than 220 board-certified members.
During the late 1980s and early 1990s, Dr. Thurmon led his team of faculty and graduate students in the development of injectable anesthetic protocols including "triple drip" applicable to numerous species of animals. The three-drug combination within "triple drip" achieves stable and predictable cessation of consciousness, relaxation and pain relief without debilitating after effects.
This novel approach is inexpensive and useful in a variety of settings — both operating room and field — and continues to be widely used in large and exotic species. Prior to its development, lengthy field surgery was accompanied by high risk to both patient and practitioner. With its availability extended surgery was made safer and more affordable.
In the early 1990s Dr. Thurmon was asked by Drs. William V. Lumb and E. Wynn Jones to become the Editor-in-Chief of Lumb and Jones' Veterinary Anesthesia, the definitive work on veterinary anesthesia. Dr. Thurmon viewed this work—a multi-species anesthesia and analgesia textbook—as a critical component in maintaining the legitimacy of veterinary anesthesiology as a specialty within the wider veterinary community. The 3rd edition, published in 1996, was 928 pages and drew on the knowledge of 37 contributing authors. At the time Dr. Thurmon wrote, "This has taken a long time, but I feel good about it."
The 4th edition, published in 2007 after Dr. Thurmon retired, but for which he still served as an editor, was 1098 pages and compiled the knowledge of 69 authors, 50 of whom were board-certified in veterinary anesthesiology. The evolution of this textbook and its authorship was further evidence that the anesthesia specialty that Dr. Thurmon and "the stubborn seven" were instrumental in creating had been established and was well recognized by the beginning of the 21st century.
Dr. Thurmon had a distinguished career at the University of Illinois. He published extensively and emphasized the incorporation of advanced academic training within anesthesia residency programs. He was proud to be the scientific research advisor for 30 residents and graduate students during his career. Many of these students are now in private practice or hold faculty positions in academic institutions across North America and the rest of the world.
Personal Life
Dr. Thurmon was born on March 4, 1930, in Redford, Mo., the son of James Clinton Thurmon and Lenna Laverta Welsh. He graduated from Van Buren High School, Van Buren, Mo., in 1948 and spent his early years working at Clearwater Lake near Piedmont, Mo. He managed the boat dock at the lake and exceled in small engine repair.
Dr. Thurmon married his neighbor, Clairetta Sue Funk, on June 16, 1956, and matriculated at the University of Missouri-Columbia in the fall. He graduated in 1962 as a Doctor of Veterinary Medicine and immediately joined the faculty of the University of Illinois College of Veterinary Medicine. He established the hospital's first anesthesiology section in in 1971 and served as its head until he retired as professor emeritus in 1998.
In his spare time Dr. Thurmon was an avid rock hound, jewelry artisan and traveler. He designed and crafted beautiful sterling silver jewelry (rings, bracelets, earrings, belt buckles, bolo ties, tie tacks) inlaid with polished agates and semi-precious stones that he found on rock hunting trips throughout Texas, the southwestern United States and Mexico. He built a machine shop in his basement, invented most of his jewelry making equipment, and spent many happy hours creating jewelry that he often gave away to family and friends.
Dr. Thurmon also enjoyed fishing and made many trips with family and friends to Alaska and northern Canada where he caught salmon, trout, walleye, northern pike and bass. He delighted in surprising students and colleagues during lengthy lectures with an unexpected picture and story about "the big one," a 30-pound king salmon he caught in Alaska.
A beloved father, grandfather, and professor, he died while living in his Urbana home of 53 years — the only home he ever owned.