Drs. Mitek, McMichael, and Schlosser pose on the Illinois quadrangle with Officer Beasley and Arco
Educational video shows how to give narcan to dogs
Drug overdose is the leading cause of accidental death in the United States, and it's not just killing people. Dogs that work with police and other agencies are being exposed to deadly drugs in the line of duty.
Veterinarians at the University of Illinois decided to take action after they learned that working dogs have become the latest victims of the opioid epidemic.
…scent detection dogs are overdosing and dying from these new ultra-potent opioids, and their handlers really need veterinary advice on how to respond to a canine overdose.

Dr. Ashley Mitek
"Last fall Officer Patrick Van Hoveln of the Illinois State Police brought his canine to the Veterinary Teaching Hospital Emergency Service in Urbana for life-saving treatment of bloat," recalls Dr. Ashley Mitek, a veterinarian who works in the college's Office of Public Engagement.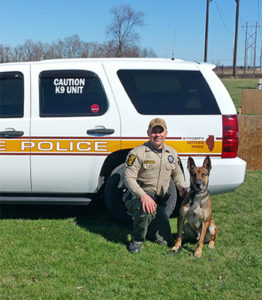 "Officer Van Hoveln mentioned that the Drug Enforcement Agency had recently issued a warning to all police, and especially to K-9 officers, about illegal street drugs laced with compounds that are hundreds of times more potent than heroin. He told us that scent detection dogs are overdosing and dying from these new ultra-potent opioids, and their handlers really need veterinary advice on how to respond to a canine overdose."
Noting that "you can't hear about that and just do nothing," Dr. Mitek teamed up with Dr. Maureen McMichael, who is the head of the hospital's small animal emergency medicine and critical care service and an expert in the emergency care of working dogs. They found others across the University of Illinois campus that were eager to help; from the videography team in the Office of Public Affairs to the director of the Police Training Institute, Dr. Mike Schlosser.
The University of Illinois veterinarians knew they could provide assistance. Unlike traumatic injuries, such as a gun shot wound or stabbing, which are difficult to treat in the field, an opioid overdose can be reversed. During an opioid overdose, handlers can quickly and easily administer the antidote, which is naloxone, also sold as Narcan. Taking this action on the scene will potentially stabilize the working dog, allowing for transport to the treating veterinarian for evaluation and continued care.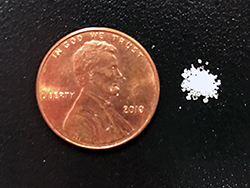 Naloxone reverses all opioids, including heroin, morphine, fentanyl (50 times more potent than heroin), and carfentanil (10,000 times more potent than heroin). Because of the opioid epidemic in the United States, most police officers, firefighters, and paramedics now carry naloxone in their vehicles and are trained to administer it to people. It comes as an intra-nasal spray and as an auto-injection device to give in the muscle.
"We realized that canine officers already have the reversal agent, but they weren't sure how to use it in a dog," says Dr. McMichael.
And that's where the idea came about to create an open-access educational video to teach others how to give naloxone to dogs in their nose or muscle in case of an emergency. The video is accessible to anyone with an Internet connection, and viewable on any device. It is directed at veterinarians, who have a doctor-client relationship with the canine handlers and may be asked to consult by phone when a dog is overdosed in the field. Read the emergency protocol steps to treat a dog that has been or is suspected to be exposed to an opioid.
[row]
[column size=7]
"We could put on a training seminar every week, and never reach all of the canine handlers in the state, let alone the nation, and that just wasn't acceptable," notes Dr. McMichael.
Many Contributors to Training Video
Dr. Schlosser, who gives the introduction to the video on overdose in working dogs, is a 30-year law enforcement veteran and previous commander of a working dog unit. His expertise and financial support from the Police Training Institute were invaluable in quickly creating this life-saving resource.
Also appearing in the video are Dr. McMichael's adopted German shepherd, Gabby, and, from the Champaign County Sheriff's Office, Deputy Chad Beasley and his canine partner, Arco, a 6-year-old Dutch Shepherd.
Additional collaborators on the project include the Division of Animal Resources and the Extension Office, both at the University of Illinois, as well as the American Veterinary Medical Association and the Illinois State Veterinary Medical Association. The videography team included Anne Lukeman, Andrew Gleason, and Todd Wilson.
[/column][column size=5]
Above is a short video that explains the problem working dogs face since the rise of the new opioids.

Watch the full training video on YouTube. Read the full script of the video.
Note: The educational video is intended as an educational tool for licensed veterinarians. The information contained in this video should not be used as a substitute for a consultation with your treating veterinarian. In the case of a suspected canine overdose, contact your treating veterinarian immediately.
[/column][/row]
Future Collaborations Planned
In the course of preparing the video, the Illinois veterinarians and Dr. Schlosser from the Police Training Institute realized that, to their knowledge, no one is currently studying K-9 officer training and opioid-related adverse events in working dogs. They are making plans to research this area together, and University of Illinois veterinary students have expressed interest in helping with these research efforts.
Another outcome of the video is an invitation to Drs. McMichael and Mitek to sit on the Joint Taskforce on Working Dog Care & Transport. The first of its kind in the nation, this task force is a collaboration between two Carle Hospital Emergency Medicine physicians, Drs. Brad Weir and Michael Smith, and the Arrow Ambulance Service. These human doctors, who are on the national board of emergency medicine physicians, recently created the task force after fielding an increasing number of questions from the first responders they train regarding the care of working dogs in the field.
The joint task force is currently finalizing a "Treat & Transport" protocol for working dogs, and a collaborative research project is under way to study how best to educate EMS personnel on this topic.
Working with this task force, the College of Veterinary Medicine hopes to develop more open-access educational videos regarding the treatment of injured working dogs in the field. First responders often bring with them all the needed equipment to treat life-threatening injuries in working dogs; videos may provide them with the minimal additional training needed to apply their expertise to treating a dog.