Dr. George Scott is a delightful storyteller, frequently spicing his anecdotes with the introduction, "I never will forget…."
Given that he turned 90 in December 2016, that memory is as impressive as it is priceless to the College of Veterinary Medicine at the University of Illinois.
Because Dr. George C. Scott (yes, his real name) is a member of the Class of '52, the college's first graduating class. And he is the last surviving alumnus of that historic group.
"I didn't think I was going to get in," he remembers, as one of just 24 students—all male, and all World War II veterans—in 1948. "I was told there were about 400 applicants. I was a good student, but I wasn't straight 'A' or anything.
"I don't know how they selected the students, because we were from such diverse backgrounds," Dr. Scott says. "Some had no farm experience at all. We were from all over the state, and varying ages. I was next-to-youngest in the class [at 22]. I never knew how I happened to get in there."
Dr. Scott had the agricultural experience, growing up on the family farm in Leroy, Ill., and he knew he was destined to pursue his education because his mother was a teacher. "I was influenced somewhat by the local veterinarian at that time, and my enjoyment of animals," he recalls. "I was always around animals and veterinarians. I knew I didn't want to go into farming."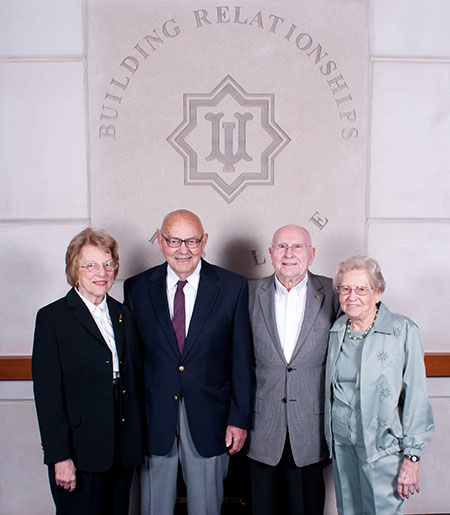 First Class Hardships
Not that the College of Veterinary Medicine was necessarily an attractive alternative in those days. While the Illinois Legislature approved funding to build a basic science laboratory on Peabody Drive in 1945, construction had not even begun on the structure when Dr. Scott enrolled.
Unlike the impressive, state-of-the-art facilities of today, "We didn't have any classrooms at all," he says. "I never will forget, we had anatomy in an old beef barn that had exposed pipes running along the walls. The professor always drew analogies between the pipes and animal circulatory systems!
"We had classes on the second floor of an old sorority house in Urbana. The walls sloped so badly you couldn't stand up straight. The only good thing was, there was a sorority behind the building and in the spring, why, we had girls to look at, sunning on the lawn."
Dr. Scott was determined to become a large animal practitioner, which presented another hurdle in the college's earliest days.
"There wasn't much livestock in central Illinois at that time," he says. "We had a lot of experience with small animals because we developed a very thriving small animal practice. The University had a place in southern Illinois where they had an extensive beef cattle operation, and once a year we would go there for a day and work with those cattle.
"We were all concerned about our lack of hands-on experience, but I never will forget this fellow at the college told us, 'Well, you know the basics, and you'll learn the practical aspects when you get out there.' I think I got a good basic education at U of I, but that didn't make us feel very prepared."
From Practice to Industry
Yet upon graduation Dr. Scott was ready to join a veterinarian's existing practice in El Paso, Ill. "Some of my classmates went directly into practices of their own, just started from scratch," he recalls. "I didn't feel like doing that."
About a year later, hearing of the sudden death of a veterinarian 100 miles away in Rushville, Dr. Scott met with the veterinarian's family and eventually took over the practice.
"My practice really grew there," he says. "The only way I could get any time off was to leave town."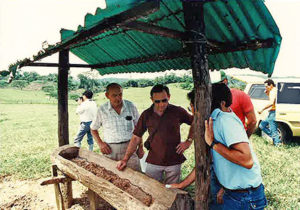 However, his career changed dramatically five years later when a former college classmate mentioned that SmithKline, the pharmaceutical giant, was looking for a veterinarian. He landed the job and moved with his family to the company's U.S. headquarters in Pennsylvania, where he and his wife Shirley still reside.
"SmithKline was a human pharmaceutical company," Dr. Scott explains, "but, as many companies did at that time, they began exploring opportunities in the animal health field."
Over a three-decade second career that saw him move from SmithKline to Johnson & Johnson to Schering and back to SmithKline, Dr. Scott spearheaded development of dozens of products designed to relieve animal maladies and scoured the world in search of human medicines that might be adapted for animal use. At least two such products, Bloat Guard for cattle and the anti-itch medicine Temaril-P, are still on the market today.
'Get Up and Go Every Day'
Dr. Scott "retired" at 62, but he's never stopped working. Jeffrey, one of Dr. Scott's three sons (and seven children), owns a packing and shipping chain in the Philadelphia area "and my wife and I have been helping him the last 20 years or so," he says.
"I do all the financials. We're trying to sell one store because my wife and I can't do some of the things we used to, but I think one thing that has helped us is that we've never retired. We're not sitting around thinking, 'What are we going to do today?' We've had to get up and go every day."
Oh, you must be wondering: Has the name George C. Scott (the "C" stands for Clifford, after the physician who delivered him) caused him any problems?
"No, not for me, but my wife has heard it," he says. "When she tells people her husband's name, they'll ask, 'So, how's Patton doing?'"
By Jim McFarlin