Samantha Zindars was upset about her dog Ava's diagnosis of osteosarcoma. Ava, a 7-year-old Belgian malinois-German shepherd mix, was lethargic and in pain for many months prior to her diagnosis. Osteosarcoma, a common bone tumor, was believed to be the presumptive diagnosis after bone destruction was shown in the x-rays. In many cases, dogs with the diagnosis of osteosarcoma, the most common bone tumor affecting dogs, do not live very long.
"I was very depressed and upset just thinking about how I was going to lose my baby and my best friend," says Samantha.
Fortunately, Samantha's mother, Melissa Zindars, works as an administrative assistant in the College of Veterinary Medicine. She often sees veterinary oncologist and researcher Dr. Timothy Fan and asked him about osteosarcoma and Ava's situation. Dr. Fan invited Ava to come in for an informal consultation at the Veterinary Teaching Hospital.
"Osteosarcoma occurs in key sites in the skeleton," says Dr. Fan. "For Ava, the pain was from her left front paw, which is not in a common place, and that concerned me that the presumptive diagnosis of osteosarcoma might not be accurate."
Samantha and Dr. Fan agreed to do further tests on Ava including blood work, chest x-rays, and abdominal ultrasounds. Biopsy results came back consistent with a tumor, but not necessarily osteosarcoma—more likely a soft tissue sarcoma, which can be cured with surgery alone.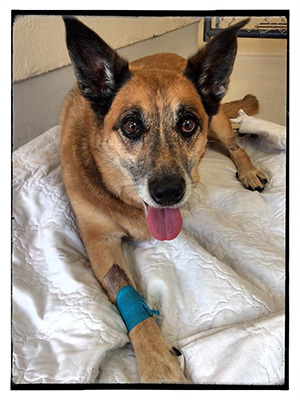 "At this point, we decided the best option was to amputate up to the scapula and take some lymph nodes to make sure the cells hadn't spread to her lymphatic system," says Samantha.
With the amputation, Ava would have a better chance to live a typical lifespan. When the results returned from the biopsy, it showed Ava had soft tissue sarcoma. In her case, the soft tissue sarcoma was particularly aggressive and invaded local tissues.
"As it is described in the name, the tumor began in the soft tissue," says Dr. Fan. "As it grew, it began to push up against, then ultimately invade, the bone. Fortunately, Ava's soft tissue sarcoma carries a better prognosis than osteosarcoma, so there is a reasonable chance that the amputation was able to cure her."
Today, Ava is doing better than ever.
"She's amazing. She runs, plays, and does everything a normal dog would do. I am just so happy that she's happy and healthy," says Samantha. "Without the U of I Vet Med and Dr. Fan, I would not have my best friend. I cannot thank them enough for their second opinion."
"I think it was great that they reached out for a second opinion," says Dr. Fan. "Knowing it was probably not osteosarcoma really changed their treatment course. To me, second opinions are the most important aspect of the story. Having all the information allows pet owners to make well-informed decisions."
—Nora McKay