Update on Tuesday, May 10 – Critical care specialists at the Veterinary Teaching Hospital are delighted that Bear is healthy enough to be released to a new forever home. One the doctors shared: "His hypothyroidism is responding well to therapy.  The wound that was surgically addressed is healing well.  He is eating and drinking well."
Bear's new family was identified by the law enforcement and animal control personnel who have been dealing with Bear's case. Given the continued investigation and the intense scrutiny involved, Ford County Sheriff Mark Doran has asked that the identity of Bear's new home not be disclosed.
The hospital would like to express sincere thanks to the many generous donors who contributed to the Veterinary Teaching Hospital on behalf of Bear's care. All the dollars given to the hospital earmarked for his care went toward the expenses accrued over his approximately three-week stay, covering about one-fifth of his bill that totaled nearly $8,000. Other fundraising efforts on behalf of Bear will easily cover the remainder of the cost of his care.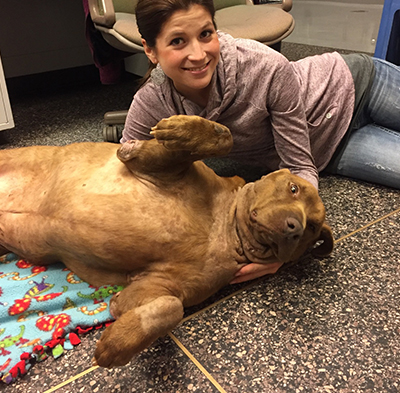 ---
Update on Tuesday, May 3 – According to Dr. Maureen McMichael, "The decision was made not to surgically repair Bear's jaw because he is eating very well and has normal occlusion, meaning his top and bottom jaws line up nicely. He is now sleeping outside of his cage on a huge dog bed/blanket at night, surrounded by students and technicians petting him: He is in heaven! He goes back to surgery tomorrow morning to have the wound on his back leg repaired and closed."
---
Bear, the chocolate Lab that was found suspended off the side of a bridge in Ford County, was showing positive signs of recovery on Wednesday, April 27, according to Dr. Maureen McMichael, who heads the small animal emergency and critical care service at the University of Illinois Veterinary Teaching Hospital.
"He wasn't eating until this morning. He's much perkier today, and showing more personality," Dr. McMichael told reporters from the local media who came to the university campus to see Bear and get an update on his condition.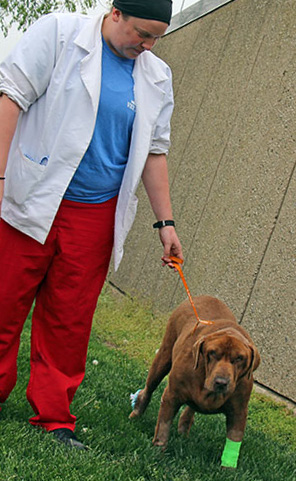 Angie Cleary, a veterinary technician from Paxton, Ill., who has been acting as Bear's caretaker since the animal was discovered on April 20, authorized hospital personnel to share medical information about Bear with the media. There has been a tremendous outpouring of concern for the animal since reports of his abuse were made public, and more than $10,000 has been donated through a GoFundMe webpage for the dog.
Bear was brought to the Veterinary Teaching Hospital on April 22. Examinations revealed that in addition to being left hanging from a choke collar in a position where only his back feet could touch the ground, Bear had been shot in the jaw. Bear's other physical problems included an injury on his rear limb, extreme dehydration, chronic skin ulcers, and hypothyroidism. Results of additional tests are still pending. McMichael said they had been told that Bear is three years old, but his body condition appears to be that of a much older animal.
"The biggest hurdle for Bear's recovery is figuring out how to proceed with his jaw so that he'll be able to eat," explained Dr. McMichael. "Our orthopedic surgery and dentistry services are conferring on what is the best approach. His bottom jaw was completely shattered, and there may not be enough bone left to make a surgical repair."
Dr. McMichael believed that the decision on the jaw surgery would be made by the end of this week, and thought most likely Bear would remain at the hospital for at least one more week and would need repeated rechecks after his eventual discharge.
"The one thing that keeps us positive in a situation like this where an animal has been abused is to see the response from people who want to donate towards Bear's care and offer to give him a good home," said Dr. McMichael.
"He's getting a lot of love here at the hospital. Love 24-7," she added.
The hospital is accepting donations to the Friends of the Veterinary Teaching Hospital fund, with the notation "for Bear's care" in the comments section. Money received in excess of Bear's medical expenses will be put toward the medical expenses of other pets in need.