All personnel in the Veterinary Teaching Hospital are required to wear identification badges.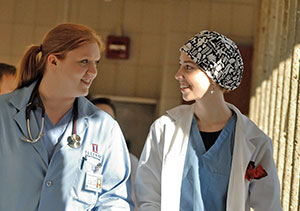 In an attempt to ensure the safety of staff and students it is expected that identification badges will be visibly worn by all employees and students. Wearing your ID badge has many benefits including allowing for the immediate name and face recognition which facilitates communication with clients. It also helps our own personnel (students, staff, faculty). Badges also allow for the identification of non-authorized persons in the Veterinary Teaching Hospital, which is important as a potential security concern for everyone.
Pictures will be taken for your student ID badge that you will be required to wear while you are in the hospital. This picture will also be used in your class composite picture.
Pictures are taken by the Design Group in Room 2873. They are located on the second floor of the Veterinary Medicine Basic Science Building at the following times during orientation week:
Tuesday, 1:00 – 5:00 p.m.
Wednesday, 1:00 – 5:00 p.m.
Thursday, Noon – 1:30 p.m.
This ID badge will be provided to you at no charge. However, you will be charged a small fee for lost, or damaged badges.