Referral Services
How to Refer a Patient
Follow these steps to refer a patient to the Veterinary Teaching Hospital in Urbana:
Phone the hospital via the direct referring lines.
Complete the appropriate Referral Data Form and send it with the client or fax or email it before the patient arrives.
Provide your client with:

a copy of the medical record
the completed Referral Data Form (unless it is faxed)
relevant diagnostic images
Please inform your clients that a deposit equal to one-half of the estimated cost will be required at the time of admission, and the balance of the bill must be paid in full at patient discharge.
If a specialty clinic service appointment is not immediately available, emergency referrals are possible. The client and the patient will be seen by an intern or resident who is under the supervision of the senior emergency clinician on duty.
Contacts for Referring Veterinarians
Small Animal Clinic
Large Animal Clinic
Referral Line:

217-333-5311

217-333-2001

Medical Records Phone:

217-333-5363

217-333-8100

Medical Records Fax:

217-244-9554

217-333-9796

Medical Records Email:
medrec@vetmed.illinois.edu
Imaging

217-333-1800

Referral Coordinator Email:
VTHrDVMcoor@vetmed.illinois.edu
Download the Illinois DVM mobile app from iTunes or Google Play.
Referral Data Form
Use this form to refer a patient to the Veterinary Teaching Hospital.
Mobile App for Referrers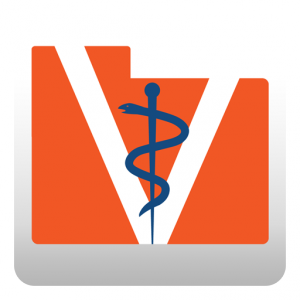 The
Illinois DVM
phone app provides a single means by which referring veterinarians can access information from both the Veterinary Diagnostic Laboratory and the Veterinary Teaching Hospital.
---
Referral Services
Choose a service area from the list below for details on faculty, capabilities, and contact information.
---
The Patient Care Team
The team of caregivers will be directed by a faculty member to provide exceptional care for the patient. Faculty members have received advanced training and, in most cases, board certification from specialty organizations. Other members of the team may include:
Residents in training for board certification;
Interns engaged in postdoctoral training;
Certified veterinary technicians, veterinary assistants, and veterinary technician students;
Professional veterinary students.
Please understand that in addition to their clinical service, faculty members also have teaching, research, and administrative responsibilities. Therefore, referrals must be made with the faculty member assigned to clinical duty at the time the animal is presented. This is true even if you've spoken with another faculty member by phone and he/she has encouraged you to refer a case.
Although the clinicians on duty during your patient's visit may vary, we strive for close communication among the staff and complete medical records to enable us to provide continuity of care.
Communication Regarding Cases
A preliminary contact report will be sent to you after your referral patient has been examined, or the case clinician may contact you by phone.
As the referring veterinarian, you will receive a final written report after the patient is discharged.
Please contact the clinical coordinator for the service (identified in the directory above on this page) if you have questions about the diagnostic and treatment plans or estimated costs for referred patients.
If you wish to be contacted by e-mail, please send your e-mail address to: medrec@vetmed.illinois.edu.