New Podcast Series: Veterinary Detectives Solve the Case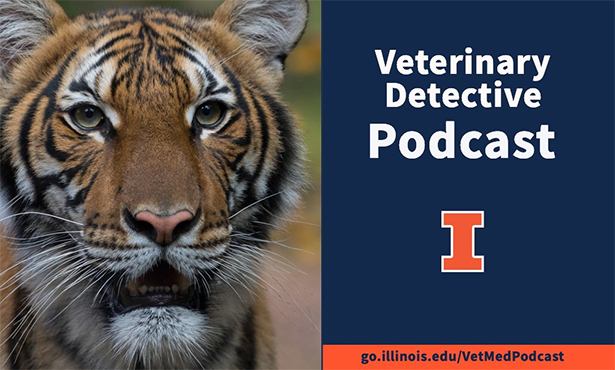 Delivering the Excitement of Discovery
The Veterinary Detective, a free podcast miniseries featuring veterinary specialists working through a memorable case, launched this week from the University of Illinois College of Veterinary Medicine. In the first episode, "The Case of the Coughing Tiger," Dr. Karen Terio assists in making a novel diagnosis even though the patient is hundreds of miles away.
The series is designed to help veterinary students develop their clinical reasoning skills. It arose in response to the COVID-19 pandemic.
"COVID restrictions kept our first-year students from engaging in clinical rotations in our hospital this semester. We decided to find another way to expose students to the problem-solving that goes into case workup," said Dr. Ashley Mitek, who hosts the podcast series. "Each episode of the Veterinary Detective series will deliver some of the excitement of discovery that veterinarians feel every day."
An Avenue for Clinical Learning
At the University of Illinois, first-year veterinary students typically spend the final eight weeks of fall semester rotating through a wide variety of clinical settings. This early exposure to hands-on cases broadens students' awareness of veterinary practice areas and begins to instill their professional identity as clinicians.
Current public health requirements, however, limited the number of people who could interact within the college's Veterinary Teaching Hospital. Because first-years' clinical time had to be modified, the podcasts restore that sense of clinical learning.
The series begins with Dr. Terio, chief of the college's Zoological Pathology Program, describing the case of a congested tiger at the outset of a pandemic. Future episodes feature the case of a near-frozen pup seen by an emergency and critical care specialist and the case of a lethargic hippo encountered by a specialist in zoological medicine.
i-Learning Center Resources Reach Beyond Illinois
Each Wednesday a new podcast will be posted on the Round Barn Podcast platform by the college's i-Learning Center. Episodes can also be accessed through the podcaster of one's choice. The i-Learning Center is staffed by an educational design team of content experts, instructional designers, videographers, and medical illustrators.
"When the pandemic shut campuses down last spring, the i-Learning Center made it possible for Illinois to quickly pivot to online course delivery," said Dr. Mitek. "At that time, we made our online courses freely available to students at other veterinary colleges to help meet the demand for quality veterinary education. The podcast miniseries continues that spirit of sharing resources."
Many veterinary colleges and individual students have continued to tap into the high-quality educational content from the University of Illinois. For more information about those courses, see: online.vetmed.illinois.edu/EduCollection.