Four months of therapy restored function
When people have major orthopedic surgery, doctors want them back on their feet as soon as possible. In the human medical world, patients are helped by physical therapy. The veterinary equivalent for animal patients is called physical rehabilitation, which employs exercises and tools to help strengthen animal patients' muscles.
Last summer, Spike, a 5-month-old Doberman pinscher, was hit by a car. He underwent orthopedic surgery to stabilize his injuries at the University of Illinois Veterinary Teaching Hospital in Urbana. Carrie Chandler, certified veterinary technician and certified canine rehabilitation practitioner with the hospital's rehabilitation service, provided post-surgical care to help Spike return to his normal puppy activities as soon as possible.
Pelvic Fractures, Scar Tissue

Spike presented to the emergency department at the teaching hospital after his accident. The first step in treating him was to take X-rays to determine what damage had been done and what treatment plan to pursue. Unfortunately, Spike had incurred multiple pelvic fractures. The head of his femur (the long bone in his hind leg) was severely damaged, requiring surgical intervention to correct his injuries.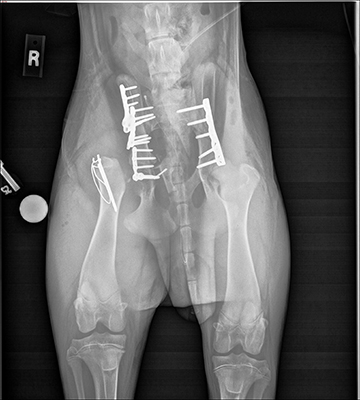 "At our hospital, rehabilitation considerations are incorporated into the treatment plan as a standard of care for patients that undergo surgery," Chandler explains. "Research has consistently shown that this greatly benefits the patient's recovery and ability to get back to a more normal state."
Since puppies like Spike grow so quickly, proper recovery after a major corrective surgery is a huge concern. "We have to ensure that his muscles stay strong and function normally as he continues to grow," Chandler says.
In both animals and humans, muscles tend to shrink in size or form excessive scar tissue after disuse from an injury or surgery. It's important to keep that in mind during recovery to prevent any complications. In Spike's case, excessive scar tissue had formed near his hip, which caused some residual pain and left him with significant lameness.
Further intensive rehabilitation was deemed necessary at the time, and his owners jumped on board to get Spike on the right track.
Rehabilitation Sessions
A variety of modalities are used in rehabilitation programs, depending on the specific needs of the patient.
"The duration and frequency of the rehabilitation program completely depend on the treatment needs of the patient at the time," Chandler says. "In Spike's case, he needed diligent, intensive rehab to reverse his muscle contracture. He received rehabilitation therapy over the course of four months, with weeklong stays in the hospital alternating with weeks at home."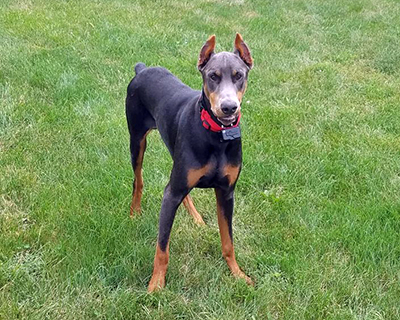 His treatment plan consisted of a multi-modal approach that included such therapies as stretching exercises, myofascial release, therapeutic ultrasound, and laser therapy to help alleviate pain and improve his range of motion. Therapeutic equipment including an underwater treadmill, land treadmill, and balancing balls were also used to help expedite his strength and function.
During the weeks when Spike was not in the hospital, his owners performed exercises prescribed for Spike to help keep him on the path to recovery.
Spike's Progress
Months after his surgeries and rehabilitation sessions, Spike's owners report he is a happy, healthy boy enjoying life with his family and human siblings.
"He can run and play like the crazy Dobie he is," Chandler says. His successful recovery was possible through the hard work and dedication of his surgeons, rehabilitation specialists, and owners.
If you think your pet could benefit from rehabilitation, contact your local veterinarian for referral information.
By Beth Mueller
Photos courtesy of Spike's family