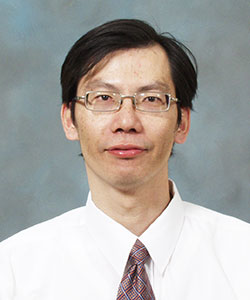 Hsiao, Shih-Hsuan
Clinical Assistant Professor, Veterinary Clinical Medicine

2001 S. Lincoln Ave.
1227 VMBSB
2001 S Lincoln
M/C 002
Urbana
,
IL
61802
Education
PhD in Veterinary Pathobiology, University of Illinois, 2005
MS, National Taiwan University, Taiwan, 1996
DVM, National Taiwan University, Taiwan, 1994
Research Interests
Pathophysiology and signaling pathways of sphingolipids, especially their roles in fumonisin mycotoxicosis and tumor necrosis factor α induced cardiovascular dysfunction in swine.
Dr. Hsiao, also known as Vincent, jointed the University of Illinois Veterinary Diagnostic Laboratory as an anatomic pathologist in 2011. He is a veterinary graduate of National Taiwan University. He completed his PhD/residency training program in our Pathobiology Department. He currently provides diagnostic services for food, companion, zoo and laboratory animal clients with a special interest in toxicologic diseases.
VM601 & 606 Clinical Practice - Diagnostic Medicine
VM608 Pathobiology - Endocrine Pathology
VM612-616 Clinical Year Rotation - Diagnostic Medicine
PATH 545 Veterinary Diagnostic Pathology
PATH 547 Pathology Seminar
PATH 559 Surgical Pathology
Nelczyk AT, Ma L, Gupta AD, Gamage HEV, McHenry MT, Henn MA, Kadiri M, Wang Y, Krawczynska N, Bendre S, He S, Shahoei SH, Madak-Erdogan Z, Hsiao SH, Saleh T, Carpenter V, Gewirtz DA, Spinella MJ, Nelson ER. (2022). The nuclear receptor TLX (NR2E1) inhibits growth and progression of triple-negative breast cancer. Biochim Biophys Acta Mol Basis Dis. 1868(11):166515.
Weng BB · Liu YC, White BL, Chang JC, Davis JP, Hsiao SH, Chiou RY. (2022). Allergenicity reduction of the bio‑elicited peanut sprout powder (BPSP) and toxicological acceptance of BPSP‑supplemented diets assessed with ICR mice. J Food Sci Technol
Ostadhossein F, Moitra P, Altun E, Dutta D, Sar D, Tripathi I, Hsiao SH, Kravchuk V, Nie S, Pan D. (2021). Function-adaptive clustered nanoparticles reverse Streptococcus mutans dental biofilm and maintain microbiota balance. Commun Biol. 4(1):846.
Batista Linhares M, Whiteley HE, Samuelson JP, Hsiao SH, Stern AW, Sprandel IT, Roady PJ, Coleman DA, Rizzo R, Froderman SF, Terio KA. (2021). Sylvatic Canine Morbillivirus in Captive Panthera Highlights Viral Promiscuity and the Need for Better Prevention Strategies. Pathogens 10(5):544.
Wang L, Fredrickson R, Duncan M, Samuelson J, Hsiao SH. (2020). Bovine Kobuvirus in Calves with Diarrhea, United States. Emerg Infect Dis. 26(1):176-178.
Britton M, Allender MC, Hsiao SH, Baker SJ. (2019). Postnatal Mortality in Neonate Rattlesnakes Associated with Ophidiomyces Ophiodiicola. J Zoo Wildl Med. 50(3):627-677.
Aulakh KS, Kielb JL, Hsiao SH, Barnes K, Aulakh HK. (2018). Malignant Soft Tissue Sarcoma at the Site of Corticosteroid Injection in a Dog. J Vet Sci Ani Husb 6(1): 102.
Grimmer ED, Canisso IF, Hsiao SH, Garrett EF. (2017). Squamous cell carcinoma and papilloma virus in the prepuce of a Boer buck. Clinical Theriogenology. 9(4): 595-599.
Moore AR, Hsiao SH, Chu CT, Aldridge BM, Schnelle AN. (2017). Pathology in Practice: Thrombotic meningoencephalitis (TME) in a calf. J Am Vet Med Assoc. 251(6): 665-668.
Lindemann DM, Allender MC, Rzadkowska M, Archer G, Kane L, Baitchman E, Driskell EA, Chu CT, Singh K, Hsiao SH, Sykes JM 4th, Cox S. (2017) Pharmacokinetics, efficacy, and safety of voriconazole and itraconazole in healthy cottonmouths (agkistrodon piscivorus) and massasauga rattlesnakes (sistrurus catenatus) with snake fungal disease. J Zoo Wildl Med. 48(3):757-766.
Teachers Ranked as Excellent by their Students, 2012-2021, University of Illinois
Edward W. and Lois G. Voss All Around Excellence Award, 2005, University of Illinois
Frank C. Lu Award, 2005, Food Safety Special Section of the Society of Toxicology