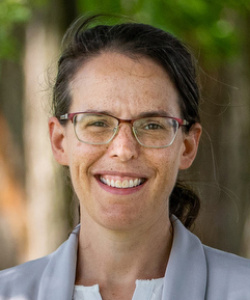 Smith, Becky
Associate Professor of Epidemiology
Health Innovation Professor

2001 South Lincoln Avenue
Urbana, IL 61802
M/C 002
Urbana
,
IL
61802
Education
PhD in Epidemiology, Department of Population Medicine, Cornell University. Minors: Applied Economics and Management, Statistics
MS in Biosecurity and Risk Analysis, College of Veterinary Medicine, Kansas State University.
DVM, School of Veterinary Medicine, Cornell University.
B.A. in Biology, Gustavus Adolphus College, MN. Minor: English
Academic Positions
Postdoctoral Research Associate, Cornell University, 2011-2014
Graduate Research Assistant, Cornell University (Advisor, Yrjö Gröhn), full-time graduate student, 2007-2011
Graduate Research Assistant, Kansas State University (Advisor, Michael Sanderson), full-time graduate student, 2005-2007
ASSOC PROF, Biomedical & Translational Sciences, Carle-Illinois College of Medicine
ASSOC PROF, Infection Genomics for One Health, Institute for Genomic Biology
ASSOC PROF, Kinesiology & Community Health
ASSOC PROF, Women & Gender in Global Perspectives
AFFILIATE, Center for Social and Behavioral Sciences, Interdisciplinary Health Sciences Institute
ASSOC PROF, National Center for Supercomputing Applications
ASSOC PROF, Center for Digital Agriculture
Research Interests
Infectious disease control

Mathematical modeling of infectious diseases
Model parameterization
Optimal disease control

Longitudinal data analysis
One Health
Links
Current
Epidemiology Seminar, PATH527, every spring
Principles and Methods of Epidemiology, PATH517, every fall
Previous
Introduction to Epidemiology (VetPMD 6640), Cornell University Fall 2010-2012.
Mathematical and Epidemiological Modeling of Endemic Infectious Disease, Cornell University Summer 2011.
Advanced Epidemiology (VetPMD 6660), Cornell University Fall 2008-2009 (TA).
Epidemic! workshop for Expanding Your Horizons (EYH), 2008-2011.
Vector-Borne Diseases at the Human-Animal-Environment Interface
COVID-19 transmission and control, and the impact of human factors
Transmission and control of water-borne pathogens and interpretation of wastewater pathogen data
Evaluation of diagnostic tests longitudinally
Infection genomics to understand disease transmission and antimicrobial resistance
Presidential Medallion, University of Illinois, 2021
Mark Gearhart Award. Association of Veterinary Epidemiology and Preventive Medicine, December, 2011.
Guild of St. Ansgar. Gustavus Adolphus College, May 2001.
American Veterinary Medical Association, 2005-present, Member
American Dairy Science Association, 2010-2011, Member
Conference of Research Workers in Animal Diseases, 2012-present, Member
United States Animal Health Association, 2014-present, Member
Association of Veterinary Epidemiology and Preventive Medicine, 2014-present, Director